St Agnes Fountain
Tue 18 Dec 7:45 (£16/14)St Stephen's Church Book
Please note new venue
St Stephen's Church, St Stephen's St, Bristol, BS1 1EQ
Book through my new online booking and payment system.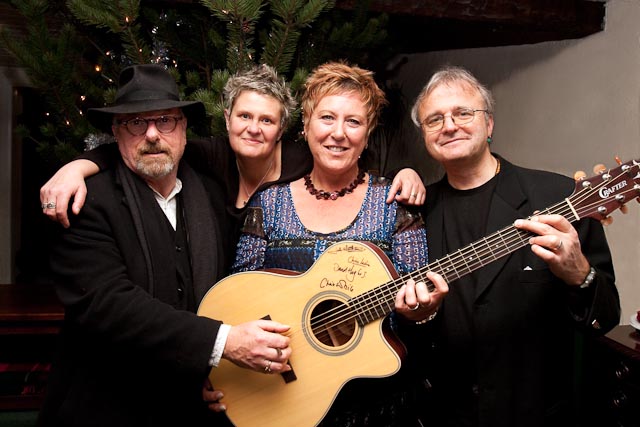 St Agnes Fountain are about to embark on their 12th consecutive sell-out Christmas tour. Since their first get together, to record the eponymous St Agnes Fountain album in 2001, the quartet of founder, David Hughes; Fairport Convention's Chris Leslie and 2009's BBC Radio 2 Folk Awards Best Duo, Chris While and Julie Matthews, have brought musical invention and laughter to the star-dust atmosphere of the season.
The Aggies will be recording their 8th album in 2012. The new release The Twelve Years of Christmas will once again combine new versions of classic Christmas carols, original compositions and one or two fun surprises. Although the albums accompany the putting up of a thousand Christmas trees throughout Britain, it is, without question, their magical live performances that have endeared them to an ever-growing audience (tickets were being sold for this year's tour as the curtain fell last year). Christmas, as they say, starts with St Agnes Fountain.
The high calibre of performers allied to that special yuletide mix is ideal for getting in the festive mood and is one not to be missed and to book early for! The programme will include a selection of well-known carols, sung with an English folk music interpretation, traditional songs, some contemporary folk tunes and the odd fun piece. The aim? To get into the Christmas spirit, with an enjoyable and entertaining evening of top class music!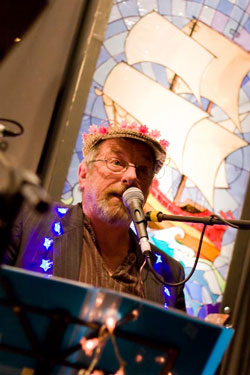 David Hughes is an acoustic guitarist, songwriter, author, playwright and mordant wit. His six albums include, ACTIVE IN THE PARISH, which, in 1997 was named by Q magazine as one of their albums of the year. His sharp, half-spoken delivery and rhythmically percussive finger-style guitar earned him regular slots on BBC Radio Four's Loose Ends with the late Ned Sherrin.
He has recorded and performed with some of the finest musicians in the UK including Gerry Conway (Jethro Tull / Fairport Convention), Jacqui McShee, Danny Thompson, Bert Jansch (Pentangle), Dave Mattacks, Chris Leslie, Dave Pegg (Fairport Convention), Spencer Cozens (Joan Armatrading / John Martyn), Alan Thomson (John Martyn), Chris While, Julie Matthews (BBC Folk Award winners) and Eddi Reader.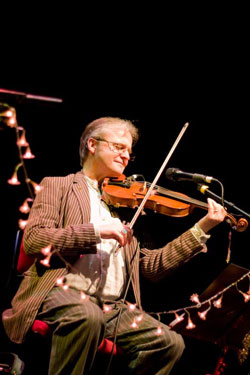 Chris Leslie is a stalwart of the folk super group Fairport Convention who he joined in 1996. Chris began playing the fiddle at the age of thirteen. One of his early influences and, later, his mentor was Fairport Convention's then-fiddler Dave Swarbrick.
Chris studied violin making in Nottinghamshire and completed his three-year course 1983. Back to Oxfordshire, he was invited to tour with Dave Pegg to promote Dave's solo album. Dave Swarbrick invited Chris to become a founder member of the pioneering acoustic group Whippersnapper. This band made several albums and toured the UK, Europe and the USA. Chris also toured with rock group All About Eve.
During the 1990s, Chris worked as a duo with Whippersnapper guitarist Kevin Dempsey, collaborated with folk pianist Beryl Marriott, and was a member of Simon Mayor's Mandolin Quartet. He also played fiddle on tour with Ian Anderson of Jethro Tull. In 1995 Chris joined The Albion Band, touring and recording with them before joining Fairport Convention the next year. As well as playing and recording with them, Chris has contributed many songs to Fairport's repertoire.
Familiar to Bristol audiences, not least from their October gig in Bedminster for me, Chris While & Julie Matthews complete the line-up. They won the Best Duo category at the 2009 BBC Radio 2 Folk Awards and have been nominated nine times since 2001 in the Best Duo, Best Song & Best Live Act categories. Full biographies can be found on my October gig page here.
St Agnes Fountain