*EBA*

Jonathon Kreisberg Band
Jonathan Kreisberg (Guitar)
Nitai Hershkovits (Piano)
Matt Clohesy (Basses)
Colin Stranahan (Drums)
Guitarist Jonathan Kreisberg has been steadily building his name as one of the most compelling composer/performers in Jazz, combining timeless melodicism with forward thinking lines and textures. His style and approach has created a strong following of fans around the globe. He frequently tours worldwide and records with his own groups as well artists such as Dr Lonnie Smith, who says of Kreisberg Jonathan is a creative guitarist who has been an integral member of my trio for many years. He is a passionate musician with great vision, and he is constantly in fiery pursuit of innovation.
For those who thought that there could be no more surprises in the world of Jazz Guitar…may I introduce Jonathan Kreisberg? ~ Lyle Robinson, Jazz Guitar Life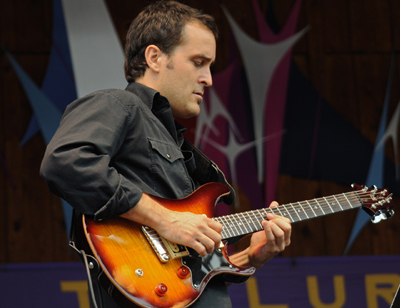 Jonathan started playing guitar at the age of ten in Miami. At 16 he was admitted to the New World School of the Arts, where his jazz studies took centre stage. Intensely dedicated to the instrument, he was featured in Guitar Player and Down Beat magazines while still in his teens. He won a scholarship to the University of Miami, where he held the guitar chair in the acclaimed Concert Jazz Band, touring Brazil and performing with Joe Henderson, Michael Brecker, and Red Rodney. Upon graduation, Jonathan began playing straight ahead jazz gigs as well as a myriad of other projects. He performed 20th century works with the New World Symphony under Michael Tilson Thomas. He also performed extensively with the progressive rock group Third Wish, and formed the first incarnation of the Jonathan Kreisberg Trio. This electric based Trio released a CD and completed several U.S. East Coast tours, which included opening slots for George Benson and Steve Morse.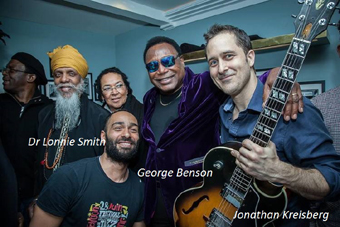 While still in his early 20's, he returned to his birthplace in NYC with his focus on cutting edge acoustic jazz. Since then, Jonathan has worked in the bands of many jazz greats including Dr Lonnie Smith, Lee Konitz, Joe Locke, Stefano Dibatista, Ari Hoenig, Joel Frahm, Don Friedman, Greg Tardy, Donald Edwards, Jane Monheit, and Yosvany Terry. He has also led groups of various instrumentations featuring artists such as Bill Stewart, Larry Grenadier, and Scott Wendholt.
He plays the hell out of the guitar, that's for sure. ~ John Scofield
Jonathan is an outstanding musician playing at the highest level, with a verve for excellence…well worth a listen, especially in live concert.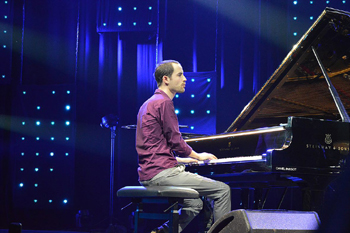 Born in Israel to a Moroccan mother and a Polish father, Nitai Hershkovits started playing the clarinet at age 12, only to discover his love for the piano at age 15. Around that time, he was first exposed to the sound of jazz giants such as Wynton Kelly and Sonny Clark.
By the time he was 17, Nitai had moved to Tel Aviv to combine regular school with private music and piano lessons, he soon became interested in a rich variety of both classical and jazz music. Nitai has performed and collaborated with many noted artists, among them- Jorge Rossy, Kurt Rosenwinkel, Greg Tardy, Charles Davis, Mark Guiliana, Steve Davis and Daniel Zamir.
Nitai was awarded the highest scholarship given by the Israel-American Music Foundation (AICF) four years in a row between 2004 and 2010. Another highlight was his onetime prestigious Chase Scholarship award in 2009 sponsoring a B.A. degree at the Jerusalem Rubin Academy of Music.
Hershkovits is a genuine prodigy - still only in his mid-20s but already playing with relaxed authority. ~ The New York Times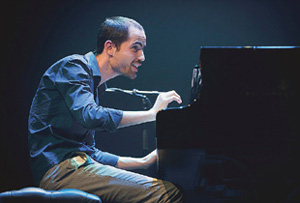 Nitai has been collaborating with internationally acclaimed bassist and composer Avishai Cohen. Avishai released Duende (EMI/Blue Note) in May 2012. Nitai joins Avishai on the piano in this beautiful duet album and in the arrangement of two of the tracks. In November 2013, the album Almah (EMI/Parlophone) was released, featuring a string quartet and an oboe. The latest trio recording, From Darkness, was released in February 2015.
Nitai's debut album I Asked You A Question (Raw Tapes) was released in February 2016, co-produced by Rejoicer, featuring Nitai on vocals, Piano and synths. LA based singer Georgia Anne Muldrow and acclaimed guitarist Kurt Rosenwinkel joins Nitai on two of the tracks ('Satellite Dish' and 'My Turn' respectively), and he currently is working a lot with Ari Hoenig, with whom he will be off to Australia with shortly. I had hoped Nitai would be with us again as part of Oded Tzur's quartet in July but we weren't able to get dates sorted.
Hershkovits dances on the keys with the elegance of Fred Astaire and the melancholic wit of Charlie Chaplin ~ Cem Akalin, General Anzeiger, Bonn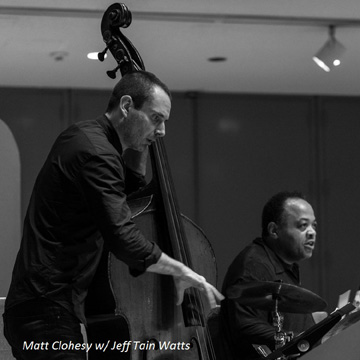 Matt Clohesy, Australian bassist left his hometown of Melbourne for the USA in 2001. Based in New York City, he has since gained much recognition as an acoustic and electric bassist worldwide.
He has been called upon to tour and/or record with such notable band leaders as Seamus Blake, Kurt Rosenwinkel, Geoffrey Keezer, Eric Reed, Kevin Hays, Ingrid Jensen, David Kikoski, Donny McCaslin, Tom Scott, Sean Jones, Joel Frahm, Eric Alexander, Nat Adderley Jr,Diego Urcola, David Weiss, JD Allen, Jon Gordon, David Schnitter, Brad Shepik, Maria Schneider and the John Hollenbeck Large Ensemble.
Clohesy is regularly involved with Grammy nominated and Downbeat award winning composer Darcy James Argue's Secret Society. In the pop world he has performed with Grammy winner Colbie Caillat and can be heard often with the Chris Bergson Band. He continues to work with many of his peer's groups including Lage Lund, Mike Moreno, Jonathan Kreisberg, Will Vinson, John Ellis, Jo Lawry, Gretchen Parlato and the Alan Ferber Nonet.
Prior to moving to New York, Matt received a Bachelor of Music at the Victorian College of the Arts in Melbourne and worked with Australian artists including Dale Barlow, Mike Nock, Joe Chindamo, Paul Grabowsky, Barney McAll, Vince Jones and the Melbourne Symphony Orchestra.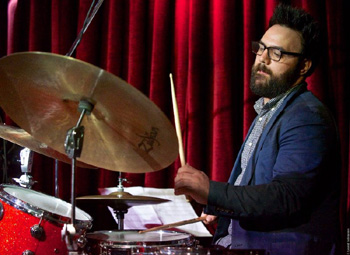 Born in Denver Colorado, drummer and composer Colin Stranahan has always been surrounded by music. After receiving the prestigious National Foundation Advancement of the Arts Presidential Scholar award in 2005, he studied at the University of the Pacific for one year as a Brubeck Institute Fellow. Shortly thereafter, he attended the prestigious Thelonious Monk Institute of Jazz at Loyola University in New Orleans, Louisiana. Stranahan was also one of the winners of the 2012 Thelonious Monk Drum Competition. Now living in Brooklyn, New York, Colin is among the most sought-after drummers in the world working with such artists as Kurt Rosenwinkel, Jonathan Kreisberg, Fred Hersch, Terence Blanchard, Dave Kikoski, Kevin Hays, Herbie Hancock, Wayne Shorter and many others. He is part of a collective trio featuring some of the most talented and praised young musicians in New York City: The Stranahan/Zaleski/Rosato Trio.
Stranahan currently holds adjunct teaching positions at the Aarhus Royal Academy of Music, and London's Royal Academy of Music, where he teaches both private lessons, and ensemble teaching.
A sensitive and precise drummer, he moves around his left-handed kit with aplomb, his warm haze of cymbals punctuated by a crackling snare. Whether playing with Kurt Rosenwinkel or his collaborative trio, Stranahan has established himself as a force to be reckoned with behind the kit. While Stranahan may be best known for his work in hard-grooving, post-bop settings, there is another side to his musical personality, a side that is impressionistic and mysterious.
For the Kreisberg band, this tour starts in late April in Denver and then two nights at the famous Smalls Jazz Club in New York before landing in Europe; taking in Hamburg, Munich, Valencia, Barcelona, Helsinki and Oslo. Our gig is the last of a short 5-date UK leg; they fly to Paris the next day for a gig at the legendary Duc de Lombards.
I don't have the safety net of a sponsor for this year's gig, so I'm hoping you guys enjoyed last year's outing and will turn out if force (on an unusual Friday for us), for what promises to be another special gig!
jonathankreisberg.com
Video above not working? Click here or here for Youtube links.
plus a vimeo link for Nitai Hershkovits (not playing with JK).