David Newton (Piano)
Will Harris (Bass)
Scott Hammond (Drums)
Growing up in Renfrewshire, Scotland, David Newton had a musical upbringing with the piano trio sound of Peterson, Tatum or Garner an ever-present feature in the Newton household. After graduating from Leeds College of Music in 1979 he freelanced around. A move to Edinburgh followed where theatre work using local musicians quickly led to an established position on the Scottish jazz scene but after some four years there, his old roommate from college, Alan Barnes, persuaded him to move to London where he rapidly became a much sought after pianist teaming up with Barnes, guitarist Martin Taylor and saxophonist Don Weller.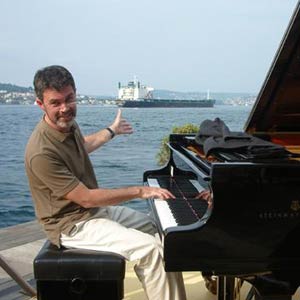 Newton's recording career had begun in 1985 with Buddy De Franco and Martin Taylor and his first solo album was released in '88 in association with producer Elliot Meadow who oversaw the next nine years of recording for Linn Records followed by Candid Records.
In the first five years of the nineties, Newton's reputation as an exquisite accompanist for a singer, spread rather rapidly and by '95 he was regularly working with Carol Kidd, Marion Montgomery, Tina May, Annie Ross, Claire Martin and Stacey Kent, with whom he spent the next ten years recording and travelling all over the world. While all this was going on, Newton was composing music which he would record on his own CDs as well as writing specifically for Martin Taylor, Alan Barnes, Tina May or Claire Martin and Newton's music can now be heard on many television productions, especially in the United States where over twenty TV movies benefit from Newton's haunting themes.
Newton has a deliciously crystalline touch. ~ The Observer, (Dave Gelly)
In 2003, after a twenty year gap, David Newton was reunited with playwright Alan Aykbourn having been involved with eight world premieres in Scarborough and London back in the early eighties, and he was asked to write the music for two new productions, Sugar Daddies and Drowning on Dry Land.
He is also relishing the musical freedom of his Trio and the special sound it makes whilst working on two other new recording projects, as an arranger and as a composer.
David Newton has voted Best Jazz Pianist in the British Jazz Awards for the 13th time in 2014 and was made a Fellow of Leeds College of Music in 2003 where he now teaches jazz piano.
In recent years David has become resident in the South West, over in Bath and that means we are fortunate that we can hear him more often at various Bristol venues, playing with some of the best local talent around, a couple of which will be joining him on this gig.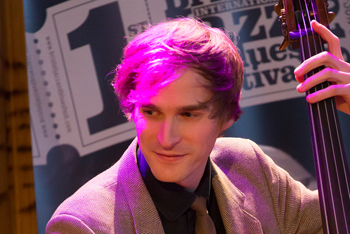 Will Harris has elevated his reputation in the jazz world in a relatively short time, since moving to Bristol following his MA in jazz performance from the Royal Academy of Music in London, he quickly began playing in the best local bands of Andy Hague, Kevin Figes, Michelson Morley with Jake McMurchie, Karen Street's 'Streetworks' and the Colman Brothers.
Will's dynamic and comprehensive approach to the double bass has put him in high demand, gaining work with the likes of Bobby Wellins, Alan Barnes, David Newton, Simon Spillett, Tina May, Anita Wardell, Damon Brown, Ed Jones and LA-based saxophonist Benn Clatworthy.
His work as an arranger is showcased in the SW based Latin jazz band The Magnificent Seven. Will also co-established Moonlight Saving Time with vocalist-wife Emily Wright. More recently he's been working back in London with saxophonist Matt Anderson and Nick Smart's 'Black Eyed Dog'. All this work has brought him to the attention of top US saxophonist Chris Potter who he has joined for a UK based new music project for the Jazz Directors Series. Potter's new compositions played with the Inner City Ensemble, an evolving group of the UK's most promising emerging professional musicians, selected through an open call application process.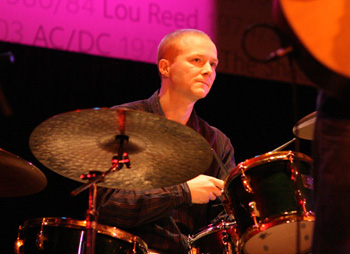 Drummer Scott Hammond was born in Bristol. After starting his musical journey on the piano when he was six, he went on to play the drums when he was fourteen in his first band Half Decent - and that they were!
He went on to study the drums with Dave Hassell on a three-year jazz degree course at Leeds College of music. It was here that he met his wife, Ruth, who plays saxophones, keyboards, piano, Hammond organ and sings. They are now based in Bristol and regularly gig all over the UK with The Scott Hammond Quartet and other projects, including a lot of cross over work with rock musicians. Since 2010, Scott has been touring internationally with Jethro Tull's Ian Anderson (including some touring with Jethro Tull), and prior with Iron Maiden's Bruce Dickinson, Greg Lake (of Emerson Lake and Palmer fame), Justin Hayward of the Moody Blues and Bristol-based Beth Rowley. Other jazz artists Scott has worked with include Ruth Hammond, The Forster-Hammond Trio, Tina May, Herb Geller, Bobby Wellins, Alan Barnes, David Newton, Dave O' Higgins, Jason Rebello, Ian Ballamy, Pee Wee Ellis, lap steel guitarist BJ Cole, The Bristol Ensemble and with US New Orleans based vocalist Lillian Boutte. Scott has also performed many times on TV and Radio, both in the UK and internationally.
For those of you who know David Newton's work, you're already aware he is one of the best around, for those of you who haven't yet experienced Mr Newton at the piano; you are in for a real treat!
davidnewton.biz