Josephine Davies - Satori
Josephine Davies (Saxes)
Dave Whitford (Bass)
Paul Clarvis (Drums + Percussion)
Josephine is an alumnus of the Guildhall School of Music and Drama (winning the Perrier Award) and now follows up her 2010 Trio Records album Perspective, with this inventive and original sounding trio, Satori.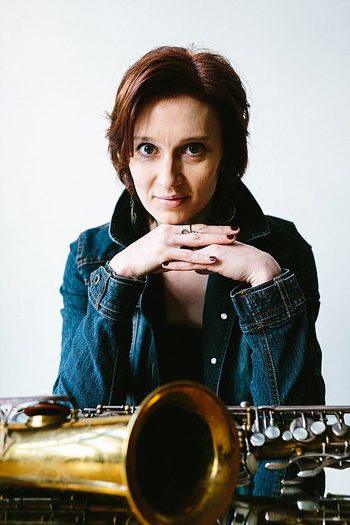 She is a member of the excellent London Jazz Orchestra which habitually stuns audiences with its collective virtuosity; she also composes for this big band too. She appeared on fellow LJO member Pete Hurt's landmark 2016 release. Between them, bassist Dave Whitford and drummer Paul Clarvis have large enough CVs to fill a couple of hefty articles. Suffice it to say, they prove a perfect and sensitive rhythm section for this trio. Half the album was recorded at the I'klectik Arts Centre near London's Waterloo and the other half was recorded live at Jazz Nursery, also located within I'klectik.
A great original voice on the UK Jazz Scene, Josephine Davies has already and worked and recorded with the likes of The London Jazz Orchestra, Ronnie Scott's Vanguard Band (led by Gerard Presencer), Jamie Cullum, The Laurence Cottle Big Band, Sax Appeal, Will Young, The BBC Big Band, Matt Wates sextet, Gareth Lockrane's 'Groove Yard' as well as a two year stint in the National Youth Jazz Orchestra.
Josephine Davies' varied artistic journey includes classical saxophone quartets and line-ups, as well as key involvement in the more expansive ensembles mentioned above. With Satori she returns to a sound world invoked by the immediate solo-horn character of John Coltrane and founded on an absorbing live debut performance at London's I'klectik creative space, this partnership focuses primarily on intuitive, extended, three-way responses to Davies' intentionally minimal writing, based around key centres, rather than prescriptive harmonic sequences. The resultant, flowing chemistry between these exponents of in-the-moment music-making becomes fascinating to explore and also emphasizes the inherent dynamics and energy present in live music – the vital lifeblood of any improvising musician.
This particular environment is something in which Josephine Davies foresees plenty of future mileage: I imagined that this trio, with Dave and Paul, would be playful, energetic, exciting; and even had the sound in my head. But the outcome is even better – so inspiring, and so much fun.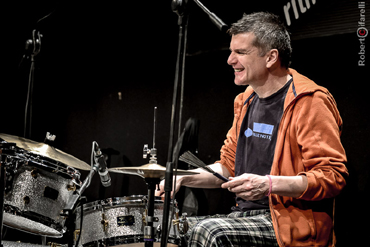 Paul Clarvis plays with many different bands and is involved with all musical genres, working with musicians ranging from Leonard Bernstein, Harrison Birtwhistle and John Dankworth to Randy Crawford and Nina Simone. He has recorded albums with Gordon Beck, Brian Ferry, Sir John Williams, Sam Rivers, Andy Sheppard, Moondog, John Adams, Mark Anthony Turnage, Marc Ribot & John Zorn, Michel Legrand, Elton John, Richard Thompson, Henry Lowther's 'Stillwaters' and John Harle. He has also worked with Mose Allison, Randy Brecker, Ravi Shankar and most of the London orchestras as featured percussionist / drummer.
Originally trained in classical percussion at the Royal College of Music where he is now a professor, Paul was the late Leonard Bernstein's choice of percussionist and was featured in the 1996 Proms in Sir Harrison Birtwistle's concerto for saxophone and drums. Although he is first and foremost a jazz musician who has firmly carved a niche for his own exuberant playing, Paul is in addition one of the UK's most sought-after session musicians and can be heard on literally hundreds of films including Star Wars, all the Harry Potter films, all the Narnia films, all the Twilight films, the Dark Knight, the Constant Gardner, Shakespeare in Love, Fantastic Mr Fox, Billy Elliot, Notting Hill, Tron, Bee Movie, Troy, Spy Game, Elizabeth, Captain America, Shrek, and even Kung Fu Panda to name just a few!
Paul was involved in the 2012 London Olympic Games Opening Ceremony, writing Dame Evelyn Glennie's part, and helping train the 100 drummers who took part in the event. He has travelled widely researching and studying music from around the world and was asked to chair the panel for the BBC Young Musician of the Year.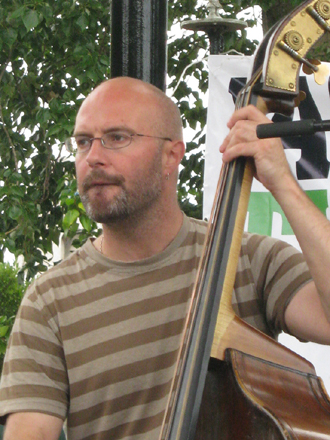 Dave Whitford discovered a passion for music at school where he started playing the bass guitar aged 13, soon after he held the bass chair in the award-winning Cornwall Youth Jazz Orchestra. After graduating from Middlesex University's Jazz course with a first class degree Dave quickly received a scholarship to study at the Guildhall School of Music's Jazz postgraduate diploma from which he graduated with distinction. He also received the Paul Hamlyn Foundation award which enabled him to tour and record with collective quartet Neverland.
He has worked with some real legends, including Steve Lacy, Marc Copland, John Taylor, Bill Frisell, Bobby Wellins, Dave Liebman, The NDR Big Band, The BBC Big Band, Mike Gibbs, Jack Bruce, Evan Parker, Kirk Lightsey, Ed Thigpen, Billy Hart, Chris Cheek, Jim Mullen, Maceo Parker, Jason Rebello, Gilad Atzmon, Stan Sulzmann and Trevor Watkiss.
Alongside a busy freelancing schedule current projects include Christine Tobin's group, Liam Noble's Trio and Quintet, Claire Martin and Ray Gelato's "A Swinging Affair", The Amy Gamlen Quintet, Gareth Lockrane's Grooveyard, The Frank Harrison Trio and Josephine Davies' "Satori".
SATORI
Video above not working? Click here or here for Youtube links.