Oli Rockberger 'Sovereign Tour'
Oli Rockberger (Piano & Vocals)
Hannah Read (Fiddle & Vocals)
Giorgio Serci (Guitar)
Michael Janisch (Bass)
Marijus Aleksa (Drums)
This is a sort of crossover gig with our acoustic programme as the artists within Oli's band play many sides of the acoustic spectrum. While gearing up to move back to his London roots after ten years living in New York, pianist, vocalist, songwriter and producer Oli Rockberger decided to assemble some of his favourite musicians to join him on a new recording.
Sessions took place amidst flights to and from the UK in the final stretch of his time as a full-time New Yorker. It was through the sweat of packing boxes and amidst the uncertainty and excitement of embarking on this new chapter that Sovereign was born.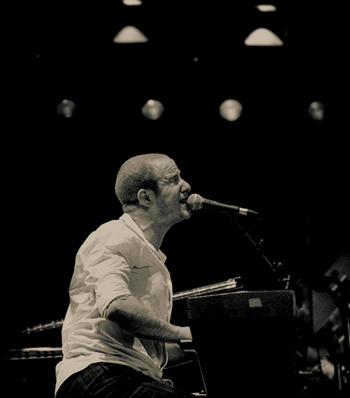 Oli called on some trusted alliances from his acclaimed Old Habits album in Jordan Perlson, Jordan Scannella, John Shannon and co-producer Chris Abell, and also on some more recent ones in Ryan Scott, Owen Biddle, Zach Danziger and Hannah Read (background vocals and violin); his New York musical family. So now Oli brings Sovereign in to his London musical family, with the album coming out on leading UK based indie label Whirlwind Recordings (Oct 20th), and joined by a stellar London band for his Oct UK release tour.
While in NY, Oli shared studios and stages with acclaimed singer-songwriters Carly Simon, Jesse Harris, John Mayer and Levon Helm, and with iconic Jazz/Soul/R&B instrumentalists Steve Gadd, Randy Brecker, Will Lee, Chris Daddy Dave and Nathan East. Now based in London, Oli continues to work internationally as an in-demand recording/touring sideman and songwriter, and as a member of prodigious songstress Laura Mvula's touring band
Ask Oli what comes to mind when listening to his latest creation Sovereign, and you may be waiting a while, for he'll be right back at Rockwood Music Hall in the Lower East Side, standing by the bar, with a whiskey in his hand....Oli graduated Berklee College of Music with a Full Tuition Scholarship, and is now an in-demand music educator with workshops/seminars to date including Steinway & Sons, Grotrian Pianos, Berklee, Tisch and ICMP. He is also a valued coach and mentor to many up and coming musicians.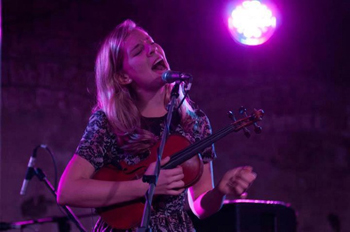 Born and raised in Scotland and now residing in Brooklyn, New York, Hannah Read is a versatile multi-instrumentalist widely recognized on the International stage. She's best known for her fiddle playing, song-writing and composing and was recently described as one of "the finest singers of the day" in the UK's MOJO Magazine. Hannah leads her own band and is an in-demand collaborator on both sides of the Atlantic - most notably as part of the critically acclaimed British folk super-group Songs of Separation, winners of Album of the Year at the 2017 BBC Radio 2 Folk Awards.
Hannah spent her youth playing fiddle and singing in the rich traditional music scenes of Edinburgh and on the Isle of Eigg, a remote Island off the west coast of Scotland. With musical training at The City of Edinburgh Music School, The American School of Modern Music in Paris and the prestigious Berklee College of Music in Boston, Hannah gathered the musical tools, vocabulary and experience that propelled her into the thriving Brooklyn music scene.
There's a dominant roots fusion in Hannah's original music, which combines British folk with "yearning Americana" (The Guardian), indie and contemporary sounds. With comparisons to Sandy Denny, Joni Mitchell and Feist, Hannah seamlessly weaves in her influences from both sides of the Atlantic. Hannah has also recorded fiddle, guitar and backing vocals on a wide range of recordings including with Roseanne Cash, David Duchovny, Silvina Moreno, Rowan Rheingans and Ewan Macpherson. She has performed throughout the USA, UK, Canada and Europe with her own self-titled project, as well as with Bruce Molsky, Julie Fowlis, Ember Isles, Daimh, Songs of Separation alongside Eliza Carthy and Karine Polwart, Juno award winner Rose Cousins and Grammy Award winning Sarah Jarosz, Celine Dion and Tom Chapin.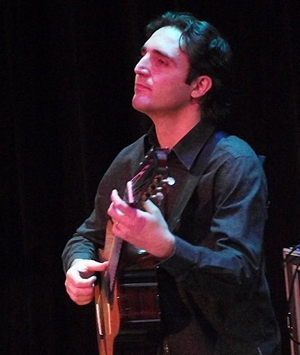 Giorgio Serci from Sardinia is an award winning guitarist, composer, arranger and lecturer.
He has recorded, performed and supported Jools Holland, Shirley Bassey, Julian Lloyd Webber, Kenny Wheeler, Dr John, Martin Taylor, Nigel Kennedy, Andy Sheppard, Bill Bruford, Paolo Fresu, David Garrett, CBS Orchestra, BBC Concert Orchestra and the Philharmonic Berlin amongst others.
His works blend jazz, classical and world music with evocative melodies, world groves and contemporary jazz harmonies.
…one of the best acoustic guitarist right now but also one of the most inventive musicians on the circuit. ~ Jonny Phillips, Jazz Umbrella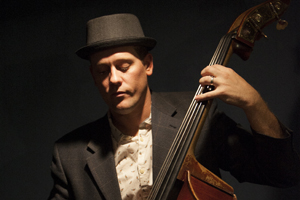 American bassist, composer, producer and record label owner Michael Janisch is one of the pre-eminent artists of his generation working in jazz and experimental musics. Michael is now pretty well known to most UK audiences for his rock solid and inventive bass playing, and since moving to London he has established a major roster of the best young UK jazz performers and writers, with top US names on his burgeoning record label Whirlwind. His work in contemporary improvised music, with prominent musicians from both sides of the Atlantic, including Jim Hart, Walter Smith III, Mike Moreno, Jason Palmer, Paul Booth, Aaron Goldberg, Phil Robson and Jonathan Blake as well as his own group Paradigm Shift
Janisch is one of the few bass players out there who plays both electric and upright with equal facility, passion and musicality. ~ Bass Musician Magazine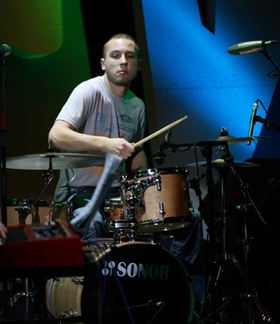 Marijus Aleksa is one of the youngest Lithuanian jazz professionals and one of the most distinct drummers. He plays traditional jazz, fusion, funky, hip-hop and their blends. At the age of fourteen Marijus Aleksa appeared with Oleg Molokoyedov's ensembles in several festivals, made his debut at the international Vilnius Jazz Festival. Later he collaborated with such groups as Guerrilla Jazz.lt, Groovy Taxi, D-Orange, Brassbastardz, and luminaries of Lithuanian jazz. He also performed in international ensembles, including Norwegian The Brazz Brothers and Herbie Kopf's Hip-noses. Since 2004, the versatile drummer has been playing with SKAMP. In 2005, with this group he appeared at the International Music Fair MIDEM in Cannes, and performed in the USA.
Oli's natural jazz grooves easily crossover to soul, folk and pop are easy to hear and have a hook which is engaging and pleasing. The inclusion of folk violinist and vocalist Hannah Read (Sounds of Separation, Bruce Molsky, Rosanne Cash and Julie Fowlis) makes for an interesting combination harmonically and this promises much on this gig. olirockberger.com
Video above not working? Click here or here for Youtube links.