Mark Lockheart (Saxes)
Liam Noble (Piano)
Jasper Høiby (Bass)
MALIJA is Mark Lockheart (Loose Tubes co-founder, Polar Bear), the amazing Liam Noble (Christine Tobin, Dave Liebman) on piano and Jasper Høiby (Phronesis) on bass. They formed the group as a result of an invitation to perform at the Rochester Jazz Festival 2014 in New York and from the very first rehearsal had so much fun and musical empathy. They had all worked together previously on Mark's 2009 album In Deep but this time they all decided to share the writing between them and explore a sound world without drums.
As Mark puts it: It's really hard to describe the music but I thought Jasper put it brilliantly when he described our music as "weird, simple, complicated, free, tight, floaty, ugly, beautiful and heartfelt, depending on your mood".
…this all-star trio delivers meticulously crafted performances, a cliché-free collection and a work of trenchant individuality ~ The Arts Desk - Peter Quinn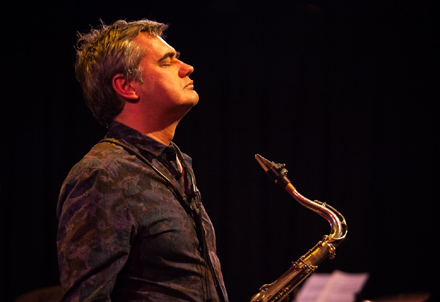 Mark Lockheart has had a varied and ground-breaking career to date having been at the core of much of the best that has been happening in the UK jazz scene.
As a saxophonist and composer Mark first came to prominence in the mid-1980s with the influential big band Loose Tubes. In 1992 Mark formed the eclectic co-led quartet Perfect Houseplants, a group that released six albums and collaborated with classical artists such as the Orlando Consort, Andrew Manze and Pamela Thorby.
The mid-90s saw Mark recording and performing with many jazz, folk and pop artists including Django Bates, Kenny Wheeler, Norma Winstone, June Tabor, Stereolab, Jah Wobble, Robert Wyatt, Prefab Sprout, Don Um Romao, Thomas Dolby, Anja Garbarek and Radiohead.
In 2003 Mark joined Seb Rochford's Polar Bear, which over a period of ten years went on to record six ground-breaking albums. The band's second CD, Held On The Tips Of Fingers, was nominated for the 2005 Mercury Award and later appeared in Jazzwise's '100 Albums That Shook the World.' The band's fifth album In Each And Every Way was also nominated for a Mercury award in 2013. In 2007 Mark was a featured soloist (along with John Pattitucci and Gwilym Simcock) in Mark Anthony Turnage's 'About Water', which was premiered on the Southbank in June 2007. Mark collaborated several times more with Turnage, performing his A Man Descending with the Southbank Sinfonia in 2008 and more recently as one of the featured musicians in Turnage's opera Anna Nicole which was premiered at the Royal Opera House in London in Feb 2011.
In 2009 Mark's quintet album In Deep was released to critical acclaim - the Manchester Evening News awarded it five stars and said it was the key record of the second golden age of British jazz. The following year saw the release of Mark's first big band album Days Like These with the Hamburg-based NDR Big Band. That same year Mark was awarded APPJC Parliamentary Jazz Musician of the Year 2010.
In 2013 Mark released Ellington In Anticipation, a radical reworking of Ellington melodies with an all-star line-up which included Seb Rochford and Liam Noble. The CD of the project had many four and five-star reviews and was MOJO magazine's 'Jazz Album of 2013' and nominated as 'Best Jazz CD of 2013' by the APPJC at the 2014 Parliamentary Awards. 2016 has seen Mark being awarded Jazz FM Instrumentalist of the year and also nominated for the British Composer Awards for his composition With One Voice.
…will forever magnify what is beautiful about new jazz ~ Wexford Echo (Ire)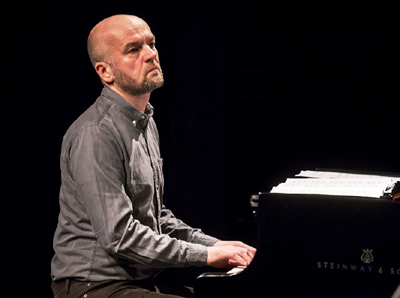 After studying music at Oxford University, and jazz at the Guildhall in London, Liam Noble started to build a reputation of note playing with Stan Sulzmann, Anita Wardell, John Stevens and Harry Beckett. His first CD, a solo entitled Close Your Eyes was released in 1994, and contained a mix of standards, originals and improvisations. This mixture of approaches has characterized his music ever since. In 1997 he joined the Bobby Wellins Quartet, the rhythm section of which continues today as the Liam Noble Trio, recently documented on the 2009 CD BRUBECK, gaining an almost unprecedented 5 star review in The Guardian.
Following a Cheltenham Festival gig, Liam recorded the acclaimed Romance Among The Fishes on Basho Records with guitarist Phil Robson and the New York rhythm section of Drew Gress and Tom Rainey on bass and drums respectively. Liam's working relationship has continued with Tom Rainey in the free improv trio, Sleepthief with Ingrid Laubrock.
Other frequent collaborators have included Christine Tobin, Paul Clarvis and Julian Siegel. His growing reputation as a free improviser has also resulted in recent performances with Mary Halverson, Marc Ducret, Mat Maneri, Evan Parker, Okkyung Lee and Peter Evans.
In June 2011 he was featured on a recording by Zhenya Strigalev with Larry Grenadier, Tim LeFebvre and Eric Harland. His newest project is an expanded trio with Chris Batchelor and Shabaka Hutchings.His newest recording is a solo CD, due for release in early 2015 on Basho Records, which features an eclectic mix of improvisations, as well as versions of music by Edward Elgar, Joe Zawinul and Rodgers & Hammerstein.
...A box of surprises. ~ Dave Gelly, the Observer 4****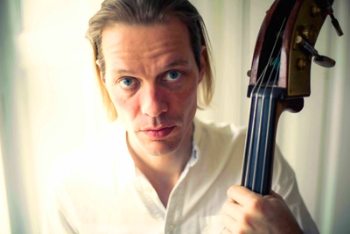 Copenhagen-born bassist Jasper Høiby moved to London in 2000 to attend the Royal Academy of Music. In 2005 he created the trio Phronesis which has toured extensively in Europe and North America and won awards for Jazz Album of the Year in Jazzwise and MOJO Magazines 2010 (Alive, Edition 2010) as well as a London Jazz Award for the trio's Pitch Black performance at Brecon Jazz festival 2012. Phronesis was also chosen for the IJFO's (International Jazz Festival Organisation) new talent support programme, which resulted in performances at eleven IJFO festivals between 2012 and 2014.
Høiby has also performed / recorded with a number of original artists, including Mark Guiliana, Django Bates, Shai Maestro, Julian Joseph, Kurt Elling, Antonio Loureiro, Tom Arthurs, Mark Lockheart, Liam Noble, Julia Biel, Marius Neset, Kairos 4tet, Jim Hart and Ivo Neame.
New and current projects apart from Malija include: An Electro-Acoustic solo bass project, Jasper Høiby's Fellow Creatures featuring Laura Jurd, Mark Lockheart, Will Barry and Corrie Dick, an electro Acoustic Duo with Brazilian multi-instrumentalist Antonio Loureiro and Phronesis's new album, The Behemoth - a Big Band recording with Frankfurt HR-Big Band with arrangements by Julian Arguelles released in late March 2017 on Edition Records.
Høiby fashions his pieces so the lines between freedom and form are beautifully blurred, the music flows as a tumultuous organic whole – everything belongs, nothing is forced. ~ MOJO
Jasper Høiby, a nimble player and intriguing composer, conjures harmonic patterns that generate a compelling tension. ~ The Telegraph
Top class Jazz from top musicians, early booking is advised.
marklockheart.co.uk
Video above not working? Click here or here for Youtube links.