Jake McMurchie (Saxes)
Pete Judge (Trumpet)
Jim Barr (Bass)
Clive Deamer (Drums)
Bassist Jim Barr once remarked that Get The Blessing were "total outsiders" and "the punk entry" when they won the 2008 BBC Jazz Award for Best Album with All Is Yes. Almost six years later and four albums down the line, the same could still be said to hold true, albeit with a little more wisdom at their disposal.
…they may well be the most original and exciting band on the British scene at the moment. ~ Jazzwise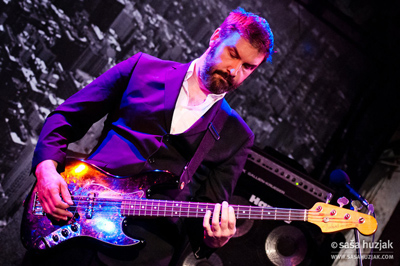 Astronautilus is Get The Blessing's fifth album (and third for Naim) and comes blazing out of Bristol chasing the tail of its predecessor, 2014's Lope and Antilope. While Lope and Antilope saw the band dip their toe in mellower waters, Astronautilus was literally composed between crashing waves and deserted estuary sands, producing an album of pounding rhythms, spacious atmospheres and strongly-crafted melodies – plus, of course, the unpredictability and musical mischievousness that have made the band so exciting and successful.
Astronautilus has all the deep textures and open-sounding playing with electronics you would expect, but with a greater sense of structure and depth. Having enjoyed the process of taking themselves away from their normal environment to record the last album, holed up on a remote part of the Cornish coast, Astronautilus is dedicated to the memory of Ornette Coleman, who passed away in June this year and who was pivotal to the band's formation in 2000. After fifteen years Get The Blessing can still lay claim to their original line up: That they can still produce such creative and intelligent music – all balanced with wit and passion – as well as find time to work on other projects, is testament to the free spirit that they embody.
…Seriously creative … wonderfully irreverent. ~ Mojo Magazine
Jim Barr is best known as the bass player with Portishead's live band. He's also a founding member of Get the Blessing, who won BBC Jazz Album of the Year in 2008. Jim runs 'J and J Studio' in Bristol, and clients include Portishead, Goldfrapp, Robert Plant, and The Experimental Pop Band, plus many more. Jim has produced albums for performers including Marc Gauvin and Jukes, and has played bass on albums for artists such as Portishead, Peter Gabriel and Stonephace. Jim provides the heart of the Blessing sound and is integral to its groove feel.
The momentum of creativity is undipped. ~ BBC Music Magazine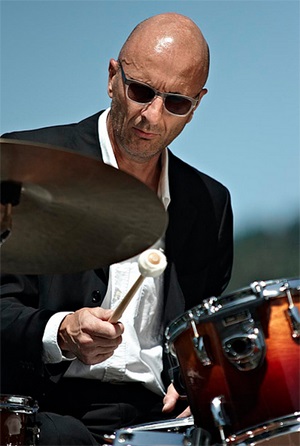 As one half of Portishead rhythmic backbone and drummer with Roni Size, Clive Deamer recorded two Mercury prize winning albums Dummy and New Forms. He's brewed up a 'jazz-storm' with Get The Blessing and since 2011 he has been the second drummer with Radiohead alongside Phil Selway. As well as touring with the band he has also featured on their Grammy nominated album A Moon-Shaped Pool.
Clive's recorded and toured with Led Zeppelin's Robert Plant and his band The Strange Sensation and his CV includes collaborations with Hawkwind, Siouxsie and the Banshees, Tom Jones, Goldfrapp and Jeff Beck. His unique, free approach to playing, taste and discipline ensure he is in constant demand as a recording / studio drummer. His influences of both jazz and rock merge to produce a hard-hitting drummer that can shift the expectations of a rigorous beat without any loss of precision. He is according to Robert Plant a 'spectacular polyrhythmist' who has had a career of 'great endeavour and versatility'.
This is trip-hop-informed contemporary jazz-rock at its very best. ~ Time Out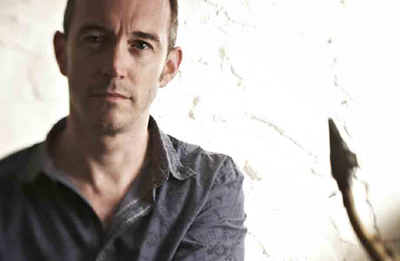 Saxophonist Jake McMurchie has grown in stature to become one of Bristol's finest players, gaining both national and international recognition for his work with Get the Blessing, and more recently with his project Michelson Morley, which blends acoustic and electronic sounds. When not touring, Jake is a key figure in the South West's vibrant jazz scene playing with rising stars Greg Cordez, Sophie Stockham's Sefrial, and is a founder member of the Bristol Composers Collective. He has also played with the National Youth Jazz Orchestra, Portishead and Massive Attack and with the great Portuguese singer Fernando Tordo at the National Theatre in Lisbon.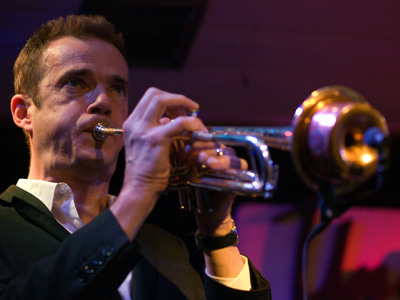 Pete Judge plays trumpet with multi-instrumental chamber folk trio Three Cane Whale, world brass quintet Dakhla, in experimental jazz/electronic duo Eyebrow and of course Get The Blessing.
On top of this, his tour and session work includes: Super Furry Animals, Noel Gallagher, Jim Moray, John Parish, and Marc Gauvin, and he can be heard on film soundtracks including Nic Roeg's Sound On Film, Austin Chick's XX/XY, Aardman Animations' The Pirates and he makes a very brief appearance in Joe Wright's recent Anna Karenina.
The excellent Pete Judge sounds somewhere between the late Don Cherry and the UK's Harry Beckett. ~ John Fordham, The Guardian
gettheblessing.com
Video above not working? Click here or here for Youtube links.