Andy Hague's Double Standards Quartet
Andy Hague (Trumpet + Flugelhorn)
Jim Blomfield (Piano)
Riaan Vosloo (Bass)
Andy Tween (Drums)
Andy is a prolific composer and arranger. Although his own groups feature him on trumpet, he plays drums to an equal extent and has performed with many big names in this capacity. Having grown up in Croydon, he took up a place at Bristol University to read Psychology and ended up settling in the city.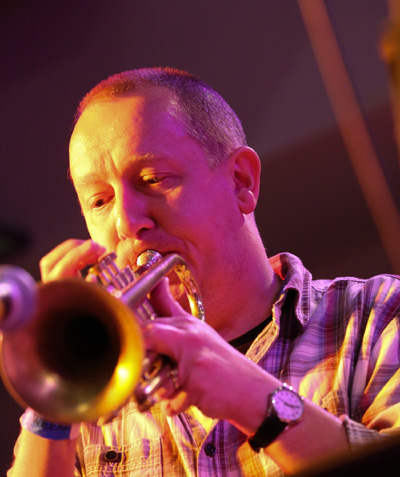 Over the past 25 years Andy has become well known in Bristol both as a performer and as organiser of weekly jazz venue The Be-Bop Club. He has released several CDs of his music, and appeared on four programmes of BBC Radio's Jazz Notes during the 1990s. Besides his jazz activities he has played in many other settings, including the albums by Portishead, various theatre productions, TV [Waking the Dead, Cold Lazarus] and the soundtrack of the motion picture A Good Woman starring Helen Hunt and Scarlett Johannson.
Andy has been at the heart of the Bristol jazz scene for over three decades, whether as the main-man of the well-established Bebop Club, leading a clutch of his own excellent bands – including Horace Silver tribute band Silverado, Latin combo Conjunto Gringo and his own Andy Hague Quintet and Big Band – or contributing on trumpet or drums to Fatman Swings and Denny Illett's Big Band.
Described as one of Bristol's most significant and best-loved jazz talents ~ The Jazz Mann Andy Hague is one of the city's favourite jazz musicians and a composer of real quality.
Andy is also well known as a jazz educator, having taught under the banner of Bristol Jazz Workshops for over a decade. This has led on to tutoring for several jazz summer schools and residential weekends, including CL Jazz, Music for You, Gloucester Academy of Music, Dartington and Falmouth-Yamaha. He has also acted as an external examiner for the Royal Welsh College Jazz Degree Course.
Between his many commitments Andy utilises his time writing for the library music company LuckyG, and his work has been used successfully on many TV channels and media networks.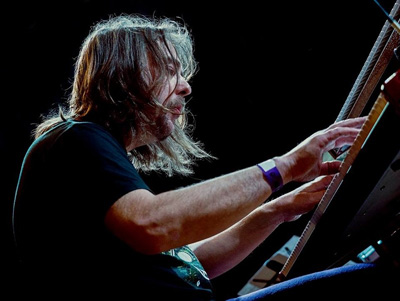 Jim Blomfield is the benchmark for the best jazz pianists we have in the city, over a sustained period he has constantly led the field with innovative groupings and sparkling technique, managing to stay ahead of the pack of bright new pianists in the South West.
Since moving to Bristol in 1991 to establish a career as a performer and composer, Jim has become recognised as an exciting, versatile and engaging piano player. He has often been the pianist of choice to accompany some of the UK's biggest jazz names at numerous venues and festivals up and down the country as well as long standing engagements in the bands of two stalwarts of the Bristol scene, Andy Hague and Kevin Figes with whom he has extensively toured and recorded.
…brilliant pianist Jim Blomfield often packs more into a single solo than seems wholly decent. ~ Jazz UK
As a bandleader and composer past work has included Latin Perspective, a sextet reflecting Jim's affinity with Latin jazz/Salsa music (a music that frequently imbues his playing and compositions) and Septimbre, a septet showcasing his intricate compositions and featured on his ASC records release Peaks and Troughs (together with original quartet pieces featuring special guest Andy Sheppard). Jim's arranging skills and diverse influences were also in evidence with commissions for the contemporary/crossover Elektrostatic concerts at Bristol's Colston Hall collaborating with the Emerald Ensemble and producing works that contained both classical and jazz elements. He also co-led and composed for acclaimed contemporary big band Resonation alongside saxophonist Kevin Figes and bassist Jeff Spencer.
For the last few years Blomfield has concentrated on the trio format, enlisting the versatile talents of Roshan 'Tosh' Wijetunge on bass and Mark Whitlam on drums. Regular rehearsing refined the group's sound and acclaimed live performances gradually saw them play and develop original material culminating in the release of the trio's 2013 debut album Wave Forms and Sea Changes (Pig Records) which was met with considerable critical acclaim.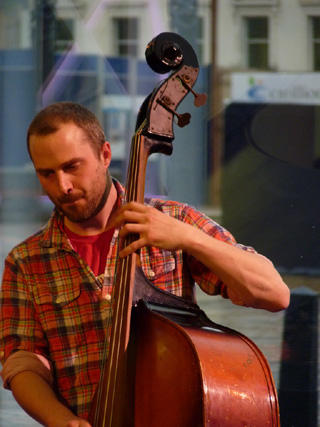 Bassist Riaan Vosloo was known as one of the best younger generation players in London in his early playing days, but he has become recognised as a highly creative band leader and composer, nationwide. He came to live in Bristol for a while before moving to Oxford but Bristol has now drawn him back to live in our city once again. As well as occupying the Bass chair in the Nostalgia 77 Octet, Riaan has worked with among others Keith Tippett, Matthew Bourne, Art Theman, Andy Shepherd, Spring Heel Jack, Liam Noble, Pee Wee Ellis and Iain Ballamy. Riaan was a founder member of The Electric Dr M (with Matthew Bourne) and plays in the Gary Boyle quartet with Mercury nominee Zoe Rahman.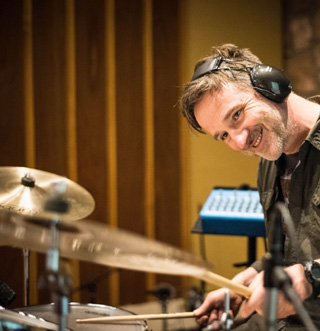 Andy Tween is a freelance drummer, television music composer and percussion teacher. After studying at college he received an offer to join Pee Wee Ellis (James Brown Van Morrison) he toured extensively in the U.K and Europe. Between touring periods he is very much in demand as a session musician for many artists including Mercury Prize winner Seth Lakeman.
His recording career as a session drummer with Seth Lakeman led to recording with artists as diverse as Show of Hands, Cara Dillon and has performed and recorded with numerous eminent Jazz, Folk and Soul musicians including Fred Wesley, PP Arnold, Jim Mullen, Carl Orr, Jean Toussaint, Tony Remy, Cameron Pierre, Elliot Randall, Art Theman, Andy Sheppard, Dave Newton, Lillian Bouté and pop artists Limahl, Sonja Kristina (Cloud 10) and ex-Royal Ballet star and contemporary choreographer Michael Clark. Most recently working with rock band Curved Air.
andyhague.co.uk