Rory Ingham (Trombone)
Dominic Ingham (Violin)
Toby Comeau (Piano/Keys)
Joe Lee (Bass)
Jonny Mansfield (Drums)
Rory Ingham is a 21 year old jazz trombonist, educator, composer and arranger based in London. He was recently announced Rising Star in the 2017 British Jazz Awards, and was voted as a runner-up in the Trombonist of The Year 2016.
He has played with internationally-acclaimed musicians such as Elliot Mason, Dennis Rollins, Vincent Gardener, Claire Martin, Art Themen, Dave Douglass, Soweto Kinch, Newton Faulkner, Liane Carroll, Evan Parker, and Dave Liebman.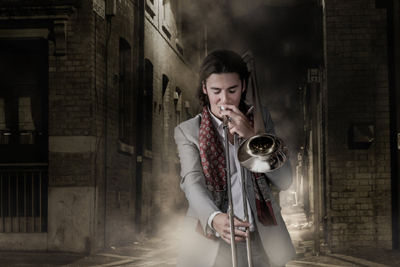 Rory has played with many ensembles including BBC Big Band, Mike Gibbs Big Band, London Jazz Orchestra and Syd Lawrence Orchestra. He has performed at prestigious venues/festivals across the UK and Europe, including Ronnie Scott's, 606 Club, The Vortex, Spice of Life, London Jazz Festival, Royal Festival Hall, Barbican Hall, Leeds 02, Band on the Wall, Abbey Road Studios, Bridgewater Hall, Royal Albert Hall, and the Bimhuis, Amsterdam, where he was a featured soloist. Rory recently played at the International Trombone Festival in California, as a finalist in the Carl Fontana Jazz Trombone Competition. In 2014, Rory set up the award-winning band Jam Experiment that have played at many high-profile British jazz festivals. They released their debut album in 2017, which has received much positive acclaim from the press and public. He is currently studying jazz at the Royal Academy of Music in London. He holds a chair in the National Youth Jazz Orchestra.
Trombonist Rory Ingham is a young man on the way up - excellent musicianship, swagger and a winning Ďcan-doí attitude... ~ Paul Pace, Jazzwise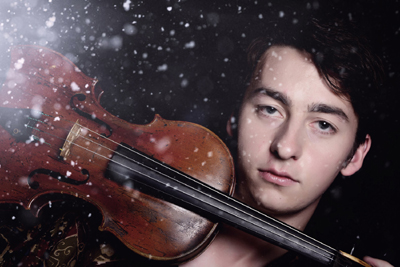 Dominic Ingham is a 22 year old jazz violinist, singer and composer, and has been based in London since 2014. He has played at venues such as Pizza Express Jazz Club, Band on the Wall, the Royal Albert Hall, the Barbican Hall, and the Bridgewater Hall, and most recently The Vortex.
Dominic currently leads and writes for his own band Sandcastles, a 6 piece band involving some of the best young jazz musicians in the UK. He is also involved in other UK bands including Jonathan Mansfield's Elftet, and Jam Experiment.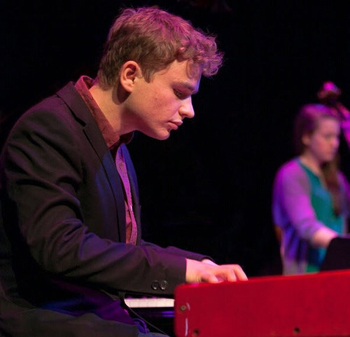 Born in 1997 into a musical family, Toby Comeau learnt piano, cello and music theory from a young age. He became a Truro Cathedral chorister in 2004, and in 2010 he went on to win Music and Art scholarships at Truro School, achieving a distinction at grade 8 piano aged 14.
He gradually made jazz piano his chief musical study, and was accepted into the South West Music School core programme (a government initiative set up to foster gifted and talented young musicians in the South West). He formed and led his own band who played at professional function gigs, and frequently composed and arranged music for it.
After attaining 11 GCSEs aged 16 he went on to Chethamís School of Music in Manchester, where his principal study was jazz piano. He sought out creative challenges and to stretch his musical skills, accompanying guitarist Newton Faulkner. In autumn 2015 he embarked on a four-year course studying jazz piano at Londonís Guildhall School of Music and Drama.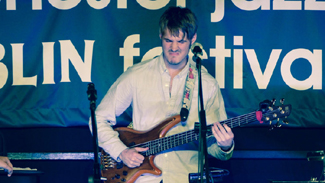 Joe Lee is originally from Truro in Cornwall and grew up with Toby before they both attended the Guildhall School of Music a year apart, while Joe finished his school qualifications.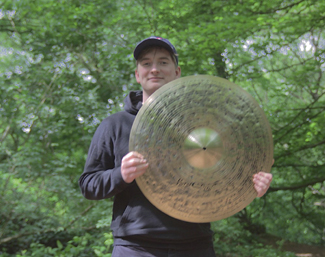 Jonathan Mansfield is 21 and based in London. He plays vibraphone, drums and percussion, and is also a composer . He began studying at the Royal Academy of Music in 2014 after being awarded the Colin Murray Scholarship. He is taught by Jim Hart, Pete Churchill and Gareth Lockrane.
Since being based in London, Jonathan has been leading his own ensembles, composing and performing, predominantly his Elftet (eleven piece band who recently performed their debut gig at the 606 Club, played in a masterclass with Dave Holland and received the Tebbutt Exhibition Award), as well as performing as a sideman in other bands such as The Jam Experiment, Treeclimbers, Rory Ingham's Quartet, Dom Inghamís Sextet and Outline. Jonny also regularly performs with the National Youth Jazz Orchestra, who recently toured Germany, culminating with a concert in Amsterdam.
Recently, Jonny performed in a quintet led by Gareth Lockrane at the 606 club playing the music from the film The Small World of Sammy Lee, Toured the north of England with Chris Potter as part of a Band on the Wall project as well as releasing the Jam Experimentís debut album.
..this band are bound for great things. A joy!.. ~ Claire Martin OBE, Jazz Line-Up on BBC Radio 3
jamexperiment.com