New Beginnings Quartet - Re-Imagining the Beatles
Gaetano Partipilo (Saxes)
Jonathan Gee (Piano)
Giuseppe Bassi (Bass)
Fabio Accardi (Drums)
Leading UK pianist and vocalist Jonathan Gee brings a new project created in early 2018 between himself and three great musicians from the Puglia region of southern Italy. It features the new rising star of Italian jazz on alto sax, Gaetano Partipilo with one of the most dynamic rhythm sections on the European scene.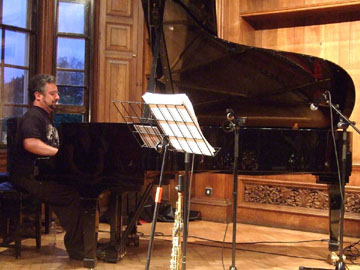 Their repertoire combines re-imaginings of Beatles tunes such as Blackbird, Michele and Come Together with self-penned compositions of Jonathan and Gaetano. This music has been recorded and an album release is imminent.
Since Jonathan Gee was named Most Promising Newcomer in the British Jazz Awards in 1991 he has become, according to Visions of Britain, One of European Jazz's most celebrated musicians. His music is precise, lucid and original, and at times breathtakingly lyrical.
As a specialist trio pianist, he was for many years featured at Ronnie Scott's as the trio or as rhythm section for luminaries such as Joe Lovano or Benny Golson. He has released eight of his own albums, including by his Italian trio Gee-Gallo-Minetto and his New York trio with Joseph Lepore and Nasheet Waits, where they sold out Dizzy's at the Lincoln Centre in New York.
Currently he is working regularly with Cleveland Watkiss with whom he collaborates on their Song Diasporas project, with Tim Whitehead on various projects, and with Tony Kofi playing Monk. He is also an accomplished singer, and plays electronic music with Northern Star People and Japan's 'Coppe'. Jonathan Gee, has eight albums to his name, and has worked in the bands of American jazz stars: Pharoah Sanders, Mark Murphy and David Murray.
Gee is one of European jazz's most celebrated musicians. His music is precise, lucid and original, and at times breathtakingly lyrical. ~ Visions of Britain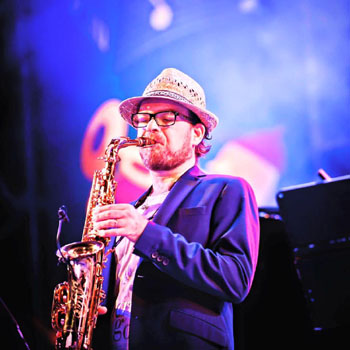 Gaetano Partipilo is known for an original style characterised by a strong mixture of contemporary and mainstream jazz. His latest album Daylight is on the label of the godfather of Italian jazz, Paolo Fresu. He has played with everybody from Jason Moran and Dee Dee Bridgewater to Billy Cobham. Partipilo is the rising star on the Italian jazz scene, his tone on alto marking him out as someone with a bit of a different sound; a melt -in-the-mouth, chocolate smooth delight!
Born in Cassano delle Murge (Bari), Gaetano at fifteen he enrolled at the Conservatory of Music "N.Piccinni" in Bari where he studied classical music and attended some lessons with Roberto Ottavino. After his graduation, he started an intense live activity, playing with Mark Murphy, Tony Scott, Enrico Rava and Rossana Casale. From 1996 to 1999 Gaetano played in the Dolmen Orchestra in collaborations with John Surman, Louis Sclavis and Michel Godard.
Between October and December 1999, Gaetano moved to New York City, where he met some important musicians of the local scene such as Jason Moran, Nasheet Waits and Greg Osby, with whom he recorded an album, before moving back to Italy in 2012 to record and tour with his own band Urban Society.
His other numerous collaborations have featured work with the likes of Dave Liebman, Robin Eubanks, Dave Binney, Ralph Alessi, Paolo Fresu, John Escreet, Dado Moroni, and many others.
Partipilo is a complete-game player whose tone and phraseology is an exciting amalgam of alto history. ~ All About Jazz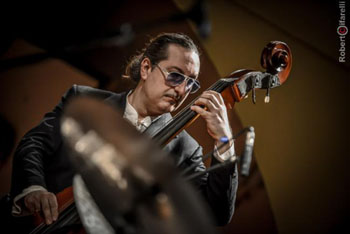 Giuseppe Bassi, one of the most in-demand bassists in Italy for the last 20 years, has a number of highly praised albums to his name as well as having graced the bands of Lew Tabackin, Greg Osby, Billy Mays and pianists Dado Moroni, John Hicks and Mal Waldron. Vocalist Ute Lemper and trumpter Avishai Cohen have also collaborated with Bassi.
A versatile musician, his music ranges from the most traditional to avant-garde Jazz, from Funk to classical music, playing and recording with all the most important and representative jazz musicians in Italy. Bassi, has provided bass work for many touring US giants. It's impossible to list the over three thousand concerts and all the festivals and exhibitions that have seen him as protagonist.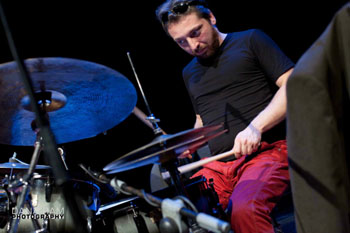 Bassi taught jazz double bass in 2005 at the Conservatory of Cosenza, then moved to New York. Back home he decided to devote himself entirely to concert activity and today he is one of the best Italian double bass players in the world, the only one required for international tours by some of the greatest representatives of world jazz.
Fabio Accardi has performed at festivals around the world, from North Sea, Hong Kong, in Chicago and Paris, often as a band leader, and has a number of album releases, particularly with his acclaimed band Precious. He's toured with US sax stars Greg Osby and Dave Liebman.
jonathangeetrio.co.uk
gaetanopartipilo.com
Video above not working? Click here for YouTube link