Dave O'Higgins (tenor saxophone)
Rob Luft (guitar)
Scott Flanigan (organ)
Rod Youngs (drums)
Dave O'Higgins is a popular performer with the public, his tenor and soprano sax sounds are highly personal and recognisable, with a clear sense of melodic development and adventure. Stylistically his sax voice recalls a wide palette from Charlie Parker, Dexter Gordon, John Coltrane and Joe Henderson through to Stanley Turrentine and Michael Brecker.
O'Higgins plays with quite exceptional fluency and his fund of ideas never runs out. ~ The Observer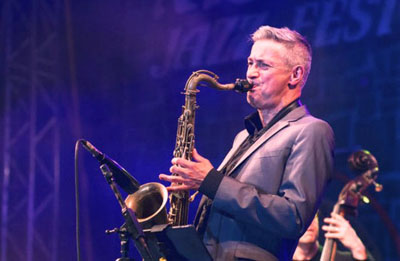 Dave is a highly regarded educator at the London College of Creative Media, where he is the Jazz Pathway Leader. He also runs a small specialist jazz recording studio (JVG), in search of the optimum way of recording jazz musicians through a combination of old techniques (á la Rudy Van Gelder of Blue Note fame) and newer innovations.
O'Higgins experience working with artists spans a huge spectrum, such as US musicians Joey Calderazzo, Joe Locke, Dave Kikowski, Joe Lovano, Jimmy Smith and Wayne Shorter; to vocalists Nancy Wilson, Peggy Lee and Kurt Elling and long term work with Sir John Dankworth and Dame Cleo Laine. Co-operations with South African pianist Abdullah Ibrahim to the legendary French pair of violinist Stephane Grappelli and composer/songwriter Michel Legrand. He also wrote and produced the last Matt Bianco album, "Gravity". Also on Dave's CV: Frank Sinatra (the last London appearance - a week at the Royal Albert Hall in 1992) and a tour and album with Ray Charles (Strong Love Affair)".
Nominated Best Tenor Sax 2018 British Jazz Awards
A stunning player in the neo-bop vein, with an apparently effortless flow of coherent ideas, beautiful time and a highly developed harmonic sense ~ The Jazz Guide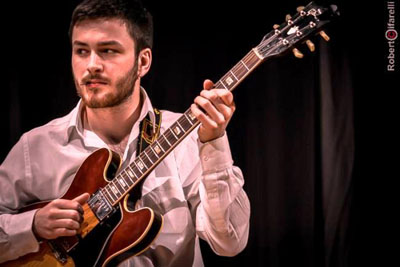 Rob Luft is an award-winning 25-year-old musician from London, and has been described as one of the UK's most prominent and talented young contemporary jazz guitarists. Praised by The Times 'to achieve great things in the future', Rob was the recipient of the 2016 Kenny Wheeler Jazz Prize in association with Edition Records, and he also received the 2nd Prize in the 2016 Montreux Jazz Guitar Competition. His debut album, Riser, was released in July 2017, to widespread critical acclaim from the European jazz media. John Fordham wrote in The Guardian that it's a very sophisticated debut, but given Luft's old-soul achievements since his early teens, we should have heard it coming.
Concert highlights include performances with artists including Django Bates "Saluting Sgt Pepper", Iain Ballamy, Eddie Parker's "Mister Vertigo", Loose Tubes, Laura Jurd's "Dinosaur", Tommy Smith's Scottish National Jazz Orchestra (SNJO) and The Hamish Stuart Band.
Rob is a regular member of some of London's finest modern jazz groups, such as Byron Wallen's "Four Corners", Martin Speake's "Mafarowi", and Enzo Zirilli's "Zirobop". In 2015 he was the recipient of the Peter Whittingham Award as part of two collective ensembles: Patchwork Jazz Orchestra and jazz-rock quartet Big Bad Wolf.
Nominated British Jazz Musician of the year Parliamentary Jazz Awards 2018 and Breakthrough Act of the year Jazz FM Awards 2018
With 'Riser', Luft has not only made a stunning debut, but sets himself at the forefront of the outstanding and interesting guitarists in jazz. Very impressive. ~ Written In Music (Netherlands)
**** thoughtfully virtuosic head-turner ~ The Guardian
**** an original guitarist to be prized ~ The Irish Times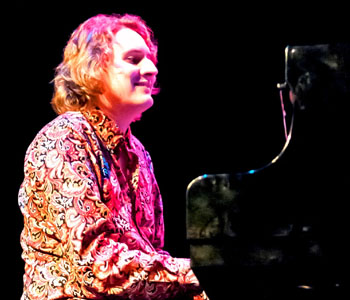 Hailing from Belfast in Northern Ireland, Scott Flanigan is one of the foremost keyboard players on the Irish jazz scene. He performs regularly across Europe and has recently performed with Van Morrison, the Ulster Orchestra, Larry Coryell, Jean Toussaint, Jim Mullen and Linley Hamilton.
As a leader, Scott successfully tours his own contemporary piano trio, as well as a hard-swinging organ quartet. Equally at home in academia as well as the bandstand, Scott received his BMus degree from Ulster University and his MMus in Jazz Performance from Dublin Institute of Technology. Scott is currently working on a Ph.D in Jazz Performance at Ulster University, where he is researching a mind boggling: analysing, and synthesising contemporary trends in jazz piano.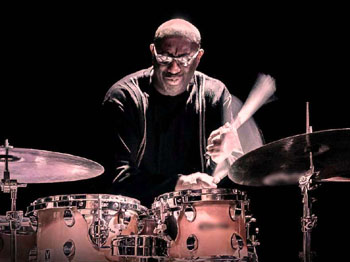 Rod Youngs is a London based drummer, composer, who seamlessly moves from one genre to another, always preserving stylistic conventions whilst bringing creativity and individuality.
A native of Washington D.C., Rod recalls his first exposure to live music: "My dad managed some of Washington's foremost R&B groups and would occasionally take me along to gigs/recording sessions…."
Rod has a uniquely identifiable style, loose-limbed and giving everything a great sense of swing. It is a style that incorporates influences across the board from Sid Catlett to Tony Williams, but centres in the great post-Bop drummers of the 50s. Rod's consummate musicianship has garnered him a wide variety of work from concerts and recordings to sessions for radio, TV and film. He has become the drummer of choice for a formidable array of artists and groups including, Gil Scott-Heron, Lee Konitz, Courtney Pine, Jon Hendricks, Hugh Masekela, Carleen Anderson, Natalie Cole, Mica Paris, Denys Baptiste, Abdullah Ibrahim, Julian Joseph, BBC Concert Orchestra, Robin Eubanks and Jazz Jamaica All Stars amongst others. Rod is actively involved in music education. Serving as an instructor on the Glamorgan University jazz course and Southampton University, for the Tomorrow's Warriors Organisation, Serious International Music Producers and The Round House. He also serves as a guest artist at the Planet Drum School and the Julian Joseph Jazz Academy
daveohiggins.com
robluft.co.uk
scottflanigan.com
rodyoungs.com
Video above not working? Click here for YouTube link