Julian Siegel (Saxes and Bass Clarinet)
Phil Robson (Guitar)
Thad Kelly (Basses)
Gene Calderazzo (drums)
Since their formation in 1996 Partisans have been thrilling audiences with their ferociously energetic performances. Hailed as breaking the ground for the new wave of British jazz and described by BBC Radio Jazz on 3 as One of the most exciting all-star experimental groups in Jazz today.
Intelligent, varied and often dazzling ~ The Evening Standard
Partisans are co-led by two of the pre-eminent musicians of their generation, Phil Robson and Julian Siegel. Partisans are a real band! The richly lyrical and strongly melodic compositions written by the leaders provide the framework and starting point, underpinned by the rock solid, freewheeling and supercharged rhythm section. Their critically acclaimed new album Swamp, on Whirlwind Records pumps their groove-based sound with viscous voodoo, Hi-Life romps, burning post-bop, no messin' rock outs, spacious reflections and heavy hooks.
Partisans present some of the most refreshing music I've heard in a long while, uncompromising, very well written and very well played. It demands serious attention. I hear in these players a sense of common purpose and resolve, and a strong command of a dialect uniquely suited to this music. It's heartening to hear music that looks to find its own particular place. ~ Steve Swallow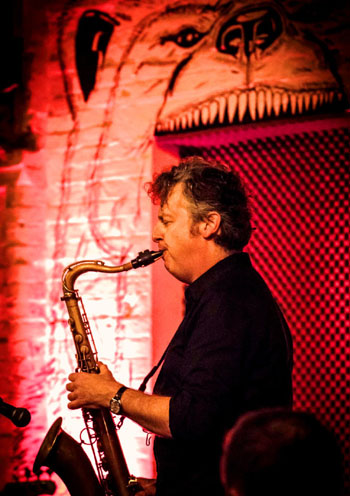 Julian Siegel is one of the premier saxophonists of his generation working constantly in the UK, America across Europe and worldwide. He's worked with many outstanding musicians, including Bill Frisell, Steve Swallow, Andrew Hill, Hermeto Pascoal, Django Bates (multiple projects), John Taylor, Kenny Wheeler, Laurie Anderson, Colin Towns and the NDR Big Band to name but a few.
In 2007 he was awarded the BBC Jazz Award for Best Instrumentalist.
As well as Partisans, his current bands are his own Julian Siegel Quartet featuring pianist Liam Noble, Oli Hayhurst and Gene Calderazzo, the band's last album won the 2011 London Jazz Award. He also leads a trio with US Improvising stars drummer Joey Baron and bassist Greg Cohen, formed as a result of a major commission from Cheltenham Jazz Festival.
In 2017 Julian was commissioned by Derby Jazz to write a new piece for Jazz Orchestra, Tales from the Jacquard. The commission was performed by the newly formed Julian Siegel Jazz Orchestra on a six date UK tour in March 2017. Julian is also a staff member at the Royal Academy of Music in London, helping to bring through the next generations of jazz talent.
Expressive, direct music ~ John Fordham, The Guardian
A world class saxophonist ~ Jazz UK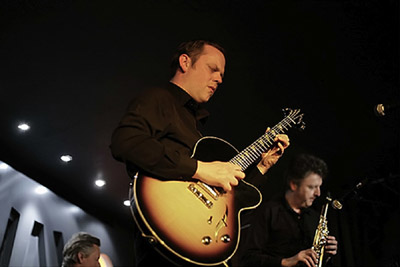 Guitarist Phil Robson is a seminal figure in contemporary British music. Along with Partisans he is the leader of his own Organ Trio with Ross Stanley and Gene Calderazzo, the Immeasurable Code Quintet featuring the amazing US alto saxophonist Mark Turner, and is a regular sideman with Christine Tobin (Best Vocalist 2014 Parliamentary Jazz Awards).
His other bands have included Six Strings and the Beat, a US trio with Billy Hart and James Genus, and his Quartet featuring David Liebman and Jeff Williams. Phil has worked with many artists as diverse as Kenny Wheeler, Django Bates and Barbra Streisand (Jonathan Ross exclusive 2009, BBC TV).
Phil was awarded Jazz Musician of the Year in the UK 2009 Parliamentary Jazz Awards and has recorded four albums under his own name on Babel and Whirlwind Recordings, including a commission for Six Strings and the Beat.
Phil now lives in New York where has become much in demand; he splits his time as equally as he can between the UK and the USA. Commissioned several times to write music and put projects together by the BBC, Derby Jazz and Birmingham jazz as well as writing music for live theatre shows.
A renowned educator, Phil continues to be a visiting professor at Trinity College Of Music, The Guildhall School Of Music and Drama and The Royal Academy Of Music, the latter of which he was elected to be an honorary associate of in 2015 as well as appearing in the past as a tutor at major educational events such as 'The European Jazz Academy' in Germany, Dordogne Jazz Summer School, BUJazzO, Graz and Linz universities in Austria etc and is currently a regular mentor at the 'Jazz For Kids' program at 'The Jazz Standard', NYC.
Phil is a wonderful guitarist and composer, definitely a unique player. We had a ball… ~ David Liebman (US sax legend)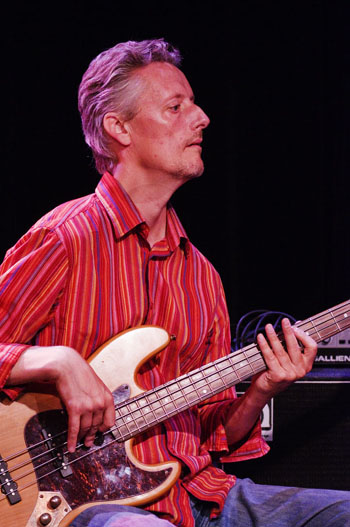 Thad Kelly has played on most continents over the past 25 years. After early years playing with performers such as Ian Shaw, Claire Martin and Jackie Dankworth, Thad joined the Orquestra Mahatma trio featuring Paul Clarvis and Stuart Hall that played songs and rhythms from Albania to Brazil. He's ripped up musical form with aural anarchist Billy Jenkins (Voice of God Collective), who explores the urban blues pallet and more rock like forms of groove with Partisans. Just as capable of sweeter soul grooves, with Steve Arguelles and Ashley Slater, and some years of living in the West Country has led to his current project as leader of AughiskY, a Celtic/Jazz cross-over group.
More recently he was part of the all-star Electric Lady Big Band, formed to commemorate the 50th anniversary of Jimi Hendrix's masterpiece album, which debuted at the Bristol Jazz Festival in 2017. Thad also plays in local Bristol based Latin band Conjunto Gringo alongside pianist Jim Blomfield and trumpeters Jonny Bruce and Andy Hague.
Calderazzo's time and energy creates an excitement similar to that of a young Tony Williams, a drummer with only forward gears! ~ Stan Sulzmann, Musician Magazine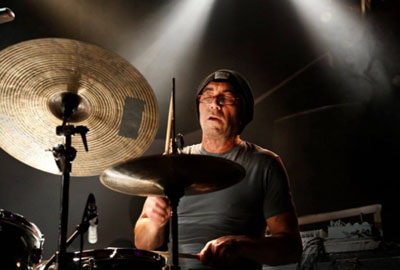 Gene Calderazzo was born a native New Yorker. Gene began his early studies at the Berklee College of Music, in Boston, (1979-81) alongside classmates Branford Marsalis, Wallace Roney, Jeff Watts and Marvin 'Smitty' Smith. On scholarship he attended Long Island University in Brooklyn, performing with Joe Henderson, Mike Brecker, Lionel Hampton and Reggie Workman.
Since 1995 Gene has been a long-term resident in the UK, becoming one of the most in-demand drummers on the European scene touring with the likes of Steve Lacy, Pharoah Sanders Quartet, Sting, Steve Grossman, Eddie Henderson, The NDR Big Band, James Moody, Phil Woods, Benny Golson, Ulf Wakenius, Evan Parker, Gary Husband, Wayne Krantz, Freddie Hubbard, Bobby Watson, Eddie Gomez, Randy Brecker, his brother Joey Calderazzo and on the film soundtrack Bodysong, composed by Radiohead's Jonny Greenwood.
His unique pocket kit belies the size of his sound; he is in the music from start to finish, but never all over it. His space and sense of rhythm improves any band he graces.
Was there ever a drummer who combined power and subtlety the way Gene Calderazzo does? He anticipates everything, he shapes the events. He stimulates and guides the soloists. He is there in every sense of the word. ~ Steve Gray, Composer and Arranger
partisans.org.uk
juliansiegel.tumblr.com