Andy Hague Sextet - Kind of Blue
Andy Hague (Trumpet)
Sam Crockatt (Tenor Saxophone)
Terry Quinney (Alto Saxophone)
Jim Blomfield (Piano)
Riaan Vosloo (Bass)
Toby Perrett (Drums)
August 17, 1959 saw the release of the seminal album Kind of Blue by Miles Davis. This iconic work, that would become the biggest selling Jazz album of all time, is 60 years old this year and sounds as fresh today as it did on its release. To mark this anniversary Bristol trumpeter / composer Andy Hague put together a complete track-by-track re-interpretation of the 1959 Miles Davis classic.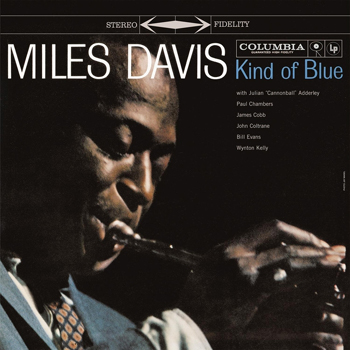 Debuted at the Bristol Jazz Festival in March this work turned out to be more than just a tribute. In fact, the sell-out audience witnessed a remarkable performance that exceeded expectations on all fronts. It was accurate, empathetic and nuanced to near perfection, beautifully delivered by this group of musicians led by Hague
Bristol based trumpeter Andy Hague has been leading his own quintet for over twenty years, and it is one of the most popular bands in the area. Every time this band plays it reminds us that we have such a grand depth of talent on our own doorstep; his sextet for this gig, dips into this creative pool of musicians based in the area.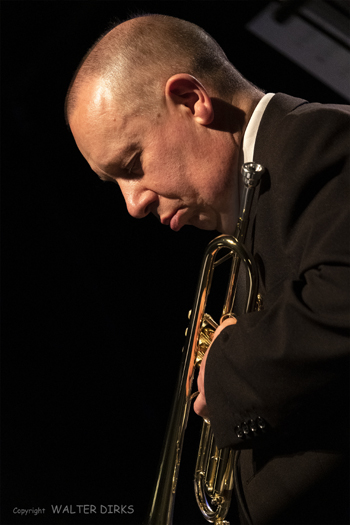 Andy is a prolific composer and arranger. Although his own groups feature him on trumpet and flugelhorn, he also plays drums to an equal extent, and has performed with many big names in this capacity. Having grown up in Croydon, he took up a place at Bristol University to read Psychology and ended up settling in the city. Over the past 25 years Andy has become well known in Bristol both as a performer and as organiser of weekly jazz venue The Be-Bop Club. He has released several CDs of his music, and besides his jazz activities he has played in many other settings, including the albums by Portishead, various theatre productions, TV [Waking the Dead, Cold Lazarus] and the soundtrack of the motion picture A Good Woman starring Helen Hunt and Scarlett Johannson.
Andy is also well known as a jazz educator, having taught under the banner of Bristol Jazz Workshops for over a decade. This has led on to tutoring for several jazz summer schools and residential weekends. He has also acted as an external examiner for the Royal Welsh College Jazz Degree Course.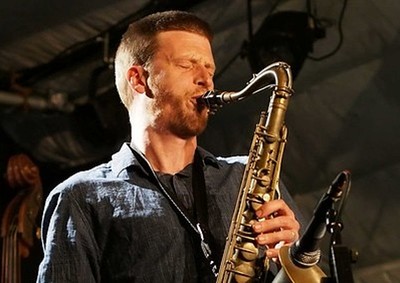 Sam Crockatt has been playing jazz since the age of 10. Beginning on clarinet and listening to Louis Armstrong, Sydney Bechet, and Jimmy Noone. Over the next few years he switched to saxophone and began listening to John Coltrane, Sonny Rollins, Wayne Shorter and realised he was hooked! Armed with a degree in Jazz from the Royal Academy of Music heís gone on to play in venues all over the UK and appeared six times at the Paradise Jazz Festival in Cyprus, performed at the Brecon Jazz Festival with Peter King and Julian Arguelles, and taught on the Global Music Foundation Summer School in Tuscany alongside US piano great Edward Simon.
His main band is his Quartet where he plays regularly with some amazing musicians: Kit Downes (piano), Oli Hayhurst (bass) and James Maddren (drums). Their first album Howeird won album of the year in the Parliamentary Jazz Awards 2009. Sam is also a member of London-based Loop Collective.
Sam brings an energy and immediacy to his playing; in peppy live performance, he illuminates and elaborates his own original compositions. Sam has collaborated with many of todayís increasingly successful contemporary jazz and improvisational artists. Samís robust and characterful tenor voice Ė stems from an appreciation of the sound worlds of (amongst others) Dexter Gordon, Joe Henderson and Lee Konitz.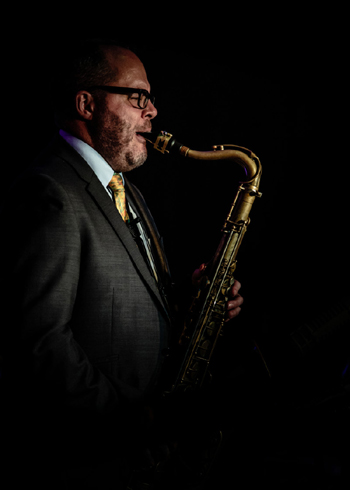 Terry Quinney is a Canadian-born saxophonist, arranger and music educator based in Somerset, UK. As a versatile freelance musician he is equally at home performing all types of jazz, funk, soul, rock 'n roll, and tribute acts as well as pit orchestra and recording studio work.
Born and raised in Regina, Saskatchewan, Canada, Terry moved to Toronto, Ontario in 1996 to further his musical education at Humber College, where he received the Douglas Richardson Memorial Scholarship, The Bobby Herriot Award for Arranging and Composing and the President's Letter and was fortunate enough to perform with Randy Brecker, Kurt Elling and Dave Douglas.
Terry moved to southwest England in 2009, quickly becoming a fixture on the jazz scene in our area. As co-leader of the The Sound of Blue Note, Terry has performed with UK jazz icons such as Nigel Price, Ian Shaw, Mark Nightingale, Alan Barnes, Dave O'Higgins, Gilad Atzmon, Orphy Robinson and Jim Mullen. Terry takes on the role of the alto sax of Cannonball Adderley for this re-imaging of the great Miles recording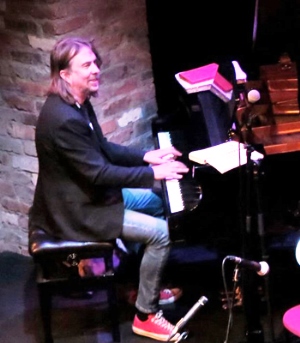 Jim Blomfield is the benchmark for the best jazz pianists we have in the city; over a sustained period he has constantly led the field with innovative groupings and sparkling technique, managing to stay ahead of the pack of bright new pianists in the South West.
Since moving to Bristol in 1991 to establish a career as a performer and composer, Jim has become recognised as an exciting, versatile and engaging piano player. He has often been the pianist of choice to accompany some of the UKís biggest jazz names at numerous venues and festivals up and down the country as well as long standing engagements in the bands of two stalwarts of the Bristol scene, Andy Hague and Kevin Figes with whom he has toured extensively and recorded. Jim was on piano for our first gig at the Old Vic with Gilad Atzmon, who was stunned by Jimís playing
As a bandleader and composer past work has included Latin Perspective, a sextet reflecting Jimís affinity with Latin jazz/Salsa music (a music that frequently imbues his playing and compositions) and Septimbre, a septet showcasing his intricate compositions and featured on his ASC records release Peaks and Troughs (together with original quartet pieces featuring special guest Andy Sheppard). Jimís arranging skills and diverse influences were also in evidence with commissions for the contemporary/crossover Elektrostatic concerts at Bristolís Colston Hall collaborating with the Emerald Ensemble and producing works that contained both classical and jazz elements. He also co-led and composed for acclaimed contemporary big band Resonation alongside saxophonist Kevin Figes and bassist Jeff Spencer.
For the last few years Blomfield has concentrated on the trio format, enlisting the versatile talents of Roshan ĎToshí Wijetunge on bass and Mark Whitlam on drums. Regular rehearsing refined the groupís sound and acclaimed live performances gradually saw them play and develop original material culminating in the release of the trioís 2013 debut album Wave. Last year he followed up with possibly his best recording to date with release of Strange Beauty (Every Way OK). It clearly shows he continues to get even better as a musician. His use of space and dynamic in this recording and in his live performances is evidence we have a major piano talent living and working in our city!
Öbrilliant pianist Jim Blomfield often packs more into a single solo than seems wholly decent. ~ Jazz UK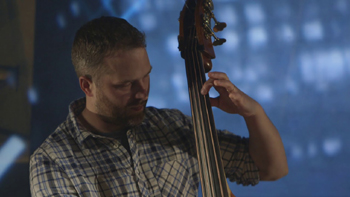 Bassist Riaan Vosloo was known as one of the best younger generation players in London in his early playing days, but he has become recognised as a highly creative band leader and composer, nationwide. He came to live in Bristol for a while before moving to Oxford but Bristol has now drawn him back to live in our city once again.
As well as occupying the bass chair in the Nostalgia 77 Octet, Riaan has worked with among others Keith Tippett, Matthew Bourne, Art Theman, Andy Shepherd, Spring Heel Jack, Liam Noble, Pee Wee Ellis and Iain Ballamy. Riaan was a founder member of The Electric Dr M (with Matthew Bourne) and plays in the Gary Boyle quartet with Mercury nominee Zoe Rahman.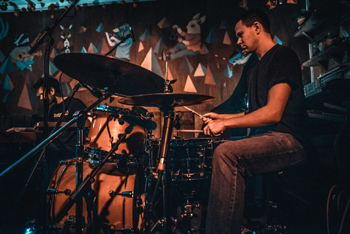 Drummer Toby Perrett is new to me, seeing him first at Andyís, Bristol festival performance, heís been playing around Bristol and further afield with groups as diverse as Within These Vessels and Trad-jazzers The Rhythm Pencils.
He currently plays with Hammond group: The John-Paul Gard Trio, and with Manuals of Fire. He is also a member of Hippo, who have just released an EP and completed a UK tour.
andyhague.co.uk