Mark Lockheart (Saxes)
Elliot Galvin (Piano/Keys)
Tom Herbert (Basses)
Dave Smith (Drums)
Saxophonist and composer Mark Lockheart first came to prominence in the mid-80s with the influential big band Loose Tubes. In 1992 Mark formed the eclectic co-led quartet Perfect Houseplants, a group that released six albums and collaborated with classical artists such as the Orlando Consort, Andrew Manze and Pamela Thorby.
The mid-90s saw Mark recording and performing with many jazz, folk and pop artists, including Django Bates, Kenny Wheeler, Norma Winstone, June Tabor, Stereolab, Jah Wobble, Robert Wyatt, Prefab Sprout, Don Um Romao, Thomas Dolby and Radiohead.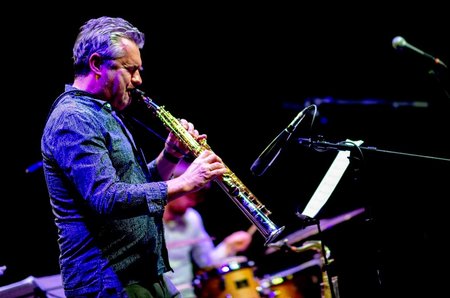 In 2003 Mark joined Seb Rochford's Polar Bear, which over a period of 12 years recorded six ground-breaking albums. The band's second album, Held On The Tips Of Fingers, was nominated for the 2005 Mercury Award and later appeared in Jazzwise's 100 Albums That Shook the World. The band's fifth album, In Each And Every Way, was also nominated for a Mercury Award in 2013
In 2007 Mark was a featured soloist (along with John Pattitucci and Gwilym Simcock) in Mark Anthony Turnage's About Water, which premiered on the Southbank in June 2007. Mark collaborated several times more with Turnage, performing his A Man Descending with the Southbank Sinfonia in 2008 and more recently as one of the featured musicians in Turnage's opera Anna Nicole, which premiered at the Royal Opera House in London in 2011.
Mark's quintet album In Deep was released to critical acclaim in 2009. The following year saw the release of Mark's first big band album Days Like These with the Hamburg-based NDR big band. That same year Mark was awarded APPJC Parliamentary Jazz Musician of the Year 2010.
Mark released Ellington In Anticipation, a radical reworking of Ellington melodies with an all-star line-up including Seb Rochford and Liam Noble. The album received numerous four and five-star reviews and was MOJO magazine's Jazz Album of 2013 and nominated as Best Jazz CD of 2013 by the APPJC at the 2014 Parliamentary Awards.
An invitation to perform at the New York Rochester Jazz Festival in 2014 led to the formation of Mark's trio, Malija, with bassist Jasper Hoiby and pianist Liam Noble. The group's second album Instinct was released in 2017 followed by a 21-date tour. 2016: Mark was awarded Jazz FM Instrumentalist of the Year and also nominated for the British Composer Awards for his composition With One Voice. A few years later saw the birth of two very contrasting projects , the jazz/orchestral work titled Days On Earth for jazz sextet and 30-piece orchestra, released on Edition Records in January 2019 and a set of English Renaissance music Salvator Mundi recorded at Temple church in London with organist Roger Sayer. Mark's latest recording Dreamers with his new group (of the same name) will be released on the Edition label early 2022.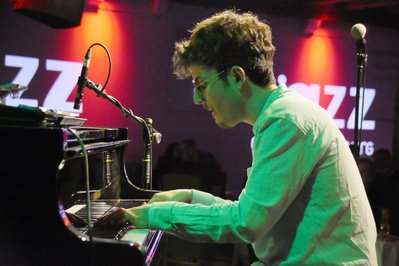 Elliot Galvin is one of the rising stars of UK jazz. A superbly gifted composer and pianist, whose maverick imagination and magpie like ability to blend a disparate world of influences into his own unique musical vision has seen him compared to Django Bates although in truth he sounds like no one except himself.
A prolific composer, Elliot has been commissioned by a number of ensembles, dance companies, theatre groups and festivals including the London Sinfonietta, Ligeti String Quartet, The London Jazz Festival, The RESOLUTION! Dance Festival and the theatre company Cut Tongues. He works regularly with multi-media and in 2014 put on a multi-media installation piece at the Turner Contemporary Gallery, which consisted of live performance, interactive sound sculptures and film.
Performing regularly as a soloist, he recently released the entirely improvised album Live in Paris at Fondation Louis Vuitton and is a key member of the Mercury nominated band Dinosaur. He has recently begun a duo project with the renowned saxophonist Binker Golding (one half of Binker and Moses), with whom he released the critically acclaimed album EX Nihilio on Byrd Out records in February 2019.
A virtuosic, risk embracing one-off.... He reminds me of the young Django Bates, and the impression Django made on me in the 80s - great improv chops, strong character as a player and a composer, evident love of the jazz tradition without wanting to repeat the past, very English sense of humour. He's the kind of artist you always want to stay tuned in to, because you know he's going to keep on coming up with surprises."
~ John Fordham, The Guardian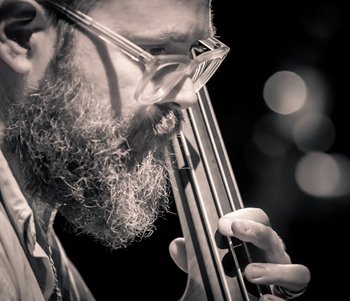 Tom Herbert is a bass player in Mercury Music Prize nominated bands The Invisible and Polar Bear, as well as vocal/double bass duo Moats and Thrones.
The BIMM Institute London, Live Performance Tutor was also a founding member of the British jazz-punk band Acoustic Ladyland (BBC Jazz Awards Best Band 2005 and featured on BBC2's Later with Jools Holland). Tom has also performed and recorded with a wide range of musicians including Paolo Nutini, Jessie Ware, Frank Ocean, Adele (on the James Bond Theme Skyfall), Lianne La Havas, Beck, St Vincent, Cibo Matto, Yoko Ono, Roots Manuva and on the theme and soundtrack to the cult BBC comedy League of Gentlemen. Tom is currently on the teaching staff at The Royal Academy of Music.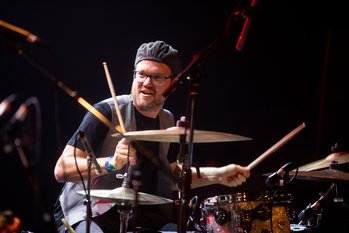 Dave Smith is best known for his work with Robert Plant and the Sensational Space Shifters, Fofoulah, and Afro-Blues group Juju. He has recorded drums for Rachid Taha, Bassekou Kouyate and Robert Plant and has performed with Patty Griffin, Donny McCaslin, Chrisse Hynde and Eddie Henderson. As co-founder of the Loop Collective, Dave is part of some of the most adventurous musical projects in the UK, which include Strobes, Cloudmakers Trio, Outhouse, MA and Splice. As co-leader of Outhouse Ruhabi and Fofoulah, he is the man behind the most fruitful collision of West African drum music and European jazz yet to surface. Dave has been heavily involved in the London and UK jazz scene playing with bands such as Arnie Somogyi's Ambulance, Pete King Quartet, Paul Booth Quintet, the Sam Crowe Group and Mark Lockheart's In Deep as well as performing with artists such as Donny McCaslin, Jeanne Added, Hilmar Jensson, Eddie Henderson, Ingrid Jenson, Lukas Kranzilbinder and Ralph Alessi.
This track from Mark is a simple duo with drummer Corrie Dick re-vamping A Night in Tunisia
Video above not working? Click here for YouTube link
marklockheart.co.uk/dreamers