Chris Batchelor (Saxes)
Margrit Hasler (Viola)
John Parricelli (Guitars)
Steve Watts (Bass)
Paul Clarvis (Percussion)
Zoetic, is a new project from award-winning composer and trumpet player, Chris Batchelor. His distinctive compositions for Zoetic are the outcome of his long lasting immersion in a wide range of music in London's varied scene.
Chris gained his first professional experience with Dudu Pukwana's Zila aged 17, at the suggestion of Harry Beckett.
He subsequently became a founder member, composer and soloist with Loose Tubes, contributing many pieces to the repertoire of the band from 1984-1990.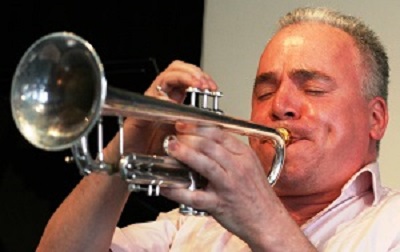 He was very active at this time as a member of legendary world music trailblazers '3 Mustapha's 3', as well as enjoying a varied diet of gigs with Chris McGregor's Brotherhood of Breath, Congolese soukous band Taxi Pata Pata and the madcap Ashley Slater's Microgroove.
As a sideman, Chris has appeared alongside many international stars, such as Michael Brecker, Sam Rivers, Hermeto Pascoal, Uri Caine, John Taylor and the Jazz Passengers featuring Debbie Harry. He has enjoyed a long term playing partnership with altoist Steve Buckley in their bands Orchestra Rafiki, the Buckley /Batchelor Quartet and with their award winning international collaboration Big Air, featuring New York based Myra Melford & Jim Black.
The music that Buckley and Batchelor wrote for the 'Jazz on 3 Commission' that brought Big Air together, subsequently won them a BBC Jazz Award for Best New Work, 2001. Their 2009 release entitled Big Air was described by Brian Morton in Jazz Journal as "the best British jazz record for 20 years".
In November 2009 Chris was selected to receive the prestigious Paul Hamlyn Foundation Award for Composers.
He currently leads two groups, Pigfoot which is dedicated to reinterpretations of iconic repertoire from Mozart to Elvis, and the chamber jazz group Zoetic, which he formed to play his own wide ranging compositions. He also co-leads Total Vibration (with Laura Jurd) dedicated to playing the music of Ornette Coleman; and Zone-B, in which he continues his long and fruitful association with alto saxophonist Steve Buckley.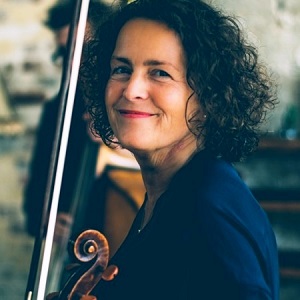 Margrit Hasler is a highly experienced, classically trained instrumentalist, on violin and viola; she brings out the expression and emotion that can be created on these instruments. Her rich experience in the Classical field has seen her perform with world-renowned orchestras like the Philharmonia Zurich and the Royal Opera, London, and has taught at the Guildhall School of Music & Drama.
Margrit is regularly sought out for her knowledge and teaching expertise, having studied the musical traditions of Jazz & Blues, Bluegrass, Klezmer and Folk; developing a conversational style of playing that's warm, melodic and expressive.
As well as Zoetic, she's currently involved in a duo called Rasa; a fusion of ideas between the viola of Margrit and guitarist Pedro Velasco. Chris asked her to join his Zoetic band, to give a specific feel to his compositions, which she does delightfully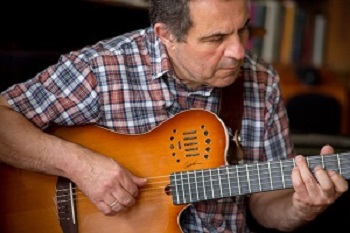 John Parricelli is perhaps the UK's most in-demand guitarist and it's easy to see why: he is an absolute master at creating delicate and deep environments from a vast range of sounds, always with loving care.
John began playing guitar professionally in 1982, thereafter working in many genres within the UK music business.
In the mid-80s, he was a founder member of Loose Tubes, appearing on albums; Delightful Precipice & Open Letter.
Through the 80s, 90s and on into the 00s, he has worked and often recorded with numerous artists in contemporary jazz, among them Julian ArgŁelles, Iain Ballamy (Acme), Lee Konitz, Mark Lockheart, Paul Motian, Gerard Presencer, Andy Sheppard, Martin Speake, Stan Sulzmann, Kenny Wheeler, Annie Whitehead, & Tim Whitehead.
He is also is in demand for work outside jazz, including appearing with Judy Tzuke, Shara Nelson & Mike Oldfield. He is also very active as a studio musician, appearing on soundtracks to many television programmes and a huge number of film & TV score tracks. Since 1999 has clocked up over 100 credits to date and climbing, including Skyfall, The Hunger Games, Elizabeth "The Golden Age", Kinky Boots, Captain Corelli's Mandolin, The Constant Gardner, Gosford Park, Billy Elliot and most recently Legend the biopic about the Kray twins, featuring Tom Hardy. His TV work has included many series including the BBC's Nature and The Natural World.
Most recently he's been collaborating with bassist Lars Danielsson and pianist Gregory Privat, producing some remarkable music; and another project with tabla/percussionist Kuljit Bamrah, who he worked with in Andy Sheppard's bands
"Parricelli seems capable of endless feats of subtlety and control. Having Parricelli in the band is like having several world musicians, all in the one chair..." London Jazz News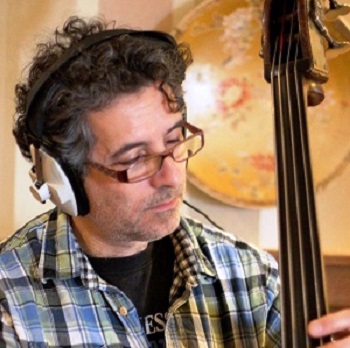 Steve Watts has been playing jazz on the British scene for over 25 years, during which time he has worked with many musicians of international stature, including: Django Bates, Iain Ballamy, Julian Arguelles, Kenny Wheeler, Stan Sulzman, Jim Mullen, Joe Lovano, Kirk Lightsey, Richard Rodney Bennett and many more.
He is a member of the influential Loose Tubes Jazz Orchestra and "The Printmakers" a band featuring Norma Winstone, Nikki Iles & Mike Walker. He has made numerous broadcasts for radio and television and has recorded widely. Live work has taken him all over the world and his playing can be heard on the soundtracks of many films.
He is a committed educator and currently teaches at Trinity Laban Conservatoire of Music and Dance and the Guildhall School of Music and Drama. He has previously taught at the Royal Academy of Music and for the National Youth Jazz Collective as well as teaching and leading workshops in schools across the country.
Steve has remained closely associated with many of Loose Tubes leading figures, playing in various bands with them. His wonderful bass playing has always underpinned groups, with an unwavering strength.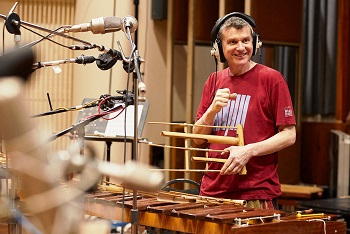 It wouldn't be too much of a stretch to say that master percussionist Paul Clarvis has performed with everyone you know, and on everything you love!
Originally trained in classical percussion at the Royal College of Music where he is now a professor, Paul was the late Leonard Bernstein's choice of percussionist and was featured in the 1996 Proms in Sir Harrison Birtwistle's concerto for saxophone and drums.
The long list of other composers and artists he has worked and recorded with include Steve Swallow, Nina Simone, Herbie Hancock, Sam Rivers, Mark Anthony Turnage, Randy Brecker, Ravi Shankar & Michael Nyman.
Paul was involved in the 2012 London Olympic Games Opening Ceremony, writing Dame Evelyn Glennie?s part, and helping Rick Smith train the 100 drummers who took part in the event.
Although he is first and foremost a jazz musician who has firmly carved a niche for his own exuberant playing, Paul is also one of the UK's most sought after session musicians and can be heard on hundreds of film scores including Star Wars, Harry Potter, & Lord of the Rings.
He's worked with high-profile musicians like Mick Jagger, Stevie Wonder, Sir Paul McCartney, The Orb & Elton John.
Paul demonstrates a unique and varied style of musicianship, across genres ranging from the joyfully raucous Fats Waller reimagining's of 'Pigfoot' (with Chris Batchelor) to the sensitive renditions of some of the most beautiful standards in his duo with pianist Liam Noble; as well as his own eclectic band Orquestra Mahatma.
He has travelled widely researching and studying music from around the world and was asked to chair the panel for the BBC Young Musician of the Year. Clarvis is also an Honorary Associate of the Royal Academy of Music and simply one of the best in his field, in any style of music
"Clarvis displays remarkable technical gifts, which he allies to enthusiasm and flair.
His declared favourite musicians include several artists from the long tradition of jazz drummers although he himself is thoroughly contemporary in feel and style."...AllMusic
Chris Batchelor's Zoetic - "Telling The Tale"
Video above not working? Click here for YouTube link
chris-batchelor.com
-->