Kevin Figes (Saxes & Flute)
Jim Blomfield (Piano)
Ashley John Long (Bass)
Mark Whitlam (Drums)
Kevin Figes has matured into one of the UK's finest musicians on a variety of Saxes from alto to baritone as well as flute; his career has been constantly progressive over three plus decades. His last few groups and recordings have brought widespread acclaim for his compositions and performance. This line-up is predominantly from the 2020 recording 'Changing Times', with Ashley John Long in for Riaan Vosloo on bass.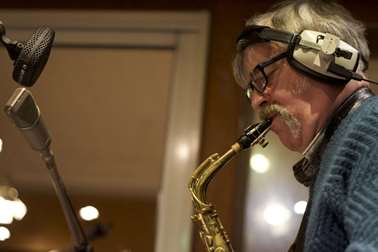 Kevin began studying saxophone with the late great, Elton Dean and later attended the Guildhall School of Music and Drama, studying with Tim Garland. In Bristol he joined the influential teaching band created by Keith Tippett called 'The Seedbed Orchestra'.
He later went on to perform in Keith Tippett's big band 'Tapestry' as well as his Octet. Other projects include '4 Sided Triangle' (with Mike Outram), an Octet and the 15 piece big band 'Resonation'.
Last year Kevin did an amazing job in acting as Musical Director for the weekend tribute to Keith Tippett, including organising the music and directing the Big Band finale..a job truly well done! This evening will be music of the highest standard, accessible yet explorative.
Figes has played at Ronnie Scott's, with Pee Wee Ellis and Fred Wesley, Bobby Shew and Denny Ilett's, 'Electric Lady Big Band', of which he is a member. He has also performed on the Park stage at Glastonbury with the music of Barry Gray and major festivals with 'This Is The Kit'. As an educator, he has taught in schools and run workshops for many years and is currently jazz saxophone teacher at Bristol University.
"A mind-expanding feast for the ears." (Dave Gelly, The Observer)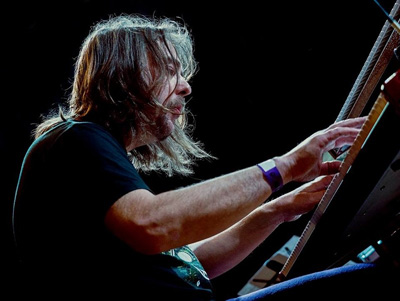 The band features probably Bristol's finest pianist in Jim Blomfield. Since moving to Bristol in 1991 to establish a career as a performer and composer, Jim has become recognised as an exciting, versatile and engaging piano player. He has often been the pianist of choice to accompany some of the UK's biggest jazz names at numerous venues and festivals up and down the country as well as long standing engagements in the bands of two stalwarts of the Bristol scene, Andy Hague and Kevin Figes with whom he's with tonight.
Somewhat a specialist in Latin and Salsa piano styles, his playing in this genre is held in high regard and often imbues his playing style in general. Jim is a member of 18 piece 'Dockside Latin Orchestra' as well as regular appearances with Cuban trumpeter Michel Padron in various Jazz and Latin jazz projects including the Bristol Salsa Orchestra
"Heard in full flow, pianist Blomfield sounds as fully formed as any of his better-known UK peers..." (Phil Johnson - The Independent))
Jim's own trio is also a project that has developed and grown over the years and is a constant joy to listen to, drummer in the trio is Mark Whitlam who also plays in Kevin's group on the album. Versatility, creative flair and great feel have established Mark as one of the first-call players in the South West.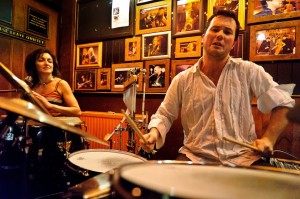 Recent work includes being called on to play for Liane Carroll's 'The Right To Love' album launch with Grammy nominated producer James McMillan; as well as a headlining festival show with Radio 2 folk award winner, Eliza Carthy and the Wayward Band. Mark has performed live and/or recorded with some of the UK's finest jazz musicians, including ECM artists Andy Sheppard and Iain Ballamy, Jason Rebello, Claire Martin, Pee Wee Ellis and cross-genre artists such as Goldfrapp's Will Gregory, Portishead's Adrian Utley and BBC Proms conductor Charles Hazlewood.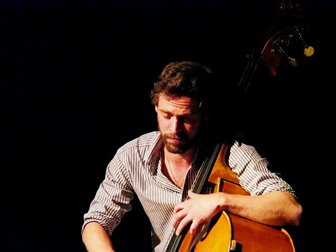 Ashley John Long is an award-winning virtuoso double bassist and composer active in jazz and improvised music, early and contemporary chamber music, and as a soloist. Ash' has developed a unique approach to the instrument, creating innovative new performance techniques including methods of preparing the bass and performing and recording with some of the genre's leading players His work in the orchestral world has taken in everything from Gabrielli to Stockhausen and he has performed as principal double bass with various ensembles.
This evening will be music of the highest standard, accessible yet explorative. Kevin is also planning a new sextet for 2023 based on Keith Tippett's music integrated with his own new pieces, which will tour in Feb/March; one gig of which will be in Bristol in mid Feb' at the Beacon!