Daniel Karlsson Trio (Sweden)
Sun 16 Oct - 7:15 for 8:00 (£17.44/16.35)Bristol Beacon Book
Daniel Karlsson (Piano)
Christian Spering (Bass)
Fredrik Rundqvist (Drums)
This Trio's music is distinctive and extrovert. The band adopts the standard piano trio format, but the music is anything but formulaic. The trio have established themselves as one of the most interesting groupings in Swedish and European jazz; not least through the magnificent hat trick of awards celebrating their debut release Fusion for Fish, (August 2014). The album won the Swedish Radio's Jazz Group of the Year Award 2014, Swedish jazz magazine OJ's Golden Disc 2015 as well as the Swedish Jazz Grammy 2015.
In live performance, Karlsson's powerful piano skills are to the fore; but the intense and joyful complicity between the three musicians is very evident. Double bassist Christian Spering provides a truly inspiring depth of texture, while Fredrik Rundqvist on drums works highly catchy and original solos; not easy when you are dealing with an already percussive, rhythmic and accented talent such as Karlsson.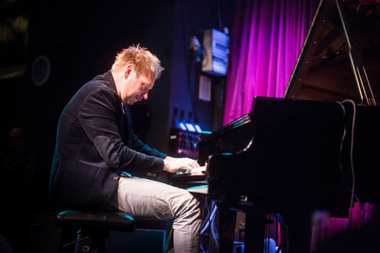 Daniel Karlsson is well known for his work in highly merited Swedish supergroup Oddjob and the Magnus Öström Band,. He has also been a frequent collaborator with, among others, Till Brönner, Nils Landgren, Viktoria Tolstoy and Rigmor Gustafsson. In 2005 he was nominated Jazz Artist of the Year and released Pan-Pan, his first album in his own name. There's a strong rhythmic component to his music with a modern, metronomic and hypnotic drum beat to many tracks that suggests a familiar lineage back to the Esbjorn Svensson Trio as well as the rich Scandinavian heritage in jazz.
Karlsson has played with most of the contemporary Swedish greats and many European stars, such as; Ernie Watts, Peter Erskine, and the Andreas Pettersson Quartet; so he's earned his jazz spurs. The trio is now the main part of his work and they have been prolific with their ideas, spawning five albums in as many years.
"A refreshingly cliché free slice of contemporary Scandinavian piano jazz, skilfully merging acoustic and electronic sounds on an intriguing mix of original compositions" - Jazzman (UK)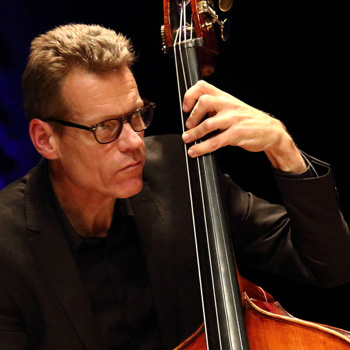 Christian Spering is a highly regarded bass player, covering many styles as heard on his solo album where he performs inspired versions of Bach classics, improvises around them and plays two of his own pieces. He has been a part of Berger, Knutsson, Spering Trio since its start in 1996 and is a major ingredient on several other albums.
Christian is considered one of the very best of the seemingly never-ending conveyor belt of outstanding Swedish double bass players, he studied at the Royal College of Music in Stockholm and from 1986 to 1988 he was a member of the band led by drummer Fredrik Norén. That line-up included pianist Esbjörn Svensson. In 1987 he was one of the founders of the group "Encore". That group won the award "Jazz in Sweden 1990" which resulted in several well-received tours and a CD.
Christian has played with many of the finest Scandinavian musicians, such as Bobo Stenson, Jon Christensen, Lennart Åberg, Lars Jansson and Anders Kjellberg to name only a few. He also has performed with American and European musicians such as; Paul Bley, Tom Harrell, Kenny Wheeler, Paul McCandless and Tim Hagans. Up to now Christian has appeared on more than 25 albums.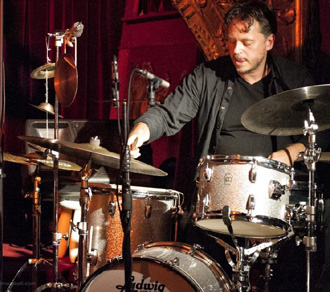 Fredrik Rundqvist was born in central Sweden, son of pianist Gösta Rundqvist but he has been living in Stockholm since 1994.
Back in 2000 he won the Ronnie Gardiners Drummers Award, and he has been playing on an impressive number of albums and gigs on all continents both as member and guest of so many important Swedish bands like Velódrone, Sarah Blasko, Fredrik Nordström/Kvintett Trio, Yttling Jazz, Lina Langendorf Quintet and, of course, the Daniel Karlsson's Trio.
Fredrik is at the heart of the trio providing tempos that click along at sometimes frightening speeds. Fredrik has also, among others, played with Bobo Stenson and Palle Danielsson. In recent years he has most frequently been heard in indie pop star Sarah Blasko's band.
"With Spering and Rundqvist, Karlsson has a trio one can listen to for a long time, and constantly discovering something new"~ Johannes Cornell, DN Review 'Live at Fasching', April 2017
Video clips include the Daniel Karlsson Trio playing "Passing Fury" at the 13th International Jarasum Jazz Festival 2nd Oct' 2016, South Korea.
Followed by "Last Tesoro" Live at Spice Jazz, Soho, London; 26 Sept' 2018
Video above not working? Click here or here for Youtube links.
daniel karlsson.com