Jean Toussaint USA (Saxes)
Freddie Gavita (Trumpet)
Jonathan Gee (Piano)
Mutale Chashi (Basses)
Shane Forbes (Drums)

Top booking of the autumn programme sees the visit of Grammy Award winner Jean Toussaint; who first came to prominence when he joined Art Blakey's 'Jazz Messengers' in 1982, after studying at Berklee College of Music in Boston, USA. His blistering technique and lyrical sound has graced many great bands from Wynton Marsalis, Gil Evans and various Julian Joseph bands to his own groups.
Jean was born in Aruba in the Dutch Antilles but raised in New York City. Studied Saxophone at Berklee under Bill Pierce (Art Blakey in the 80s & Tony Williams Quartet) in the late 70s. On graduating, he formed a band with Wallace Rooney in 1979. It was then that Pierce got him an audition into Art Blakey's Jazz Messengers and he was accepted, playing for four years Aug' 1982-86. Blakey had developed a long term band to play with all the top young players around, regularly changing the line-up every few years...it was a way of keeping himself young and relevant, but as importantly it was the best Jazz finishing school any budding Jazz star could ask for!
Jean's fellow band members L-R; Mulgrew Miller, Jean Toussaint, Terence Blanchard, Donald Harrison, Lonnie Plaxico and Art Blakey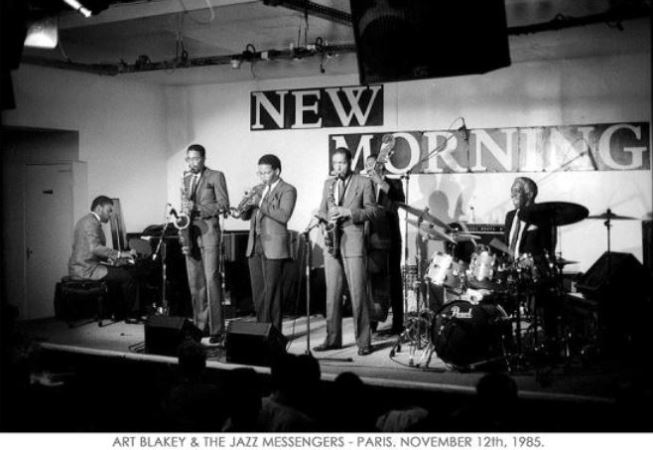 In 1987 he left Blakey to come to England for a few months. He stayed. Jean has since toured with many visiting American bands including Max Roach, Cedar Walton and David Murray as well as with his own bands. He came to the UK in 1987 primarily to become Artist-in-Residence at the Guildhall School of Music, but he slotted into the Afro-Caribbean culture prominent in young London jazzers, which made him feel very welcome and at home. He made a life for himself in the UK working with all the top UK musicians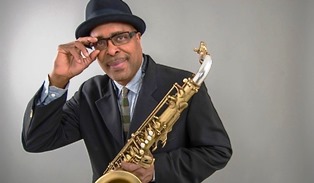 Jean has released 12 critically acclaimed albums as a leader, including 2018's 'Brother Raymond', which saw him win Best Instrumentalist at the 2019 Jazz FM Awards; as well as Top 10 lists in The Telegraph, Jazzwise, The Sunday Times, The Guardian and Jazz in Europe. A highly respected educator as well as performer, Jean has taught at the Guildhall School of Music and Drama, Trinity College & Birmingham Conservatory.
For this gig Jean will be featuring a collection of new compositions, written or rearranged during lockdown, in tribute to his siblings and people and places important in his life, called "Songs for Sisters, Brothers and others".
"Toussaint displays a beautiful, incisive tone that you can only compare to liquid crystal..." - Time Out.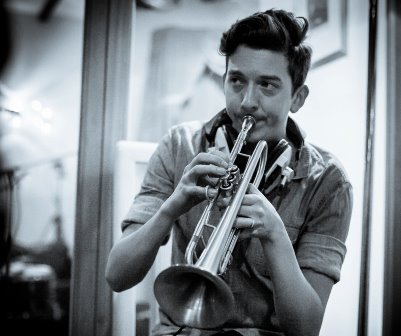 Winner of the British Jazz Awards "Best Trumpet of 2017," Freddie has cemented his place as a leading light on the British Jazz scene. With the release of his debut album "Transient" in April 2017, his star is certainly on the rise. He is a member of the Ronnie Scott's Club Quintet and jazz-rock outfit Fletch's Brew as well as being a band leader in his own right.
A fearless improviser, he solos with fluent authority, his tone ranging from the warmly conversational to the eloquently strident. A graduate of the Royal Academy of Music and the National Youth Jazz Orchestra, he rose to prominence through the John Dankworth Orchestra, and has been a member of the Ronnie Scott's Jazz Orchestra for ten years. He has appeared as soloist with the BBC Big Band, twice at the BBC Proms at the Royal Albert Hall, and brought Roger Michell's 2013 film "Le Week-end" to life with his inimitable muted trumpet stylings.
Freddie has played with, among others, Peter Erskine, Joe Locke, John Hendricks, Kenny Wheeler, Stan Sulzmann, Tim Garland, Jon Faddis, Gregory Porter, Curtis Stigers, Paloma Faith, Jess Glynne, Seth McFarlane and Dionne Warwick. Freddie has composed and arranged extensively, including Alexander Stewart's masterpiece "I Thought About You" and the stunning "Beloved" commissioned by Calum Au for his 2012 release "Something's Coming ." Freddie is far from being a 'Rising Star' he is already a leading player on the UK Jazz scene; Check him out with this band, you will not be dissapointed!
"The spellbinding quality of Freddie's individual voice was immediately obvious in the opening bars of his own composition 'Yearning'; understated, flawlessly executed, beautifully articulated and warm in tone." - Trevor Bannister for 'The Jazz Mann' blog site.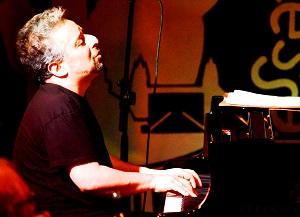 Jonathan Gee is one the most prolific and imaginative composer-pianists operating today, with a succession of ever-enticing bands and projects with world class line-ups from Europe and the USA.
Aside from his own bands with which he has recorded 8 albums, he has also worked closely with Bobby Wellins, Claire Martin and Tim Whitehead, Pharoah Sanders, Mark Murphy and Art Farmer. With Tony Kofi he co-founded the Monk Liberation Front, whose legendary performances of the complete Thelonious Monk catalogue have led to award-winning recordings.
He has performed in groups comprised of leading musicians from France, Finland and Italy, and a fantastic trio emerging from the hothouse of the New York jazz scene featuring Joseph Lepore and Nasheet Waits which packed out Dizzy's at the Lincoln Centre.
In March of 2020, Jonathan dueted with Mike Westbrook OBE at the Pizza Express/Steinway x 2, piano Festival, drawing this comment....
"Then came the duet, it was something special. The two pianists swapped dissonance, embellished each other's trills and thumps, and supported each other's fancies. Westbrook rolled; Gee decorated with sensitivity, vigour and a gravelly voice." Mike Hobart; The Financial Times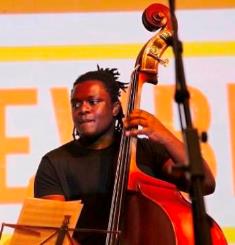 Mutale Chashi is a bassist and composer who draws influences from his Zambian heritage, Manchester upbringing and cosmopolitan London living. His immersion into the London Jazz scene was catapulted by joining 'Tomorrow's Warriors' under the tutelage of Gary Crosby.
Mutale's playing encompasses a broad range of musics; consequently, his playing and recording credits include Jorja Smith, Joe Armon-Jones and Kokoroko, with whom he's been extensively touring the world over the last two years.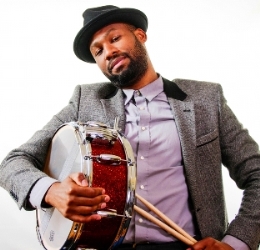 Shane Forbes is best known for his membership of multi award winning British Jazz group Empirical. His particularly impressive textural expressiveness and musical freedom have been the trademark of his sound in the countless projects he's been a part of, both in the UK and Worldwide.
He has worked with most of the great names on the British jazz scene including Jean Toussaint, Soweto Kinch, Steve Williamson and Julian Joseph and with numerous international artists including Dee Dee Bridgewater, Steve Grossman, Robert Mitchell and Enrico Rava.
Winner of the Worshipful Company of Musicians' 'Young Musician of the Year' award in 2009 along with MOBO and Parliamentary Jazz Awards as a member of the internationally acclaimed quartet 'Empirical' (which he co-founded and co-leads), drummer Shane Forbes is without question one of the most in demand musicians on the UK jazz scene.
"Forbes' energy was contagious and.passionate, his creativity and concentration on stage were a joy to watch and to experience" - London Jazz News
Video above not working? Click here or here for Youtube links.
Jean Toussaint.com