'You Are Here': Kevin Figes Sextet
Sun 12 Feb - 7:15 for 8:15 (£20.71/ £19.08)Bristol Beacon Book
Kevin Figes (Alto Sax)
Pete Judge (Trumpet)
Raph Clarkson (T-Bone)
Jim Blomfield (Piano)
Riaan Vosloo (Bass)
Tony Orrell (Drums)
'You Are Hear' is a NEW Sextet, formed by Kevin Figes as a tribute to the late Keith Tippett, named after a Tippett; Jazz/Rock fusion album of 1970.
A three-brass frontline leads a stone rhythm section on a selection of Tippett's epic compositions, alongside those of Elton Dean (Soft Machine), Figes riginals and some South African composers, from the days of the 'Blue Notes' and Chris McGregor's 'Brotherhood of Breath' in the late 60s; musicians who were exiled in London because of Apartheid in their homeland.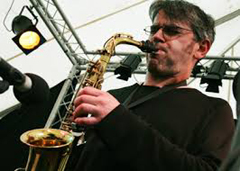 Kevin Figes began studying saxophone with Elton Dean and later attended the Guildhall School of Music and Drama, studying with Tim Garland. He had a notable association performing and recording with Keith Tippett, from his Seedbed Orchestra through to Tapestry, septet & octet. 
Since 2007 Figes has composed and produced many well-received recordings with his own jazz quartet. Recent work includes 'Changing Times' (2020) by the Kevin Figes Quartet, which received a 4* review from Dave Gelly in The Guardian, and 'Wallpaper Music' (2021) (with the addition of Brigitte Beraha on vocals) which was described as '...a kaleidoscopic blizzard ' by John Fordham in his 4* review for Jazzwise.
This is the debut gig for this new sextet, kicking off a short UK tour. Kevin has assembled some of the South West's top talent for this project, which promises a lot.
"This is the sound of a true original at work." - Eddie Myers; Sussex Jazz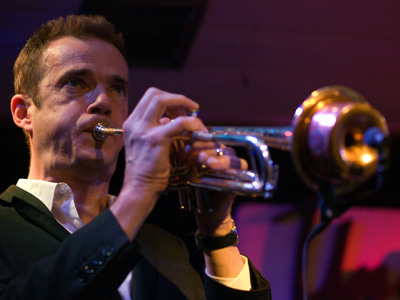 Pete Judge plays trumpet with Get The Blessing, Eyebrow, Orfic, and JOW, among other projects, and is multi-instrumentalist with Three Cane Whale. He has released three albums of solo piano compositions, all recorded at St. George's, Bristol
Pete has recorded for Marc Gauvin (France), Carsten Lindholm (Denmark), Blackmailed & Bereft (ireland), and for John Parish, Massive Attack, Mesadorm; folk artists Jim Moray & Ian Anderson's Jethro Tull; plus Dakhla Brass, the Organelles, Delphic, Syd Arthur, The Kooks, Helele, Rob Harbron's The Tidebreak (BBC Radio 3), Emily Portman, Adrian Utley & Will Gregory ('Arcadia' film soundtrack), music for Aardman Animations'; 'Robin Robin' (oscar-nominated soundtrack), Harriet Riley & Alex Garden (Sonder II) and many others
Pete has also performed live with Super Furry Animals (furrymania tour), Noel Gallagher's High Flying Birds (Jools Holland's 'Later'), and with Keith Tippett's Seedbed Orchestra. He was part of a recreation of Miles Davis's;'Sketches of Spain' with Get The Blessing & Bristol Symphony Orchestra, and at Sidmouth Folk Festival's 'The Transports' (with Martin & Eliza Carthy).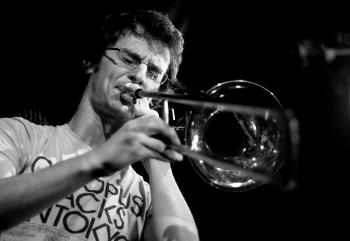 Raph Clarkson is an interesting pick from Kevin? Raph (Raphael) is a trombonist, improviser, composer and educator. He has developed an eclectic musical career, which spans contemporary jazz, avant-garde improvised music, theatre and performance art, contemporary classical music, ska/reggae, South African township jazz, and salsa.
He's toured worldwide with ecletic groups such as; WorldService Project, The Dualers, Shed Seven, The Octandre Ensemble, and his own projects The Dissolute Society, RESOLUTE, Equal Spirits and Speckles Brass. Raph is also a co-founder of the Be Creative Music organisation, and in 2014 held a place on the prestigious Spitalfields Music Leader Traineeship scheme.
In the past year he has has also performed with Portugal. The Man, Perhaps Contraption, Bukky Leo and Black Egypt, The Cape Crusaders, the Andrew Linham Jazz Orchestra, Renegade Brass Band, co-written music and recorded with vocalist Abimaro, performed and recorded with The Overground Collective and Laura Jurd's new project Stepping Back, Jumping In, as well as contributing to Benin City's album Last Night.
"killer trombone solo from Raph Clarkson, its mournful tone adding great soul to the track" - All About Jazz
The band features probably Bristol's finest pianist in Jim Blomfield. Since moving to Bristol in 1991 to establish a career as a performer and composer, Jim has become recognised as an exciting, versatile and engaging piano player. He has often been the pianist of choice to accompany some of the UK's biggest jazz names at numerous venues and festivals up and down the country as well as long standing engagements in the bands of two stalwarts of the Bristol scene, Andy Hague and Kevin Figes with whom he's with tonight.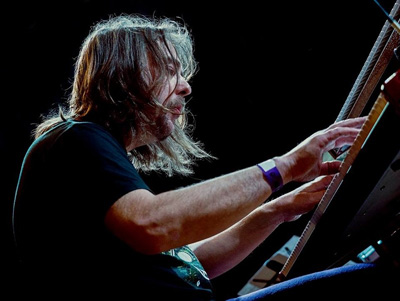 Somewhat a specialist in Latin and Salsa piano styles, his playing in this genre is held in high regard and often imbues his playing style in general. Jim is a member of 18 piece 'Dockside Latin Orchestra' as well as regular appearances with Cuban trumpeter Michel Padron in various Jazz and Latin jazz projects including the Bristol Salsa Orchestra.
Jim's own trio is also a project that has developed and grown over the years and is a constant joy to listen to. His own style has developed in concert with the growth in the trio's progress: So much so, that the intelligence he uses allows space and freedom to explore melodic lines and tempos that add to the overall effect. Many pianists never attain this state of development, Jim seems to be constantly moving forward with his depth of play, something we can all look forward to and enjoy.
"Heard in full flow, pianist Blomfield sounds as fully formed as any of his better-known UK peers..." - Phil Johnson; The Independent.
Riaan Vosloo possesses a deep toned sound and plays with great authority, which is a real advantage as the rock of any groove in a band; known as one of the best younger generation players in London in his early playing days, but he has become recognised as a highly creative band leader, composer, arranger and teacher nationwide. He came to live in Bristol for a while before moving to Oxford; but Bristol has now drawn him back to live in our city once again; and he is another who is constantly changing and moving forward in his endeavours, which are legion.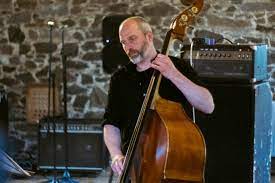 Riaan's current projects are diverse, some long term projects others in development; Nostalgia 77 Octet, Run logan Run, Twelves and with Ed Jones Quartet. Riaan has also worked with among others Keith Tippett, Matthew Bourne, Art Theman, Andy Shepherd, Spring Heel Jack, Liam Noble, Pee Wee Ellis and Iain Ballamy. Riaan was a founder member of the The Electric Dr M (with Matthew Bourne) and plays in the Gary Boyle quartet with Mercury nominee Zoe Rahman. As well as commissioned works, he's set up his own record label; Impossible Ark Records; Established 2006. Impossible Ark is a British record label focusing on the work of creative musicians. Its music stems from jazz, world folk and experimental music.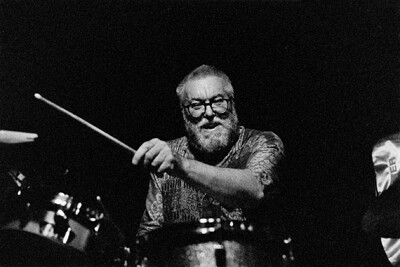 Goldfrapp, Gas Giants: Loud shirts; loud drums (but not always); humour, character and a willingness to musically go where few drummers dare; just part of the long and varied career of Tony Orrell
Tony aka 'The Birdman of Alkijazz'; Moved to Bristol 1973 in search of drumming work. Frequented the legendary club, The Dug Out 1974-80, met his wife-to-be Sarah at the club in 1975 - still married!
Played with Rockin' Robert and various Wild Beasts/Juan Footers at The Dug Out. 1979-89 the "Modern Jazz" Years with Spirit Level/Sphere/Andy Sheppard etc. 1990-2000 Nursery Teacher and musician - Gas Giants/Will Gregory/Adrian Utley etc. 2000-2005 Movies+Shakers project in schools (90 Second Challenge) and played drums on Goldfrapp's 'Felt Mountain' and Ilya's 'They Died for Beauty'
Tony's latest project is his two drum kit outfit; 'Big Top' Quintet, that's ripping up the local scene with a vengence. He's played with everyone who is anyone in jazz especially in improvised works, he continues to startle and drive groups with a steel grip that is constantly inventive