Tony Orrell (Drums)
Dan Moore (Keys)
Andy Sheppard (Saxophones)
Warning This Jazz is for medicinal purposes only! The Doctors prescribe Coltrane/Beatles/Neil Young/Pink Floyd.....
Recreational use recommended. Regularly exceed the stated dose and never avoid alcohol.
Andy Sheppard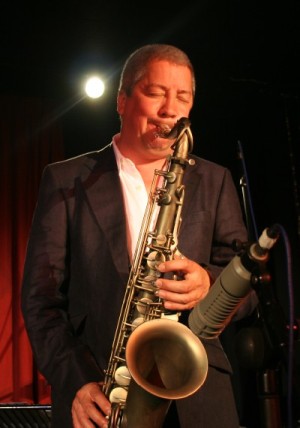 Andy is one of Britain's foremost tenor and soprano saxophonists, a successful recording artist, bandleader and composer (for film, TV and theatre), is one of a very few British jazz artists to have made a significant international impact. He's worked with an astonishing range of musical partners, and has played in the big bands of all three of the greatest post-war jazz composers: Carla Bley, George Russell and Gil Evans.
Tony Orrell
Tony first played with Andy back in the early '80s in Sphere recording the album Present Tense. During the same period he played with Spirit Level which culminated in the album Killer Bunnies; featuring ex-Mingus trumpeter, Jack Walrath, and Paul Dunmall. Tony has also backed many US jazz musicians including Tal Farlow, Slim Gaillard, Spike Robinson, Harry Allen and Gene the Mighty Flea Connors, as well as the cream of UK soloists - Harry Beckett, Elton Dean, Keith Tippett, Larry Stabbins, Alan Skidmore, Evan Parker, etc. During the '90s he formed the Gas Giants with Will Gregory (Goldfrapp) and the Adrian Utley Quartet. These musical relationships have continued to the present day and last November sold out the Bristol Old Vic as part of The Charles Hazlewood All Stars, playing the music of Terry Riley.
Dan Moore
Dan is a pianist who thrives on diversity. A composer, arranger and producer, Dan has worked with Pee Wee Ellis, Fred Wesley, Will Young, Lillian Boutte, Roni Size, Don Weller, The Mahotella Queens, Cheikh Lo, Dave O'Higgins and Tony Remy as well as touring and recording throughout Europe and the USA most recently with Phantom Limb.