Rebecca Pronsky + Richard Bennett (USA)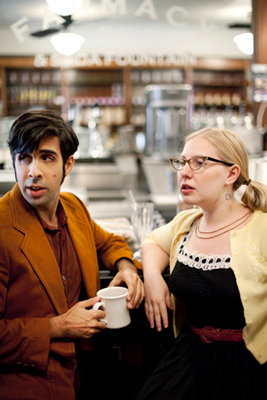 Rebecca Pronsky may be Brooklyn born, raised, and based but the twangy folk she creates on her Nine Mile Records sophomore disc Viewinder (release date: April 19, 2011) sounds more at home in the deep woods and green pastures of Parsonsfield, Maine where it was recorded.
Rebecca spent two weeks holed up with her band at Great North Sound Society with engineer Sam Kassirer (Josh Ritter, John Prine, Langhorne Slim) creating the sweeping sound-scapes that dominate Viewfinder. The songs convincingly range from broodingly ambient to upbeat twang.
Rebecca has been touring heavily for the past five years playing all over the the US and Europe and has shared stages with a varied group Sarah Bettens of K's Choice, Elvis Perkins in Dearland, Shawn Colvin, Catie Curtis, Eilen Jewell, Tracy Grammer, Carrie Rodriguez, Wayne Hancock, Steve Forbert, and many more.
Her musical life began early. She was identified as a talented singer as a child and received vocal training in New York City. But it wasn't until she was 16, after many years of singing other people's songs, that she picked up the guitar and began to write her own. At Brown University, Rebecca studied ethnomusicology and jazz singing and recorded her first demo of original music. Demo and diploma in hand, Rebecca moved back home to Brooklyn. Soon she met guitarist and composer Rich Bennett who helped her record her first EP and has been her musical partner and co-producer ever since. When not on the road, they are at home in Brooklyn with their three cats Basil, Cybele and Sven. Yes, Sven!!!
Check out her website and listen to some smashing sounds (find out what the Twang is all about) and then come and see her live. Her gig in March 2011 at Future Inns was not only musically enchanting, but humorous, entertaining and a bloody good night out. This girl is going places and is working hard enough to make sure she succeeds whether you or I like it or not, there is no stopping this young lady. Your chance to check her out starts here.