UGETSU featuring Yutaka Shiina (Japan)
Damon Brown (Trumpet/Cornet)
Ed Jones (Saxes)
Yutaka Shiina (Piano)
Martin Zenker (Bass)
Rick Hollande (Drums)
Damon Brown has toured Japan three times with Yutaka Shiina and worked regularly with Martin Zenker. The three of them have got together for this new project and all three contribute original compositions to the programme.
Yutaka Shiina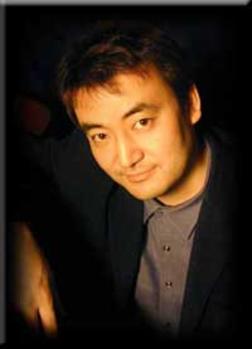 Yutaka Shiina is Japan's premier modern jazz pianist who first collaborated with Damon Brown in France in 2007. From Tokyo, Shiina has recorded as a leader with Roy Hargrove, Nicholas Payton and Herlin Riley all Wynton Marsalis alumni, and when in the States plays regularly with saxman Tim Armacost. He capped his acceptance onto the world-stage by working in the late Elvin Jonesís Jazz Machine.
His style is graceful and velvety, using subtle nuances of change, allowing easy collaboration with any combination of musicians. He often suggests the graceful delivery and pearly sound of former Miles Davis pianist Wynton Kelly - in this respect he is the perfect foil for Damon Brown. Brown and Shiina are loyal adherents to straight-ahead jazz - but, as with all the best practitioners, it is the quiet deviations that count.
Damon Brown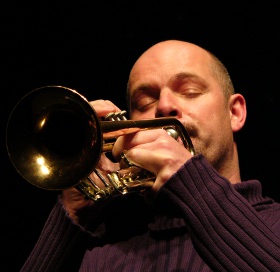 Damon Brown is a Trumpeter/Composer whose Killer Shrimp group with Ed Jones won a Parliamentary Jazz Award for Best Jazz Ensemble in 2007. He has spent many years living abroad (Spain, France, Italy) exploring his craft. The journey has yielded many musical inspirations and as many international collaborations, such as the regular quintet that he co-leads with New York sax virtuoso Steve Grossman. His warm, fluent style with a fine rhythmic sense has been likened to an amalgam of Blue Mitchell, Clifford Brown and Lee Morgan, and has won him sideman roles with many USA artists such as Benny Golson, Dave Liebman, Doug Raney and many more.
Brown has a bright, gleaming tone, a superbly poised attack, and a fine rhythmic sense that paces high long notes, stuttery phrases, pauses and sudden foot-on-the-gas accelerations against each other in eloquent conjunction. ~ John Fordham
Ed Jones
Ed Jones is added to the group tonight and will add a punch and fire that the Jones-boy is widely known for.
Rick Hollande
Iíve been hearing very good things about Rick Hollande but have yet to hear him live, so looking forward to his drum style.
Michael Zenker
Last but very much not least is Michael Zenker. Born and educated in Munich, Germany he has become the go-to-guy for many US players when touring in Europe. Long-term relationships with Herb Ellis and Billy Hart set him up for further invites from Valery Ponamarov, Herb Geller, Tim Armacost and Dan Braden. Michael has worked with Damon and Ugetsu since itís inception.