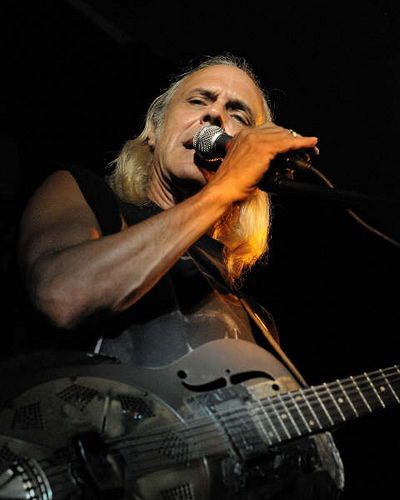 Kent DuChaine started in music when his father taught him to play the ukulele at the age of six, at thirteen he got his first electric guitar and formed a band with his buddies in his hometown of Wayzata, Minnesota, playing mainly popular music at private parties and school functions.
After reading some liner notes of an Eric Clapton album, Kent started researching blues music. He discovered a Robert Johnson album and was astounded and fascinated at the banging sound as the neck of a bottle was knocked against the frets as Johnson slid it up and down the neck of his guitar. Kent used a butter knife at first determined to recapture the wonderful sound.
He immersed himself into the blues music of Johnson, Muddy Waters, Lightening Hopkins, T-Bone Walker and never looked back. Kent learned to play the slide guitar and soon developed his own ferocious wild style. In 1970 he opened a show for one of his heros, the slide guitar genius, Bukka White. From 1972 - 1975 Kent performed in a band with Kim Wilson from the present day Fabulous Thunderbirds.
Not only is Kent known as a master of the blues ….. his guitar playing is exceptional and his deep intriguing voice a great combination that really sets the old style delta blues alight. .... DuChaine really has lived the blues life which is clearly evident in his music.
~ review The Customs House Arts Center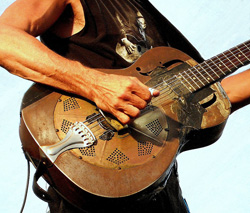 In 1979 Kent met up with his beloved and ever faithful Leadbessie. She's a beat up 1934 National Steel Guitar that wows and astounds audiences when the equally beat up case she travels in is opened and her extra heavy strings are furiously played.
Kent discovered and looked up a legendary blues man with the name of Johnny Shines in 1989. They travelled together for three years and performed over 200 shows together. In that time they recorded Back To the Country with harmonica great Snooky Pryor and were honoured with the coveted W.C. Handy Award for best country blues album but unfortunately they did not add Kents' name onto the recording! In 1991 the Smithsonian Institute honoured the king of the delta blues, Robert Johnson. Kent and Johnny were specially invited to perform Roots Of Rhythm And Blues ~ A tribute to the Robert Johnson Era was the result. Recorded by Sony/Columbia and Grammy nominated.
Kent and Johnny's wonderful partnership and friendship was cut short when Johnny Shines sadly passed away in April 1992.
Since going solo in 1982 and hitting the roads, riding the rails, flying the skies and sailing the seas, Kent and Leadbessie have probably by now clocked up over two million miles together including over 80+ overseas tours (yup, she's faithful old girl!).
A (small) handful of wives have been picked up and lost along the way and many stories gained of friendships, loves, heartaches and the blues that he communicates to his audiences, most of which, leave folk laughing or scratching their heads in disbelief.
kentduchaine.com
DuChaine's commitment, enthusiasm and love of the blues shines through his every move and transmits itself to his audience … As a solo performer maybe only Keb' Mo' touches him in the charisma stakes …. Honest entertainment this good should not be missed.
~ Steel City Blues Festival, Sheffield