Tylan Greenstein
Doris Muramatsu
Nate Borofsky
(Jennifer) JJ Jones (Drums)
Tylan Greenstein and Doris Muramatsu have known each other since second grade. They grew up playing from the Paul Simon songbook and mimicking their parents' records from 60s vocal groups like the Mamas and the Papas. At a college talent show they befriended Nate Borofsky, who also grew up trained in classical music. The three shared an apartment in Brooklyn but didn't play together until a road trip to a music workshop. Singing harmonies in a rented Buick, the band was formed - or as formed as it could be before JJ Jones, drummer at the time for the Canadian band Po' Girl, joined to complete their sound. Girlyman now teaches at those same kinds of workshops.
Heartbreakingly beautiful. Theirs is a sound you could happily drown in ******
~ Maverick Magazine 2010
Really good, really unexpected, and really different. ~ Village Voice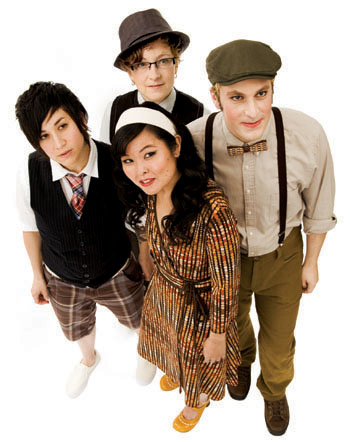 The three founding members of the Atlanta-based band handle songwriting duties, penning lyrics about love, loss and memory. But, as Slate magazine wrote Girlyman doesn't wallow in such emotions; the band approaches them frankly, capturing, in a story or a surprising metaphor, a feeling you've had but never heard so well expressed.
After long opening runs with the Indigo Girls and Dar Williams, awards and critical acclaim, the band set out on their own. Their music spans genres - they play acoustic guitar, banjo, mandolin, djembe, and electric baritone guitar - but even in large venues their shows are accessible in the coffeehouse style. Their improvised harmonies and on-the-spot songs (about everything from the Antipope to the benefit of firing a cannon in a musical composition) have become cult favorites.
After four well-received albums, they self-produced their latest effort, Everything's Easy, with a single, ten thousand dollar microphone – financed entirely by fan donations. They are currently recording their fifth studio album. Most recently they collaborated with comedienne Margaret Cho, co-writing songs for her upcoming CD. She also produced their first music video for the song Young James Dean. Cho says of Girlyman, It's the music of my heart and soul. Girlyman is the future, the past and the present.
In 2010 the band made their debut European tour and played to enthusiastic audiences throughout the UK -now they return in spring 2012 with their unique stage show.
I challenge anyone to listen to this and not immediately fall in love with Girlyman.
~ Time Out
Tired of discordant progressive and oh-so-experimental Indie rock? Girlyman makes folk-pop music that is defined by stunning three part harmonies and beautiful melodies. This music makes you want to sit back, close your eyes and listen.
~ The Washington Post
girlyman.com
myspace.com/girlymanband
Video above not working? Click here or here for YouTube link