Steve Tilston (Vocals, Guitars)
Keith Warmington
(Harmonicas, Guitar, vocals)
Stuart Gordon (Violin, backing vocals)
Ask anyone on the English acoustic scene who their favourite guitarist, singer, songwriter and entertainer is and the same name will crop up in the top three of every department.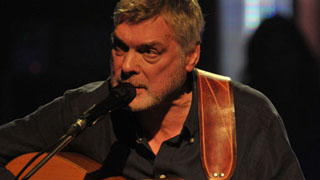 Steve Tilston is one of our most celebrated songsmiths; widely recognised within the world of folk and contemporary music: the words, arrangements and his subtle, quite superb guitar playing could be no one else.
The writer of the classic songs The Slip Jigs and Reels, Here's to Tom Paine and The Naked Highwayman, has turned author. Steve has recently published his first novel. Full of colourful characters, All for Poor Jack is an historical tale set in Bristol and the New World. The longest song I've ever written! says Steve.
Born in Liverpool and raised in the Midlands, Steve made his recording debut in 1971 with the classic An Acoustic Confusion and has been turning out quality albums ever since, quintessentially English in style and typically Tilston, marking him out as one of this country's finest writers. Though known as a songwriter, Steve has always had an ear for the tradition and included new interpretations of old favourites on his original recordings. Of Many Hands is his first all-traditional album paying homage to his roots, with unique arrangements of timeless classics.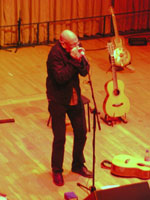 He's toured with John Renbourn's Ship of Fools, in a stunning partnership with traditional singer Maggie Boyle, as guitarist with the Ballet Rambert, and with Maartin Allcock and Pete Zorn in WAZ!
Like father, Like Daughter was a charming show with his very talented daughter Martha Tilston.
Current collaborations see him teaming up with Yorkshire alt-country band The Durbervilles and this new trio with Keith Warmington and Stuart Gordon.
A great narrator on top form ****. ~ The Observer
Dominated by Tilston's exquisite guitar work ... **** ~ The Guardian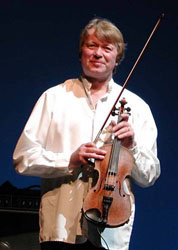 A celebrated artist in Britain and abroad, winning accolades in Europe, Australia and the USA, his songs have been recorded by Fairport Convention, Dolores Keane, The House Band, Peter Bellamy, North Cregg, Bob Fox and John Wright.
Here's to Tom Paine is the adopted theme song for the Tom Paine Society of America and it's been rumoured, has featured in Bruce Springsteen's live sets. His music has also featured regularly on radio and TV. Steve is also a blinding, dazzling guitarist with a style echoing the elaborate rhythmic "folk baroque" of Bert Jansch and Davy Graham, but also drawing from classical, jazz and the folk tradition to create a sound that has been called quintessentially Tilston.
This new trio sees him teaming up with some of the Bristol music scenes stalwarts who are also his old pals. Harmonica maestro (and popular Radio Bristol presenter) Keith Warmington and violin virtuoso (and sought after composer/producer) Stuart Gordon;
Songs of great heart, delivered with authority and instrumental panache ****.
~ The Scotsman
Another superb set from the good Mr Tilston, who just can't seem to put a finger wrong.
~ Folk Roots
Steve has just taken part in a very interesting project with former partner Maggie Boyle. Maggie is tramping around the country interviewing singer songwriters in their home kitchens, she gets to find out some interesting titbits and hear a few songs. The interviews are posted on her website .
stevetilston.com