Double Header Gig - Match & Fuse project
On a Match & Fuse tour, the gig has a set by each band, and finally a roar-up of all on stage, accompanied by the release of a limited edition CD. Match & Fuse is rapidly expanding across Europe, leading to the very first Match & Fuse Festival 2012 in the Vortex/Gillett Square on June 15/16 2012 matchandfuse.tumblr.com
World Service Project
Dave Morecroft – keys
Tim Ower – saxophones
Raphael Clarkson – trombone
Conor Chaplin – bass
Neil Blandford - drums
The World Service Project won the Peter Whittington Jazz Award in 2010 for their innovation and the infectious enthusiasm of their music. The award is enabling their first Match & Fuse collaboration with Synkoke.
Led by pianist Dave Morecroft, World Service Project's combination of lyricism with burning intensity, unruly progressions and flowing melodic phrases has quickly brought them to the forefront of the UK scene. They released their debut album Relentless earlier this year, acclaimed by Jazzwise as the Led Bib you can dance to.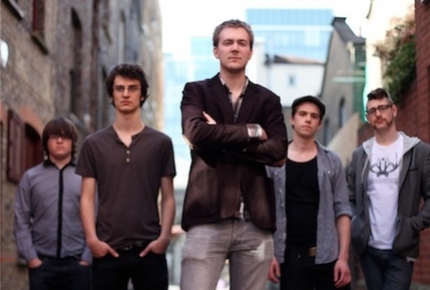 WSP's music speaks through dark, intense building passages, winding through dissonance, complex rhythmic manipulation and extreme dynamics.
Other times it draws on the language of 20th Century Classical composers layered over boisterous grooves more commonly found in albums by heavy rock artists.
The London based, award-winning punk jazz innovators WSP have erupted across the UK and Europe, promoting new material ahead of their second album in 2012.
… dazzling … big things lie ahead for them ~ Time Out
brilliant post-prog funk ~ Jazzwise
a tour de force ~ York Press
lively, imaginative and consistently absorbing ~ London JazzBlog
worldserviceproject.tumblr.com
Alfie Ryner Quintet
Lori Pertoldi (drums)
Guillaume Gendre (double bass)
Paco Serrano (saxophones)
Guillaume Pique (trombone)
Gérald Gimenez (guitar)
Alfie Ryner is the only trumpet player who has never blown into a trumpet. Nobody is sure if he comes from the Bronx or from Saigon. He is also the first jazz trumpeter who hasn't played a note of jazz. Some think that he was born in Berlin after the war, others reckon in a cave in Sacromonte.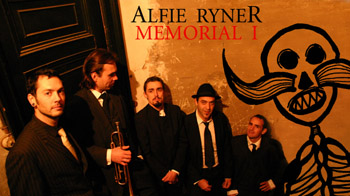 You won't find Alfie Ryner on the shelves of jazz, rock, or world music. You might, however, find him on the Mongolian Plains, or in a Romanian prison with Chinese pirates, or even in bed with the Empress of Russia.
There is some doubt as to his colour, age, and inside leg measurements, and nobody is quite sure what language he speaks, or what his favourite food is. Nevertheless, we do know that Alfie Ryner is an utter scoundrel who often climbs into people's beds to tantalise their neurones, tickle their spinal cords and add some spice to their dreams.
Alfie Ryner is a quintet of musical agitators. Five elegant yet venomous individuals who don't hesitate to go from jazz to punk, from groove to bolero, from free improv to the tarantella.
myspace.com/alfierynermemorial