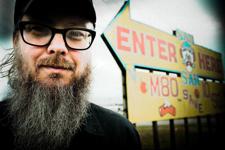 Otis Gibbs is a man in search of an honest experience. He's often referred to as a folk artist, but that is a simplistic way to describe a man who has planted over 7,000 trees, slept in hobo jungles, walked with nomadic shepherds in Romania, was a fifth grade yo-yo champion and once wrestled a bear (and lost). He's been strip-searched by dirty cops in Detroit, and has an FBI file. Otis has played everywhere from labour rallies in Wisconsin, to anti-war protests in Texas, Austria and the Czech Republic.
Otis has played countless, theatres, festivals, bars and house concerts and has managed to carve out a living, while remaining happily independent. Much of his work concentrates on the world ignored by pop culture. Sometimes forgotten, obsolete, or simply marginalized, it is a world that doesn't fit into a twenty-second sound bite.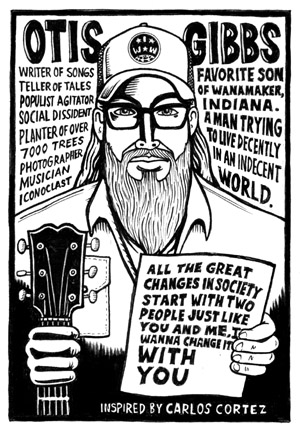 Otis grew up in the rural town of Wanamaker, Indiana and started working when he was in high school and did countless crummy jobs. Eventually he got tired of working jobs that didn't stimulate, or interest him in the least. So, in his own words, he decided to just "drop out." Over the next four years, Gibbs earned and lived off less than $3,000 a year and had never been happier. He got rid of his car and shared apartments with artists, musicians and radicals (often living with 5 to 10 people). He also took advantage of the free time and wrote hundreds of songs. Otis sacrificed many of the comforts most of us take for granted, so that he could live a creative life. He has spent the last fifteen years travelling across America and abroad documenting this world, and has a story to share about each stop along the way.
Harder Than Hammered Hell is Otis Gibbs' sixth album. It's also the fourth release by Wanamaker Recording Company, the East Nashville based independent label he started in 2008 with long time partner Amy Lashley. The album title was inspired by experiences Otis had when he worked as a tree-planter in Indiana. Much of what he learned came from a seventy-year-old friend/co-worker. The man would describe ground that is too hard to dig as, "harder than hammered hell." He would also use the phrase when referring to a difficult job, or a particularly tough person. Otis found it a fitting metaphor for the difficulties of leading a creative life
The album features performances by Thomm Jutz on guitar, Mark Fain on bass, Paul Griffith on drums and Amy Lashley on vocals. When asked about his approach to making records Otis replied, "I'm silly enough to believe that I'm the world's foremost authority on what an Otis Gibbs record should sound like. I tend to enjoy stripped down arrangements that highlight the song and the vocal." Jutz' tasteful playing style blends perfectly in this setting. Gibbs produced the record, with Jutz engineering, making this their third collaboration.
Otis currently resides in Nashville, Tennessee with his long time girlfriend, Amy Lashley, their dog and two cats. Recently, he's been examining ways of using bird feeding as a form of civil disobedience. Catch this unique guy with his songs and his humour on this gig tonight.
otisgibbs.com