Jon Strong (Guitar, vocals)
Roy Whyke (Drums)
Duncan Waller (Bass)
After an 8-year layoff The Jon Strong Band is back on the road again including original members Roy Whyke and Duncan Waller. Jon Strong as a solo performer has toured with Ry Cooder, Van Morrison, Robert Palmer, Talk Talk, Danny Thompson and Clannad. He has also numerous major festivals under his belt including Cambridge, Cropredy and the San Bernardino Folk Festival. His band toured consistently for over 11 years throughout the UK and Europe building a loyal fan base and achieving much critical acclaim as one of the tightest three-piece bands on the scene as witnessed by these testimonials:
Brilliant ~ Bob Harris, BBC Radio 1.
I didn't believe you were playing live ~ Johnny Walker, Radio 1 live session
Songs of lyric, texture and power ~ Tom Robinson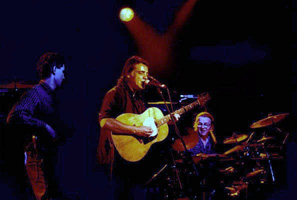 Originally from Leeds this amiable Yorkshire lad began performing professionally from 1973 and took the time to play his way around Canada in 1974 before moving down through America to study the Blues first hand, eventually settling in Southern California for a year picking up on the café song-writing culture.
He then moved to live and work in Holland from '76 to 1984, using it as a base to tour as a solo performer throughout Germany, Scandinavia and farther into Europe, whilst returning two or three times a year for gigs in the UK.
The band came together in 1990 when he met Roy who was then running and playing drums in a Blues club in Barnsley. After initially being given some private financial backing to produce the band's first album they signed to Linn Records for six years alongside the Steve Gibbons Band and jazz guitarist Martin Taylor. They had a great time playing some plum gigs, festivals and some broadcast work but only released one album for the label.
If this came out with the name Peter Gabriel on the cover you can bet it would be hailed as a major artistic renaissance for a world class songwriter. If it came out with an unknown band name and a picture of a bunch of distrait-looking youths from Bristol on the sleeve, it'd probably win the Mercury Prize. Listening to music as good as this on an Own Label CD-R makes me want to weep with frustration at the sheer idiocy of the business we're in. ~ Tom Robinson reviewing one of Jon Strong's CDs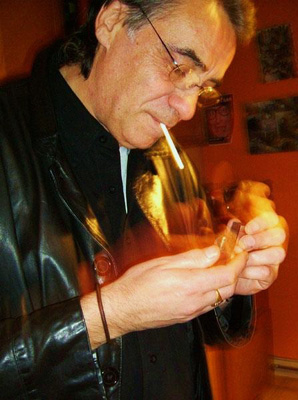 As a songwriter Jon admits to not being prolific, but those he has notched up are real and quality. The real depth of Strong is his ear for a song. Finding something that's meaningful, even if it's not his own. The band plays a few covers that are rooted in that ideology of, 'what is a good song'? The rest is all Jon Strong.
Jon is a phenomenally good guitar player, in a style featuring blues and R&B mixed in with much more English ideas from the likes of Martin Carthy and Nic Jones. He has a uniquely big, ringing, three-handed guitar style all of his own and his bittersweet songs steal the show away from the funky covers of Jim Croce and Lowell George that he also includes in his repertoire. His mordant wit is a delight to witness, as he cracks up every audience while reminding us bluntly of music from legends and ghosts from the past in an evening of entertaining song.
Mind blowing acoustic guitar work ~ Fibbers Club, York
Highly evocative slabs of industrial folk rock ~ the Oxford Curfew
No apologies! The return of one of the best bands in the UK this time packing the long awaited CD. Top quality music played with total conviction ~ The Tower Arts Centre, Winchester