Danny Schmidt and Carrie Elkin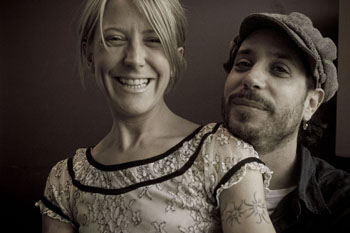 It's a special treat when Danny Schmidt and Carrie Elkin share the stage together. Danny Schmidt is best known for his poetic lyrics, which have drawn favourable comparisons to Leonard Cohen and Townes Van Zandt for their depth and complexity. And gypsy spirit Carrie Elkin is best known for her incredibly soulful and dynamic vocals, which have drawn favourable comparisons to Patty Griffin at her most powerful, and Nanci Griffith at her most intimate.
Named to the Chicago Tribune's 50 Most Significant Songwriters in the Last 50 Years, Texas-based singer/songwriter Danny Schmidt has been rapidly ascending from underground cult hero status to being broadly recognized as an artist of generational significance. Danny is considered a pre-eminent writer, an artist whose earthy poetry manages to somehow conjure magic from the mundane, leading Sing Out Magazine to tag him Perhaps the best new songwriter we've heard in the last 15 years.
Danny is unanimously regarded as incredible, if not unbelievable, if not just plain beautiful - an astounding guitar player and a true poet (if the wind can be called a poet).
~ Songwriter Paul Curreri
He is hands down one of the best living musicians/poets ~ Bob Thiele, famed Nashville record producer and writer of such classics as "What a Wonderful World"
With beautifully crafted, lonesome pines music and complex beguiling words, he would've fitted neatly on the bill at any '60s coffee house alongside Townes Van Zandt or Leonard Cohen. ~ Andy Fyfe, Q Magazine
In his use of parable and allegory, there are inevitable comparisons with Cohen and Dylan, but these are songs of such quality and beauty that they more than hold their own in this exalted company. 5***** ~ Maverick Magazine
One of Texas Music Magazine's Artists Of The Year in 2011, Carrie Elkin is a born performer, possessing an infectious energy that cannot be contained. As Maverick Magazine so eloquently put it: We have never seen a performer so in love with the act of singing. Onstage Elkin is simply a force of nature. With her dazzling voice and unpretentious charm, Carrie wins over audiences with songs that are, as FolkWax puts it: Intimate, yet universal. Naked yet richly adorned. Her voice is simply revelatory.
Carrie and Danny have just released their first duo recording together, with Carrie singing one of Danny's classics, Company Of Friends and Danny singing one of Carrie's lost gems, Swing From A Note. The recordings are aptly entitled Together . . . and they represent the first fledgling single of what will grow to become a full fledged duo album over the course of their year touring together.
What a wonderful album this is. I'm thinking Patti Griffin, Nanci Griffith and Iris DeMent. It's spellbinding from the opening track to Gospel Song at the end. Questions About Angels made the hairs on the back of my neck stand on end ~ Bob Harris, BBC Radio
Very few people in this world can captivate an audience with just a voice and a guitar the way Carrie Elkin can. ~ Matthew Toledo, Athens Music Network, Georgia, USA.
Don't miss these two great artists in a rare split-bill performance, sharing songs back and forth, lending their voices to each other's tunes, in harmony. And lending commentary to each other's tunes, in the form of smart-ass between-song banter.
carrieanddannytogether.com
Video above not working? Click here for YouTube link