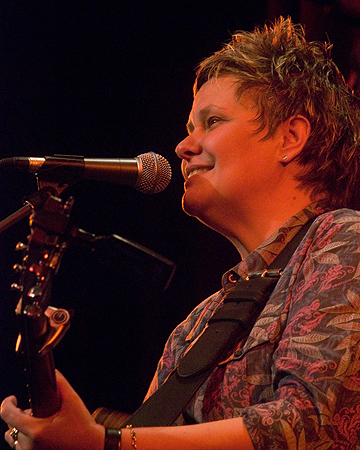 Julie Matthews is an award-winning singer-songwriter, multi-instrumentalist, and record producer. She has been a member of some of the most influential British folk duos and groups and is acknowledged internationally as a major songwriter, with her work being covered by a wide range of artists and groups. Her music is often classified as English folk, but contains strong American influences.
Taking a break from her duo with Chris While, Julie performs material from the recent series of Radio Ballads about the Olympic Games. In 2006, Julie Matthews was one of a handful of songwriters invited to take part in a brand new project, The BBC Radio 2 Radio Ballads (aired in 2007). Inspired by the ground breaking original Radio Ballads written by Ewan MacColl in the 50's and 60's, the new radio ballads set out to bring the topics that MacColl had covered, up to date. Such was the success of this series, that Radio 2 also commissioned radio ballads in 2009 and most recently for the 2012 Olympic games.
In this show, Julie performs these songs live, along with the pre-recorded interviews, which featured in the original programmes and inspired the song writing. From names like gold-medal winning pentathlete Mary Peters and the infamous US sprinter Tommy Smith, who was among those whose Black Power protest on the victory rostrum has passed into history. Julie will also relate how she wrote the songs and describe the process of compiling the complete radio ballad series. Here is a unique chance to catch this in a live setting.