Rebecca Pronsky w/ Rich Bennett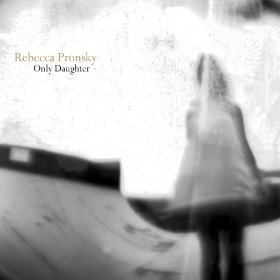 A real treat to have this young lady from New York back in Bristol. Last year's visit was a breath of fresh air. Read the review of last year's gig and some links in it to Rebecca's music here
Brooklyn native Rebecca Pronsky is one of New York City's finest singers and songwriters, playing twangy folk that is as urban as it is rural, not afraid to be sophisticated [Maverick]
Rebecca's new album Only Daughter will be released in March, her third CD on Austin's Nine Mile Records, sending her on tour to both the east and west coasts and throughout the UK and Europe.
It signals a somewhat new direction. Gone is most of the country-politan influence that got her noticed as Brooklyn's witty Americana songstress [Time Out] in favour of a more adventurous, atmospheric sound? Rebecca credits influences such as the Innocence Mission, Patti Larkin and Mark Kozelek of Sun Kil Moon with helping her channel this new voice.
Only Daughter was produced by Rebecca's husband, guitarist Rich Bennett and recorded and mixed by friend and collaborator Scott Solter (Mountain Goats, Superchunk, John Vanderslice). Together they've created a record that is gritty and dark, layered and dreamy, bravely disobeying the usual conventions of the Americana genre, but it's still Rebecca that anchors the sound.
R2 says she's head and shoulders above most of her contemporaries, an outstanding lyricist with the ability to stop you in your tracks.
The Scotsman praises her crystal-bright yet earthily sensuous voice and melodically alluring song-craft.
Americana UK declares she is ready to take us by storm over here.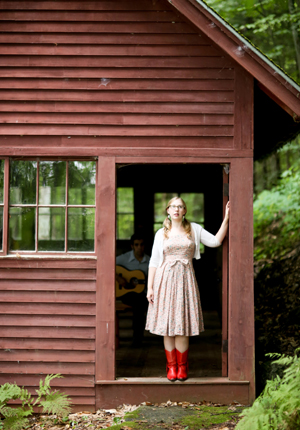 In praise of her last record (2011's Viewfinder) NPR said her voice conveys the wisdom of experience and she addresses the struggles of a generation attempting to get by.
Rebecca tours with Rich Bennett who puts the trimmings on the music with a battery of echo drenched, twangy leads [Blurt]. Rich's reverby guitar sound, along with Rebecca's strong vocals and rhythm tenor and acoustic guitars, have taken them everywhere from the Paradiso (Amsterdam), Triple Door (Seattle), Birchmere (DC), The Cluny (Newcastle), to Celtic Connections (Glasgow) and Falcon Ridge Folk Festival (NY). Rebecca and Rich have a charming on-stage rapport and Rebecca tells witty, engaging stories about the songs, both entertaining and thought-provoking, her eclectic songs gaining broad appeal.
Rebecca has also shared stages with the likes of Shawn Colvin, Patty Larkin, Loudon Wainwright III, Eilen Jewell, Carrie Rodriguez and Steve Forbert as well as touring and building a fan-base in her own right. If you have yet to hear this lady live, do so….you won't be disappointed.
Wonderful, absolutely brilliant… I really like that woman's voice and the arrangements. There's something quite special about it. ~ Frank Hennessy, Celtic Heartbeat
If the hypothetical 'Urban Twang' is going to evolve as a genre let's add Rebecca Pronsky to some of the founding members such as Mary Chapin Carpenter, Gretchen Peters, Justin Townes Earle and Nell Bryden to name but a few... Grand company I'm sure you would agree but Only Daughter confirms Rebecca Pronsky's place alongside these performers. ~ Fatea magazine
rebeccapronsky.com
Video above not working? Click here for YouTube link