Dave Morecroft – Keys
Tim Ower – Saxophones
Raphael Clarkson – Trombone
Conor Chaplin – Bass
Liam Waugh – Drums
How can I describe World Service Project to you?
How can I encourage you to come along and experience these guys
….without frightening you off?
Big swaggery-jazz…passion, aggression and no little humour ~ The Irish Times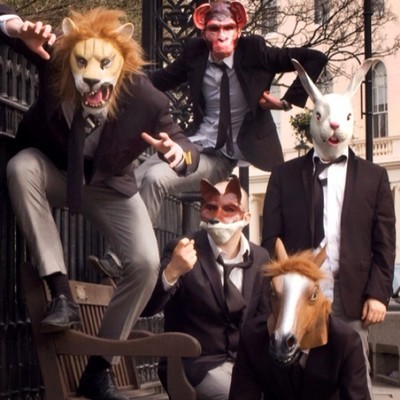 They are one of those Marmite things you either love or hate! They are pretty loud, energetic, experimental and explosive, but I like 'em a lot! They are creating a swathe through the jazz-fields of European contemporary jazz, by being original and at the forefront of new British jazz music. In essence, imagine a four-way, musical-boxing-cage fight between Frank Zappa, Loose Tubes, Stravinsky and Meshuggah. The result is high-octane experimental but accessible music with a smile on its face.
Led by pianist/composer Dave Morecroft, WSP's music speaks through dark, playful passages, winding through dissonance into complex rhythmic manipulation and downright silliness. Other times it draws on the language of 20th Century Classical composers layered over boisterous grooves more commonly found in albums by heavy rock artists. Brash-Funk-Punk-Jazz!!
..tight, deftly structured and grittily grooving music ~ The Guardian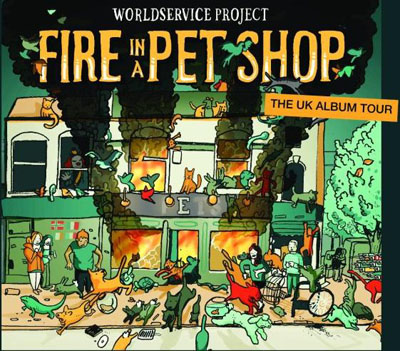 After an intense touring period through 2011/12 that saw them take in over 10 countries around Europe, WorldService Project return to the UK with a bang to release their second album,
Fire in a Pet Shop.
With a full UK tour supported by Jazz Services and dates across Europe and further afield planned for 2013, WSP continue their ascent with a unique blend of brilliant post-prog funk (Jazzwise Magazine) acid-fried funk (Time Out) and serious skronk-jazz (The Telegraph).
Full tour dates in April:
14th Hull
15th Darwen
16th Manchester
19th Leeds
20th Nottingham
24th Cardiff
26th London
27th Southampton
28th Bristol
European jazz need have no fear for the future...WSP is rocking…British Jazz, à la 2012-13 ~ Jazznytt, Norway
sumptuous awesomeness...unequalled experimentation ~ Rockgarage.it, Italy
For a chance to listen go to soundcloud.com . Don't take the first track as a full example, give it several minutes/tracks to get a proper feel for their music.