Ivo Neame Quintet feat: Jim Hart
Jim Hart (Vibes)
Tori Freestone (Sax & Flute)
Ivo Neame (Piano)
Jasper Hoiby (Bass)
Dave Hamblett (Drums)
Ivo Neame is a distinctive jazz musician in that he is equally at home on saxophone and piano (I can think of no other musician that doubles in such a way). This double life has seen him make notable contributions to some of the finest jazz groups in the vanguard of the vibrant UK jazz scene. Ivo's music is a living, breathing contradiction - complex yet accessible, considered yet spontaneous, traditional yet forward-thinking.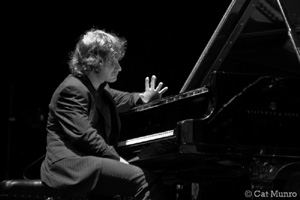 Since leaving the Academy he has gone on to perform and record with highly esteemed jazz artists at home and abroad such as Hermeto Pascoal, David Binney, Seamus Blake, Phronesis, Mark Lockheart and Stan Sulzmann. He is also a member of the Cinematic Orchestra, a band whose mix of electronica and improvisation has appealed to audiences worldwide. The album Caught in the light of Day was voted the 4th best album of 2010 by MOJO magazine. In addition to this he is a MOBO winner, and has played on the Phronesis Alive album which was voted Album of the Year 2010 by Jazzwise magazine. His latest release Yatra seems to be getting even more praise.
A showcase for Neame's blossoming keyboard powers. It's a set full of edgy and characterful themes, matched by resourceful, conversational improvising ~ The Guardian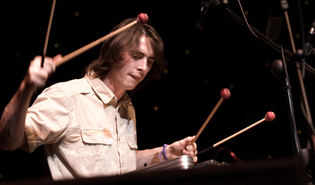 Originally from Cornwall, Jim Hart began playing drums and piano at age four and soon furthered this to include tuned and orchestral percussion. A founder member of London's LOOP Collective he is one of the most in demand musicians on the British scene as a soloist and as a sideman on both drums and vibes. He has toured extensively with many visiting American musicians in the last few years including Ralph Alessi, Joel Frahm, Terrel Stafford and Richie Barshay and he was recently a special guest with Wynton Marsalis. A British Jazz award winner in 2006, 2007 and 2008 he also received the Worshipful Company of musicians Bronze medal in 2006. He was also selected to be a participant of the Jerwood/PRS Foundation Take Five Initiative in 2009.
One of the UK's most creative new jazz artists ~ The Guardian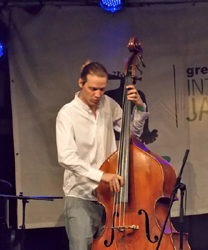 Copenhagen-born, London-based, bassist Jasper Hoiby created Phronesis in 2005, following his graduation from the Royal Academy of Music in London. Phronesis were nominated for Best Jazz Ensemble in the Parliamentary Jazz Awards in April, featured on the front cover of Jazzwise Magazine in August, and nominated for Best Jazz Act at the prestigious 2010 MOBO Awards. Their third album Alive (Edition Records), was released in July 2010 to great critical acclaim and chosen as Jazz Album of the Year by Jazzwise and MOJO Magazines. Høiby has performed and recorded with a number of high profile projects including; Django Bates, Mark Lockheart, Julian Joseph, Marius Neset and Kairos 4tet to name but a few.
Høiby is one of the most arresting bassists on the contemporary scene, his sound at once lithe and sonorous, his solos compulsively listenable ~ Chris Parker (LondonJazzBlog)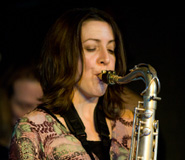 Tori Freestone attended the Leeds College Undergraduate and Guildhall Postgraduate jazz courses and was regional finalist of Young Jazz Musician of the Year in '96.She has played with a variety of groups including NYJO, Andy Sheppard, Lee Hazlewood, the Creative Jazz Orchestra, Fringe Magnetic, Orquesta La Timbala, and Neil Yates as well as co-leading the quartet Compassionate Dictatorship and her own trio.
Freestone makes for a very impressive listen...robust tenor work ~ Jazzwise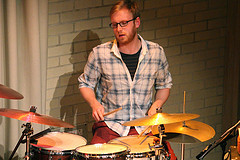 Since moving to London in 2006 to study at the Royal Academy of Music, Dave Hamblett has been building a reputation as one of the most in demand contemporary jazz drummers in London. David was awarded a Yamaha scholarship for outstanding jazz musicians, and was recently nominated as a finalist for the worshipful company of musicians award. As a sideman David has worked with Ivo Neame, the F-IRE collective large ensemble, Abram Wilson Quartet, Nick Smart's Jazz Matanzas, Elizabeth Shepherd amongst others and has performed throughout the UK and Europe.
ivoneame.co.uk