Buddy Mondlock w/ Mike Lindaur (USA)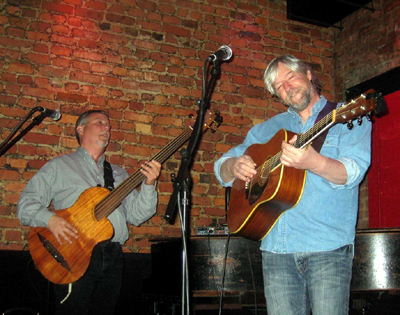 When Buddy's not on the road, you can find him in Nashville, but he grew up in a suburb of Chicago. He didn't have a troubled childhood. His parents were nice to him. They paid for guitar lessons when he was ten and they never said, "When are you going to get a real job?" He sang Crosby, Stills and Nash songs with his sisters and answered his little brother's questions from the top bunk. A few years away at college puzzling over Homer and Plato and then back home; living in the big city this time and playing open mics at the famed Earl of Old Town, Chicago's crucible for songwriters in those days. When Buddy made his first trip to Texas Guy Clark heard him singing one of his songs under a tree at the Kerrville Folk Festival and liked it. So Guy went back to Nashville, opened the door and said, "listen to this kid, he's good!" A publishing deal soon followed.
In 1987 he was a New Folk Award Winner at Kerrville and he released his first album On the Line. David Wilcox recorded The Kid on his first record for A&M. Buddy did some writing with this other new kid in town named Garth Brooks (they had the same manager). Janis Ian heard him singing at the Bluebird Cafe and asked him if he'd like to write with her. Joan Baez recorded their song Amsterdam. Nanci Griffith asked Buddy to sing on a show she was taping for Irish television. She ended up liking that song so much that she recorded Comin' down in the Rain on her Grammy Award winning collection Other Voices, Other Rooms. Garth became a star and Every Now and Then ended up on his album The Chase.
Buddy was touring all over the country by this time playing coffeehouses and festivals (he was a regular on the main stage at Kerrville by now) and there were trips to Europe too. 1996 was a good year. Peter, Paul and Mary recorded The Kid and then asked the kid himself to sing with them on their Great Performances TV special. He won a Kerrville Music Award for song of the year that autumn for The Kid too. In 1999 he released his third album, Poetic Justice which was picked-up by EMI Records in Canada and Ireland and by Proper Music in the UK when British DJ Bob Harris began playing songs from it on BBC radio.
This is a record to restore joy and wonder in the long-suspect concept of the American singer-songwriter. ~ Colin Harper, MOJO
It was that same year that Buddy was approached by producer Billy Mann who had a unique project in mind. Buddy collaborated with the legendary Art Garfunkel and the wonderful Maia Sharp. The three of them wrote and recorded an album together called Everything Waits to Be Noticed. The trio toured all over America and Europe.
Then came his song cycle The Edge of the World, an introspective journey from childhood through to the recent break-up of a marriage and beyond. And while always a wry observer of the social interactions of human beings the song Big Fish, Shallow Water takes on a political edge as well. Buddy did most of the playing and singing himself, with a little help from long time friend, bassist Mike Lindauer. Now, Buddy's back, hitting the road performing and leading song-writing workshops and of course writing songs: because that's what he does and that's who he is. Lean in and listen, you won't be sorry; he has plenty of songs to share.
The perfect songwriter of the new Nashville... more folk than hard country, more Jackson Browne than Merle Haggard… a rare display of true craftsmanship in song writing. ~ Bath Live
What other songwriters say about Buddy Mondlock:
…represents the best of the new generation of singer/songwriters in folk music. His writing style is grounded in the traditions of the past, but has its heart in the present. He is one of my favourite writers ~ Nanci Griffith
He blew me away! Pay attention to Buddy; he's a great writer! ~ Guy Clark
…consistently eclectic, consistently innovative and consistently one of the few artists that don't irritate me. I love working with him and he better keep working with me! ~ Janis Ian
…writes beautiful songs and plays the kind of guitar they deserve. He's a fine person and a fine artist. ~ Townes Van Zandt
Nashville-based but spiritually in the Townes Van Zandt "gentle outsider" tradition. ~ MOJO
buddymondlock.com