Martin Speake Trio feat Jeff Willams (USA)
Martin Speake (Alto Sax)
Mike Outram (Guitar)
Jeff Williams USA (Drums)
Martin has developed a personal musical voice that expresses a deep understanding of the history and language of Jazz with individuality as an improviser that is intelligent, melodic, cool, complex, direct, beautiful and profound.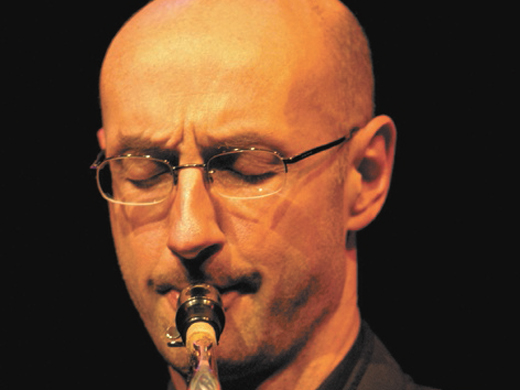 He first came to public attention as a founder member of the award winning Saxophone Quartet Itchy Fingers during the height of the UKís so called Ď80ís Jazz Revivalí when a host of young musicians including Courtney Pine, Andy Sheppard, Django Bates, Iain Ballamy and the big bands of the Jazz Warriors and Loose Tubes were acclaimed as the leaders of an emerging generation of UK jazz talent.
2004 saw the release of three different CDs including The Exploring Standards Trio (33 Records), a ballad album My Ideal (Basho Records) with American pianist Ethan Iverson (The Bad Plus), and The Journey (Black Box) with Indian musicians Dharambir Singh and Sarvar Sabri. Autumn 2004 he toured with Sam Rivers in his UK big band. Martin is as comfortable and fluent playing personal interpretations of the music of Charlie Parker with his quartet, or with free improvising drummer Mark Sanders.
In 1999 he received the Peter Whittingham Award to help fund a tour of the UK with The Martin Speake Group. In 2000 he was commissioned to compose music for an international project featuring American drummer Paul Motian, Swedish pianist Bobo Stenson and English bassist Mick Hutton.
Current projects being developed include a saxophone quartet with Phil Bancroft, Martin Hathaway and Tony Kofi and a trio with Canadian musicians Duncan Hopkins and Anthony Michelli.
Martin Speake is one of the most interesting and rewarding alto saxophonists now playing jazz on any continent. ~ Thomas Conrad, Jazz Times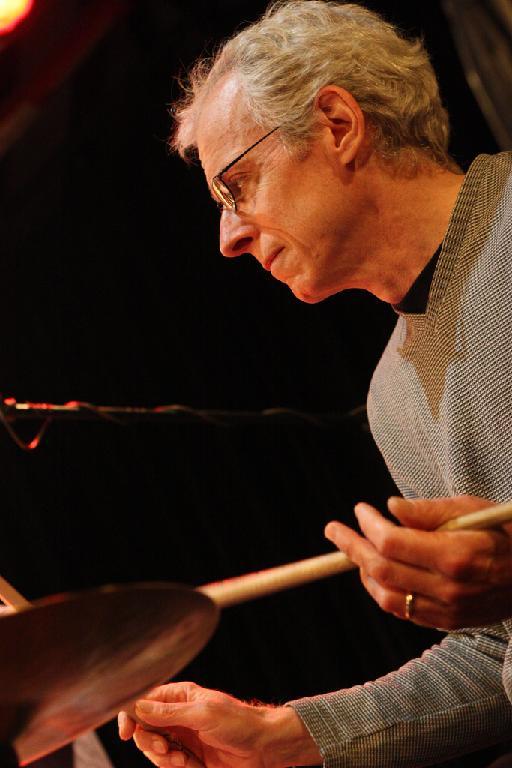 Jeff Williams is originally from Oberlin, Ohio. Jeff spent much of his youth in New York, where his mother was pursuing a career as a jazz vocalist. Her immersion in the cityís jazz scene provided Jeff with first-hand exposure to the music, mentorship from icons like Jo Jones and Coleman Hawkins and opportunities for sitting in with greats like Clark Terry.
Jeff began his professional career with Stan Getz (1972-74, 1988). He was a member of Dave Liebmanís prolific group, Lookout Farm (1973-76), has had a long association with Lee Konitz and was chosen by Joe Lovano for his first major tours as a leader (1992-94). Jeff has also performed and/or recorded with John Abercrombie, Cedar Walton, Dizzy Gillespie, Art Farmer, Michel Petrucciani, Randy Brecker, Paul Bley, John Scofield, Kenny Barron, Dave Holland, Tom Harrell and many others. Since establishing a second home in London in 2005 Jeff has appeared in the UK with Phil Robson, Kenny Wheeler, Norma Winstone, and more. Jeff's latest CD, Another Time, was selected as 2011 CD of the Year by UK Jazz Radio, a TOP 10 CD by All About Jazz and received a four star review in Downbeat.
In a career that has spanned more than 40 years, drummer Jeff Williams has honed a sound that seamlessly blends a sinewy, propulsive rhythmic sense with a masterful appreciation of space and atmosphere. ~ Matthew Miller, The New York City Jazz Record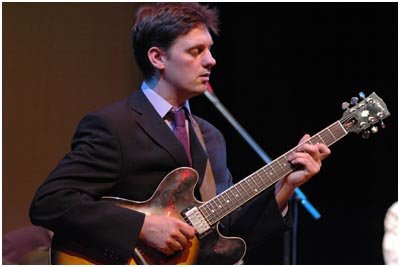 Mike Outram is one of the UKís foremost guitarists who is sought after as an improviser and for his ability to contribute a unique voice to any musical ensemble. He has toured internationally, appeared on over a hundred CDs for Universal, Sony, Candid, Blue Note records and others, and was awarded Granada Jazz Festivalís 'Best Group in Europe' award.
His work is extensive: International concerts with Chick Corea saxophonist Tim Garland; recording for Steven Wilson on his Insurgentes album; playing classical guitar with string quartet to film at the Sao Paulo Film Festival, Brazil; Recording with Danish drummer and composer Sebastiaan Cornellisen and John McLaughlin bassist Hadrian Feraud; recording Laura Rossiís film soundtrack to The Firm; playing on Theo Travisís ambient/progressive rock album with Robert Fripp and subsequent UK tour; a European tour with soul-funk legend Carleen Anderson; concerts in South Africa with Herbie Mann; etc etc! He works regularly in these UK based ensembles: Martin Speake Group, Asaf Sirkis; Issie Barrattís contemporary Big Band; Pop/country singer-songwriter Rebecca Hollweg; The Tony Woods Project, Gareth Lockrane, Dylan Howe, Tim Whitehead, Karen Street, Jacqui Dankworth, Dave OíHiggins and The London Horns.
In addition to performing, Mike is a professor at Trinity College of Music and has taught at The Royal Academy of Music, He also penned a monthly tuition column in Guitarist Magazine for 3 years.
There is no musician with such complete control of the sounds coming out of a guitar. Mike Outram plays the sweetest wailing rock guitar in Britain. Itís a sound of great beauty. ~ Seb Scotney, London Jazz
martinspeake.com