Julian Argüelles (Saxes)
Kit Downes (Piano)
Sam Lasserson (Bass)
James Maddren (Drums)
At the age of fourteen Julian began touring with the European Community Big Band. He quickly gained recognition as a highly original talent and in 1985 he went on to join the now legendary 21-piece UK big band Loose Tubes, performing with them for four years and appearing on two albums.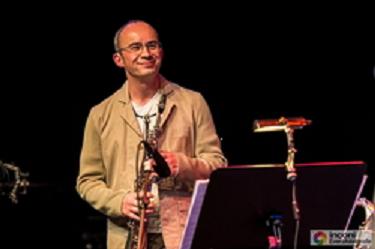 In 1986 Julian was awarded the prestigious Pat Smythe award for young musicians. His quartet with pianist John Taylor, recorded their first CD Phaedrus in 1990, and in 1995 for three consecutive years Julian's CD's were each voted "CD Of The Year" by the Independent On Sunday. His recordings have included some of the most inventive and top class jazz musicians from around the world including Mike Walker on guitar, Martin France, Tom Rainey (USA: Kenny Werner, Fred Hersch) and his amazing brother Steve Arguelles on drums, Michael Formanek (USA: Joe Henderson, Freddie Hubbard, Osby, Krantz, Erskine and Dave Douglas) on bass and Steve Swallow (USA: Carla Bley) on electric bass.
The album Skull View (1997) originated as a BBC commission to compose sixty minutes of music for a new band to be premiered at the 1996 Bath Festival. Julian formed an Octet, which included former Loose Tubes' keyboardist and composer Django Bates, and the music became his fourth album. He has released a further five albums all to critical acclaim and all with originality and true artistic craft.
Julian has pulled off the rare feat of producing something which is both completely different and equally brilliant ~ Jazz UK
A fascinating glimpse into the world of one of the most expressive jazz saxophonists this country has produced in the last quarter of a century ~ Jazzwise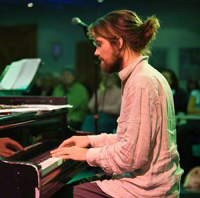 Kit Downes is one of the best young talents to emerge on the piano in the last six years. After studying at the Purcell and Royal academies he began making a strong impression on the London jazz scene with work in the groups of Stan Sultzman, Clark Tracey, Gilad Atzmon and Django Bates as well as forming regular groups with fellow academy alumni. This culminated in his participation in the high profile group Emperical, recording and touring in the States. Kit's own quintet has released two albums both received very favourably by listeners and critics alike.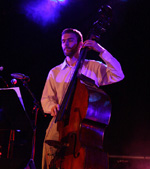 Sam Lasserson began playing the double bass aged 16, taking classical lessons and teaching himself jazz. After graduating from Trinity College of Music in 2001, he began to perform professionally, with such diverse engagements as touring a double bass concerto to Spain and performing in Moscow with Bryan Ferry. He also began to perform with respected musicians on the British jazz scene with Martin Speake, Bobby Wellins, Anita Wardell, Trudy Kerr, Malcolm Earle-Smith and Gilad Atzmon among others.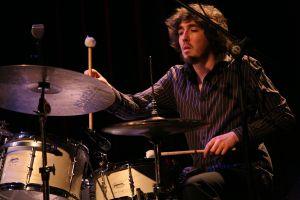 James Maddren is a highly gifted drummer who has in recent years become the 'first call' drummer of choice amongst the younger and even more established generation of jazz musicians in the UK. Known for a musical maturity beyond his years compounded with standout technique. In 2004, while still at school, he travelled to London to study with one of Europe's top multi-instrumentalists Jim Hart, who Maddren cites as a significant early influence and inspiration., he went on to study jazz percussion at the Royal Academy of Music, with Martin France as his drum tutor. Graduating in 2009 with a 1st class degree James was also given 'The Principal's Award For Outstanding Studentship'. He has since shared the stage with many artists and ensembles, including the Gwilym Simcock Trio, Kit Downes Trio, Marc Copland/Stan Sulzman quartet, the Mark McKnight Organ Quartet featuring Seamus Blake (USA), Will Vinson, Jonathan Bratoeff Quartet, and Tangent.
julianarguelles.com/