Damon Brown International Quintet
feat: Pierrick Pedron (Fr) & Yutaka Shiina (Jpn)
Damon Brown (Cornet)
Pierrick Pédron (Alto Sax)
Yutaka Shiina (Piano)
Adam King (Bass)
Matt Skelton (Drums)
Damon Brown is one of the UK's leading jazz trumpet players and composers. In the late 80's and early 90's Damon played and toured with many pop and dance stars including: Paul Weller, Maxi Priest, The Specials, and The Pasadenas. With the London Acid Jazz Group, Push and the DJ, Gilles Peterson he made the first of many visits to Japan.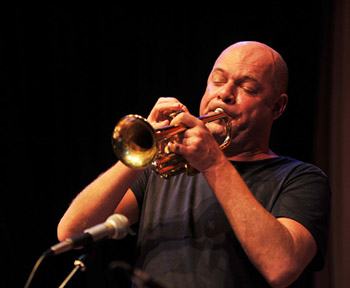 In the mid 90's Damon formed his first jazz group, the Damon Brown Quintet, and toured the UK. In 1998 the Damon Brown Quintet appeared at the Red Sea Jazz International Festival. His sideman credits include tours with international stars such as Benny Golson, Dave Liebman , Doug Raney , Big Jon Patten and other luminaries. He has also performed with many of the UK's leading players such as Peter King, Stan Tracey, Claire Martin , Don Weller and Alan Barnes. A string of successful recordings in the last decade have cemented his reputation further and his collaborations with iconic tenor sax player Steve Grossman have been hugely popular with jazz audiences and critics alike.
In 2007 the group Killer Shrimp, which he co-leads with Ed Jones, won the 2007 Best Live Jazz Group at the All Party Parliamentary Jazz Awards. Their first CD, Sincerely Whatever, was nominated for Best Jazz CD of the Year. The second album, Tales from the Baltic Wharf, was released in 2010. Damon continues to teach and perform in Europe and Russia and also in the Far East, most notably in Japan, where he has collaborated each year with the pianist Yutaka Shiina, Tim Armacost, tenor saxophone and Gene Jackson on drums.
Fluent, impassioned and technically superb. ~ Jack Massarick, The Evening Standard
Damon Brown is a superb musician with a unique voice on both trumpet and flugelhorn. ~ Ian Carr, The Virgin Rough Guide to Jazz 2005
Damon Brown's long-lined solo on the closing swinger Roughneck Blues could trade phrases with Wynton Marsalis without blinking. ~ John Fordam, The Guardian
This band features some exciting players including Pierrick and Yutaka. Mr Shiina we have seen before in Bristol with Damon at the Colston Hall and everyone who heard that gig was impressed with his lyrical piano style and unique phrasing.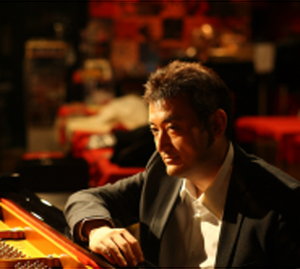 Yutaka Shiina is Japan's premier modern jazz pianist who first collaborated with Damon Brown in France in 2007.
From Tokyo, Shiina has recorded as a leader with Roy Hargrove, Nicholas Payton and Herlin Riley all Wynton Marsalis alumni, and when in the States plays regularly with saxman Tim Armacost. He capped his acceptance onto the world-stage by working in the late Elvin Jones's Jazz Machine.
His style is graceful and velvety, using subtle nuances of change, allowing easy collaboration with any combination of musicians. He often suggests the graceful delivery and pearly sound of former Miles Davis pianist Wynton Kelly - in this respect he is the perfect foil for Damon.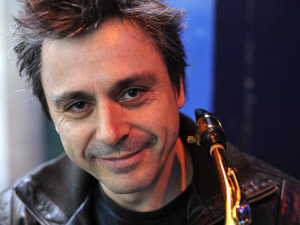 Pierrick Pédron recorded his first album, Cherokee in 2001, he was then chosen by Selmer (saxophone makers par excellence) to play alto sax for the Reference Series. It was around that time that Pédron started his quartet, began duet work with Michel Graillier and playing regularly with the Belmondo brothers.
A huge Charlie Parker fan, Pédron continued to work collaboratively before launching the 2004 album, Classical Faces as part of a sextet with Pierre de Bethmann, Magik Malik, Franck Agulhon, Thomas Savy and Vincent Artaud an album that garnered a list of accolades (Jazz Magazine's Disque d'émoi, the Charles Cros prize, three Télérama prizes).
He also worked with other groups, including the Paris Jazz Big Band, Septette with Jacques Vidal and with the Wynton Marsalis Big Band in 2004. Upon his return from New York in 2005, he recorded with Mulgrew Miller, Lewis Nash and Thomas Bramerie. The resulting Deep in a Dream cemented his reputation and made the top of Jazzman and Jazz Magazine lists for 2006, in addition to a double win from the Académie du Jazz (the Django Reinhardt Award for Best Artist, and Boris Vian Award for Best Album). Pédron continued a very active schedule on the French scene, collaborating with international jazz musicians, including Belgian trumpeter Greg Houben.
The rhythm section is completed by newcomer Adam King and the very gifted Matt Skelton. This gig should be full on, swinging Hard Bop and beyond!
damonbrownjazz.wordpress.com