*** STOP PRESS ***
Now Andy Hague Sextet with addition of James Gardiner-Bateman
Andy Hague (Trumpet/Flugelhorn)
Ben Waghorn (Saxes)
Jim Blomfield (Piano)
Will Harris (Bass)
Mark Whitlam (Drums)
Bristol based trumpeter Andy Hague has been leading his quintet for over twenty years, and it is one of the most popular bands in the area. The group has made many appearances at festivals such as Brecon, Swanage and Glastonbury, and recorded four broadcasts for the BBC's Jazz Notes programme back in the 90s. Every time this band plays it reminds us that we have such a grand depth of talent on our own doorstep and lest we forget that, get along to hear these guys, they always deliver. Andy Hague's brilliant originals swing and move with intelligent arrangements, brilliantly played by all members.
In April & May 2013 the quintet undertook a 14 date national tour with support from Arts Council England, taking in venues such as St Ives Jazz Club, Birmingham Jazz and London's 606 Club. Some comments from promoters -
And fabulous it was. Everyone was buzzing after the gig. Really tight and sensitive playing and interaction. Fantastic - well up to the national benchmark. The best gig I've been to recently. And the Andy Hague Quintet CD, on sale at the venue, Cross My Palm, stands repeated playing. ~ Teignmouth Jazz
The scene was set for an evening of quality jazz very much entrenched in the Blue Note era – accessible, straight-ahead and swinging. ~ Stratford Jazz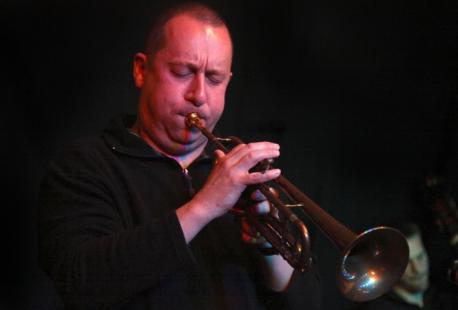 Andy Hague is a prolific composer and arranger - although his own groups feature him on trumpet he also plays drums to an equal extent, and has performed with many big names in this capacity. Over the past 25 years Andy has become well known in Bristol both as a performer and as organiser of weekly jazz venue The Be-Bop Club. Besides his jazz activities he has played in many other settings, including the albums by Portishead, various theatre productions, TV [Waking the Dead, Cold Lazarus] and the soundtrack of the motion picture A Good Woman starring Helen Hunt & Scarlett Johannson.
Andy is also well known as a jazz educator, having taught under the banner of Bristol Jazz Workshops for over a decade. This has led on to tutoring for several jazz summer schools and residential weekends, including CL Jazz, Music For You, Gloucester Academy of Music, Dartington and Falmouth-Yamaha. He has also acted as an external examiner for the Royal Welsh College of Music & Drama.
The collective impact of what amounts to a South-West supergroup was close to overpowering. ~ The Independent on Sunday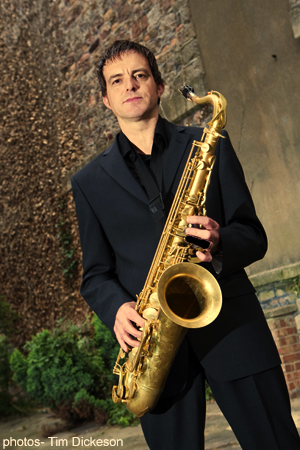 Ben Waghorn is a versatile musician who has worked in London's West End and on many pop, TV and film recordings. He has been involved in a range of projects with Keith Tippett, including Tapestry, a piece written by Keith for two saxophone quartets and the BBC singers, the quartet Work in Progress and The Keith Tippett Octet. He can also be heard on recordings with Geoff Eales and Dave Stapleton.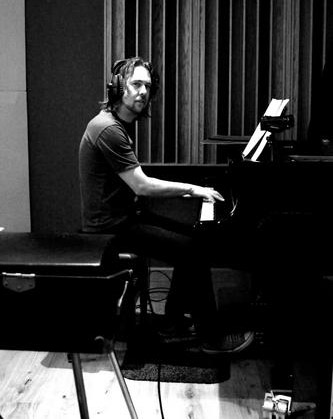 A vital part of Bristol's jazz scene for many years, Jim Blomfield has accompanied many of the UK's best-known players when they have visited the city. His first trio CD recording is scheduled for release in early 2013. Jim Blomfield is the best British pianist you've never heard of and is an absolute marvel ~ Independent on Sunday.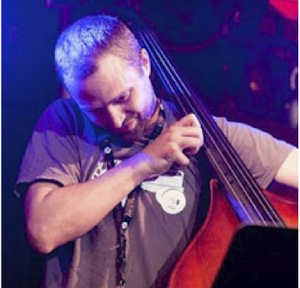 London based Rian Vosloo has been a regular on the Bristol jazz scene for many years appearing frequently at the Bebop Club. He has also working in various projects such as Nostalgia 77 with Benedic Lambdin, with Matthew Bourne and with the jazz/Rock/Fusion outfit Examples of Twelves.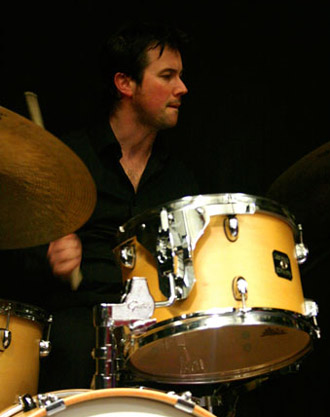 Mark Whitlam teaches drums at Bristol Institute of Modern Music [BIMM] and is much in demand for many styles of music. He has also recorded on trumpeter Nick Malcolm's debut CD Glimmers, featuring pianist Alex Hawkings.
Andy Hague's current quintet line-up is the same as on their recent CD release Cross My Palm.
They are augmented on two tracks each by guest saxophonist Jake McMurchie and vocalist Brigitte Beraha.
Cross My Palm is a consistently entertaining album, which features some superb playing from all the members of the ensemble ~ thejazzmann.com
It is the sheer quality and power of the solos (Hague's in particular, but also Blomfield's consistently accomplished contributions) that really draw the ear to this wholly enjoyable set. ~ Chris Parker, LondonJazz.blogspot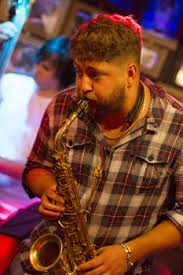 James Gardiner-Bateman graduated from the Guildhall School of Music. He has since gone on to play with: Pee Wee Ellis, Josh Arcoleo, Jay Phelps Big Band, Andy Shepard, Dennis Rollins' Badbone and Co, James Morton (literally to name but a few).
A prodigious talent who is destined to travel far in the jazz world.
andyhague.co.uk