Sheppard, Ilett, Pursglove & Howe
Andy Sheppard (Saxes)
Denny Ilett (Guitar)
Percy Pursglove (Bass)
Dylan Howe (Drums)
Andy Sheppard is Bristol's adopted son and in a career spanning over four decades he's become a truly accomplished World Class Saxophonist. Originally from Salisbury, Andy made his home in Bristol in the early 80s following a stint living and working in Paris. His rise to become an Internationally renowned artist came through hard work, intelligently composing music that developed themes around groove based material, and a self-taught saxophone style that is unique and recognisable the world over.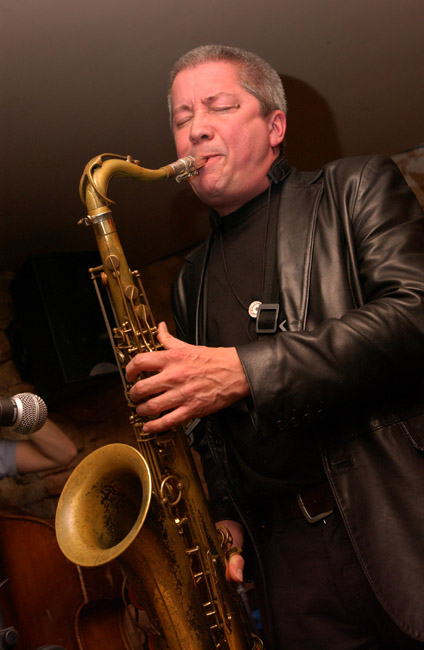 Collaborative work with some of the world's finest performers only enhanced his growing reputation for imaginative improvisation and a rare beauty in delivery. A diverse bunch, all adding a new experience for both parties: the big band orchestras of Gil Evans & George Russell, classical musicians John Harle, Nigel Kennedy and most recently pianist Joanna McGregor, World musicians Brazilian Nana Vasconcelos, Baaba Maal Fela Kuti, Indian violinist Ravi Shankar and folk and rock musicians Elvis Costello, John Martyn & Kathryn Tickell.
Andy has also developed the Saxophone Massive project that aims to integrate saxophonists of all ages and abilities into a collective sax-choir to create work for special celebrations and festivals around the world, many times involving over 50+ musicians at a time. His longer term jazz work includes US stars Carla Bley & Steve Swallow, and Europeans Rita Marcotulli, Maj-Britt Kramer and Jean-Marie Marchado plus UK guitarist John Parricelli. His latest main grouping is Trio Libero with young drum star Seb Rochford and French bassist Michel Benita. The group recorded Andy's second offering for ECM Records last year.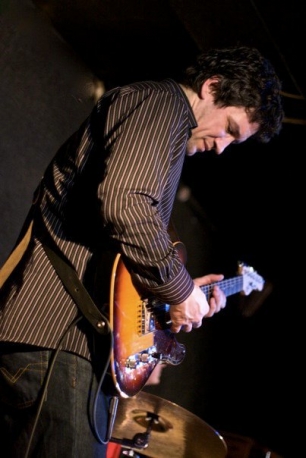 Denny Ilett is also Bristol based and has been a professional musician for over 27 years working in Blues, Rock, Jazz and eclectic musics from around the world. His jazz grounding comes from his trumpeter father whose work in big band music, rubbed off on Denny.
15 years work with Lillian Boutte from New Orleans, saxophonist and former James Brown MD Pee Wee Ellis and fellow guitarists; Martin Taylor, John Etheridge, Jim Mullen plus US star Howard Alden has seen Denny's music to develop to a very accomplished level. His work locally with the bands Moscow Drug Club with fellow local saxophonist James Morton and a new swing big band project continues when he's not touring. He is also Artistic Director of the Bristol Jazz & Blues Festival.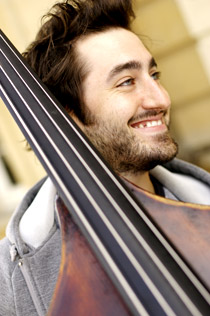 Midlands-based bass player and trumpeter Percy Pursglove graduated from the Birmingham Conservatoire's Jazz course with first class honours in 2003, before going on to study the Jazz and Contemporary Music Program at the New School University, New York City. His unusual combination of equal talent on double bass and trumpet is somewhat unique. During his stay in New York he performed with a great variety of jazz ensembles, including The Ellington Orchestra at Birdland, and the Coltrane Ensemble at Sweet Rhythm.
Back in the UK since 2005 he lectures in Jazz at the Birmingham Conservatoire, and directs the National Youth Jazz Orchestra of Wales. Most recently, Percy has formed his own ensembles and projects, working closely with drummer Andrew Bain, forming several international collaborations featuring New York based saxophonist Jon Irabagon and trumpeter Peter Evans, and UK musicians Malcolm Edmonstone and Mike Williams seen in Bristol at Future Inns. Some of the most recent ensembles Percy has performed and recorded with include Paul Dunmall, BBC Radio Big Band, Amy Winehouse, Jamie Cullum, Andy Panayi, Mark Lockheart, Tommy Smith, Guy Barker, Alan Barnes and John Dankworth.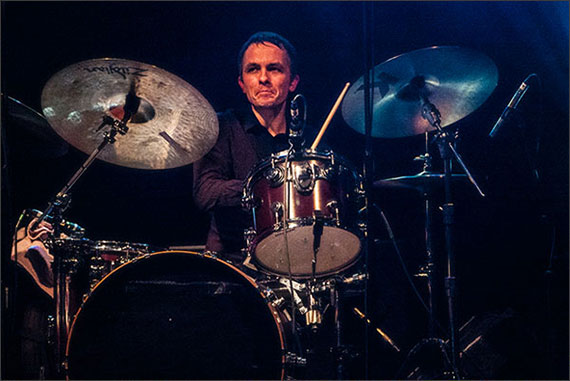 Drummer Dylan Howe was born 1969 in London to a musician family led by father Steve of guitarist fame in one of Rock's super groups Yes. He has become an acclaimed drummer and bandleader, whose versatility and swing has led him to work in many genres and formats for the past 25 years. Best known for leading his quintet and other jazz groups since 2002 and his tenures with Ian Dury and the Blockheads (1997-2010), Steve Howe and Wilko Johnson (2010-2013), coupled with extensive session work since 1990, playing with Nick Cave, Damon Albarn, Ray Davies, Paul McCartney, David Gilmour, and Hugh Cornwell amongst many others.
Last February Dylan was asked to perform at Rest Is Noise Festival at the Southbank Centre with a special quartet line-up of his Stravinsky adaptations with co-leader Will Butterworth. In February and March he toured extensively with Wilko Johnson for his sold out farewell tour. May-July comprised of gigs with Andy Sheppard and Denny Ilett with their new group, as well as sold-out Summer festival sets with Wilko Johnson. In September Dylan toured with dad Steve Howe's Trio and plans to release his new album, Subterranean in early 2014.
The group comes together to perform collaborative compositions by all band members and twists on standards.