Renato D'Aielo (Saxes)
Hiroshi Murayama (Piano)
Dario Di Lecce (Bass)
Emiliano Caroselli (Drums)
Renato first came to my notice in the late '90s when he came to The Albert in the bands of Ed Jones and with Damon Brown. His rich luscious tone was a lyrical delight, beautifully controlled with big ideas flowing from his Sax.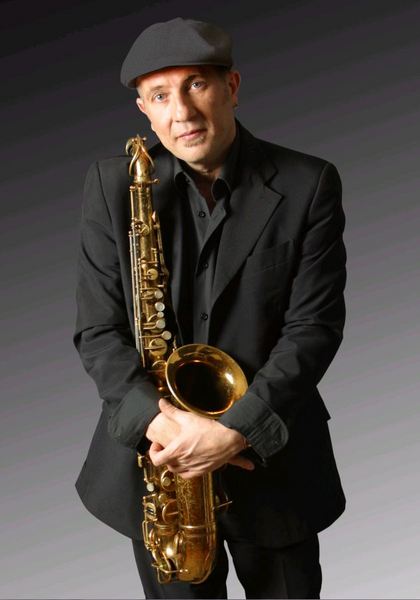 Born in Naples Italy; Renato began to study the saxophone at the age of 20, with virtuoso sax player Antonio Andolfi, then with Sal Nistico, Steve Grossman, and Tony Scott. He started his professional career playing with Giovanni Tommaso big band in 1986/87. In 1987 he received a full tuition scholarship from Berklee college of Boston.
International tours followed in 1991 with Tony Scott and in 1992 Renato toured Japan with Yoshida Masahiro trio and again in '93 & '95. European tours with Art Farmer and Rachel Gould followed in 1996/97.
His composition credits include music for an opera entitled Seven Red Doors by writer Oberto Airaudi and several co-productions for IRMA Records as sax player and producer. In1999 became resident in UK. He has played with a number of world class musicians in his career, including: Art Farmer, Sal Nistico, Steve Grossman, Keith Copeland, Duffy Jackson, Alain Jean Marie, Spike Robinson, Bruce Forman, Gene Calderazzo and Gary Husband.
D'Aiello's weighty, behind-the-beat sound shows how a poetic imagination can rekindle a long-gone style without nostalgia … ~ John Fordham, 2007 The Guardian, Four stars review
…When you hear it on the subtly-simmering 'For Heaven's Sake' you know you're in the presence of a master improviser. ~ Brian Blain, Jazz UK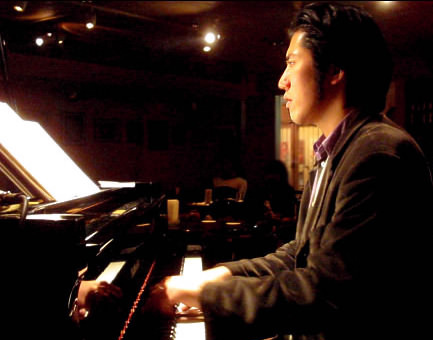 Hiroshi Murayama studied at Keio University in Tokyo and winning the Yokohama Jazz Piano competition, before turning professional in1996. In 2005, he moved to Paris, to be able to mix with European musicians and experience the European style of jazz. His Be-Bop style piano sound has evolved from his classical background to become a smooth, easy to listen to bell-like resonance that shows a neat and intelligent sophisticated charm, close to that of Bill Evans.
He has his own trio with fellow Japan exile Daiki Yasukagawa and the well known French drummer Phillipe Soirat (Lionel et Stéphane Belmondo, Lou Donaldson, Ray Brown, Mark Turner, Phil Woods).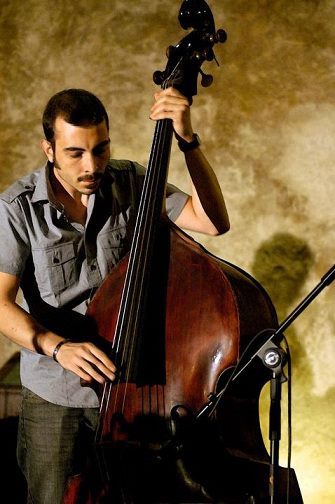 Born in Bari (Italy), Dario de Lecci only began studying the double bass in 2005. His professional career started naturally in Italy with jazz masters such as Fabrizo Bosso, Giovanni Amato, Eddie Palermo, Flavio Boltro, Roberto Gatto, then in the States with George Garzone. In 2010 he joined the Eugenio Macchia Trio, performing at several festivals ("Italian Jazz Days" - NYC, "Generazione Jazz" and "Tuscia in Jazz 2011" - Roma). In 2012 he moved to London, where he's currently performing.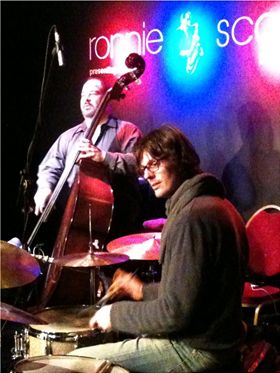 Italian drummer Emiliano Caroselli has been turning heads for a couple of years now, becoming a valuable addition to the London scene and with an approach which honours the jazz tradition without being restricted by it. He bothered to travel to learn drums and percussion in probably one of the best spots to learn in the world, namely Havana, Cuba with Omar Rojas, Enrique Pla and playing with Chucho Valdez. Further studies with Jimmy Cobb, Peter Erskine and the great Elvin Jones enabled him to begin collaborations with a whole host of Italian based musicians and with Jim Hall, Enrico Rava, Rosario Giuliani, and Dave Kikoski in particular. Emiliano moved to work and live in London in 2012.
…D'Aiello has a highly dramatic manner of playing and a willingness to take risks which can make it seem as if he is overstretching himself; thus when he launched into Ellington's In a Sentimental Mood in the second set he placed himself on the critical block. The result was a breathtaking performance in which he displayed a stunning range of expression, infallible control over the instrument and a true feeling for the melody itself. He is a restless attacking player who uses not only the full, extended, range of the instrument but also a much wider dynamic variety than many other saxophonists. Linked with a technique that allows him to play at scorching speed and accuracy, the result was jazz of outstanding colour and excitement… ~ Paul Medley, the Oxford Times
renatodaiello.net