Clive Gregson (Guitar)
Mark Griffiths (Guitar)
Andy Roberts (Guitar)
Take some Pink Floyd, a heavy smattering of Hank Marvin & the Shadows; add the Folk of Richard Thompson, a bit of Nanci Griffith's Country, Classical SKY and sprinkle with some Southern Comfort: Season with The Blues and a frisson of Pop & Soul. Place in a very hot oven for thirty years and you have the 3Boxes.
The 3Boxes are Clive Gregson, Mark Griffiths and Andy Roberts, a trio of well known musicians and old friends who have all featured in Hugh Gregory's 1,000 Great Guitarists book, they have taken their experience of playing together in various bands, added their combined unique styles on acoustic guitars (aka 'boxes') and the result is much more than the sum of its parts. Their LIVE performance of acoustic instrumental music is of the finest calibre.
Ironically, the 3Boxes defy any attempt to put them into one! Since all their self-penned instrumental material encompasses a vast range of musicality - folk, blues, swing, ballads and beyond. Their dexterity and interplay creates a raft of rhythm and melody on which to sail far beyond any barriers.
Clive Gregson
His extensive career has incorporated cult '80s band Any Trouble, hugely popular folk/rock duo Gregson & Collister and 8 solo albums. He has toured in bands with Richard Thompson, Nanci Griffith, Eddi Reader and as MD for Dennis Locorriere, with whom he played alongside Mark and Andy. He has played sessions for and produced many albums and his songs have been recorded by Nanci Griffith, Fairport Convention, Norma Waterson, Claire Martin and Kim Carnes amongst others. Nanci's duet version of I Love This Town (with Jimmy Buffett) was released as a single and became a radio hit in both the USA and UK. Based in the USA since 1993 Clive splits his time between Houston, Texas and Manchester, England. He continues to record and tour regularly as a solo singer/songwriter his new album This is Now is out now! clivegregson.com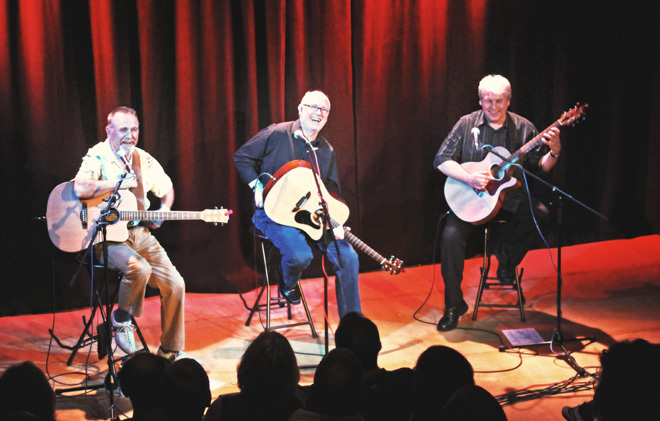 Mark Griffiths
Most recently bass player in The Shadows (for 21 years), Mark has recorded and/or toured with Al Stewart, The Everly Brothers, Sonny Curtis, Duane Eddy, Mark Knopfler, Jeff Lynne, Neil Innes, The Rutles, Dobie Gray, Gallagher & Lyle, Dennis Locorriere, Iain Matthews, Cliff Richard, Plainsong (with Andy and Clive) and Any Trouble (with Clive). He's also been Hank Marvin's regular bassist for the past fifteen years, and was a principal member of Matthew Southern Comfort, whose UK No. 1 recording of Joni Mitchell's Woodstock became a world-wide hit. Mark is Product Development Manager for the Sue Ryder Care Charity for their range of Ryder Guitars, played extensively throughout the making of the debut 3Boxes CD. myspace.com/markgriffithsmusic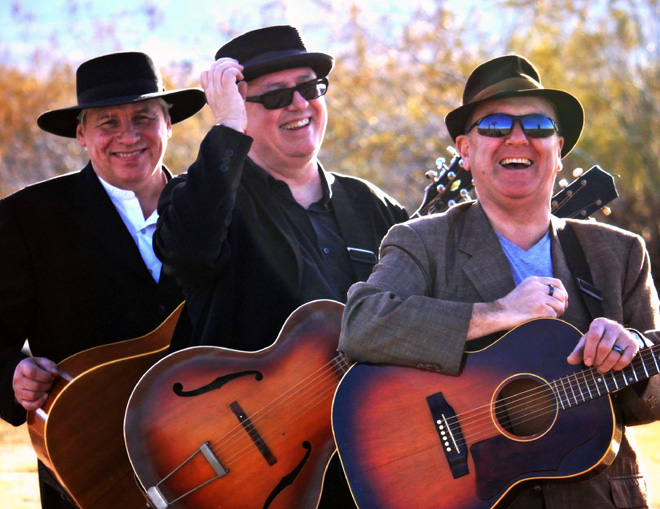 Andy Roberts
Andy has played and recorded as a solo artist, with Pink Floyd, (live band for The Wall) and with Richard Thompson, Kirsty MacColl, The Albion Band, Maddy Prior, Roy Harper, Cat Stevens, Scaffold, Liverpool Scene, Plainsong (with Mark and Clive), GRIMMS and Dennis Locorriere, to name a few. He wrote his first stage musical Mind Your Head in 1973, his first TV score in 1974 and was Musical Director at the Royal Court Theatre 1979-83. He's scored films for the BBC, Miramax, ABCTV in the US and Disney (Touchstone Films) in Hollywood and written extensively for TV drama and factual programmes. Andy continues to tour solo and also with 3 Bonzos and a Piano, and partnering Hank Wangford as Brad Breath in No Hall Too Small. andyrobertsmusic.com
The 3Boxes album Strings Attached is an eclectic mix of musical styles, an eclectic and original take on folk, jazz, swing, rock 'n' roll, pop, classical and all points in between. The music pedigree and prowess oozes from every seam of this music. Producer John Wood (Fairport Convention, Nick Drake, John Martyn, etc.) has captured the dynamics of their live studio performances and added a magical third dimension of resonance and clarity.
3boxes.co.uk