Frank Harrison (Piano)
Dave Whitford (Bass)
Enzo Zirilli (Drums)
Frank Harrison took up the piano at 11, and began playing gigs when he was 15. After taking up a scholarship at Berklee School of Music in Boston, he returned to the UK and joined Gilad Atzmon's band. In 2000 they started the Orient House Ensemble, with whom Frank has recorded seven albums.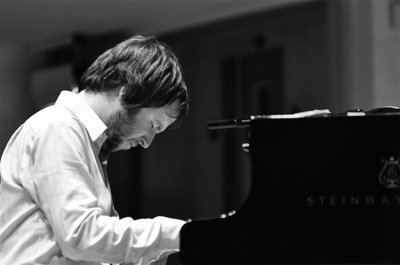 Frank has also performed with Peter King, Julian Arguelles, Julian Siegel, Don Weller, Alan Barnes, John Etheridge, Louis Stewart and Iain Ballamy.
His debut Trio album, First Light, was launched in 2006 to critical acclaim and his trio has toured regularly in Europe and the Far East, as well as collaborating on his second album with special guest guitarist Louis Stewart A live performance at Pizza Express in Soho, London with his trio and vocalist Tina May was released on DVD in 2010. Frank released his third album Sideways in January 2012 featuring Davide Petrocca on bass and long-time collaborator Stephen Keogh on drums.
The music moves from fiery, intense swing to dark, classical-influenced improvisations to open, spacious ballads. Mixing new compositions with twists on standards, the music is original, varied and imbued with texture and colour. His take on the well worn Autumn Leaves is a positive delight and takes the tune from its normal 'sugar sweet' theme to a completely different place.
Cranium-shattering levels of intensity ~ The Guardian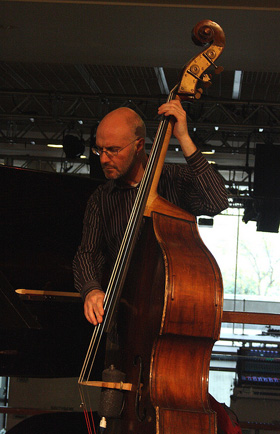 Dave Whitford is one of the leading bassists of his generation and has worked with many of the top names in the music world including: Bill Frisell, Maceo Parker, Steve Lacy, John Taylor, Evan Parker, Kirk Lightsey, Ed Thigpen, Billy Hart and Kenny Wheeler to name a few. As a youngster in Cornwall he very soon became involved in the award winning Cornwall Youth Jazz Orchestra and found himself working in numerous professional situations including music theatre, swing, funk and reggae bands. In 1993 Dave moved to London to study music at Middlesex University where he began playing the double bass, he received a scholarship to study at the Guildhall School of Music gaining a Jazz postgraduate diploma; he also received an award from the Paul Hamlyn Foundation which enabled him to tour and record with the collective quartet Neverland. Dave's current projects include The Christine Tobin Band, the Liam Noble Trio and The Josephine Davies Quintet. He is also a regular member of veteran Scottish sax player Bobby Wellins Quartet.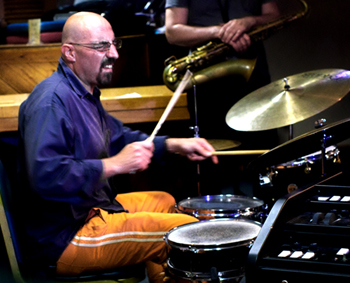 Enzo Zirilli is considered one of the most creative and versatile drummer/percussionist to have come out of Italy, having worked and recorded all around the world for the last 25 years with great artists from Jazz, World music and Pop scene like: Randy Brecker, Charlie Mariano, James Moody, Bob Mintzer, Tom Harrell, Gloria Gaynor, Steve Grossman, James Moody and Antonio Forcione among others. Born in Turin 1965, he started playing drums when he was 8 years old and studied at the Giuseppe Verdi Conservatory in Turin. He got in touch with jazz music, meeting the great tenor sax players Larry Nocella and Flavio Boltro. He toured with Gloria Gaynor in ' 91 and '96, when he also worked with the Italian pop-jazz singer Rossana Casale. Currently he collaborates with Italian pianists Enrico Pieranunzi in his quintet and Dado Moroni's trio and quartet.
His talent shines among his peers ~ Julian Joseph
... lucid, intelligent, spacious and beautifully controlled explorations ~ Jazzwise
Frank Harrison played a stonking set at 'Jazz on the Hill' directly following the Olympics Opening Ceremony... The later than usual set, which started at 10 30pm was a great show-case for Frank's Music ... Playing tracks from his CD 'Sideways' Frank captured an already excited audience with his light and building piano technique. It was the close to a very hot and eventful day. ~ Brian Soundy 2yrs ago
frankharrison.net