From a musical family in Dublin, Johnís influences include well known English folk singers Nic Jones, Martin Carthy, Richard Thompson, and The Watersons; Scottish singers Dick Gaughan and John Martin; and fellow Irishmen Paul Brady and Al OíDonnell as well as his father, Sean Doyle - probably the biggest influence of all.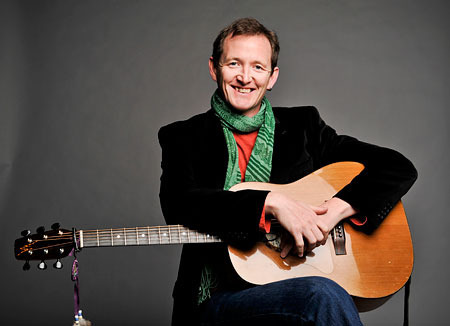 John went on the road as a pro at 16 with the group Chanting House which he formed with Susan McKeown and which eventually included such great players as Seamus Egan, Eileen Ivers, and Donogh Hennessy. John went on to form the highly acclaimed super group, Solas, with Seamus Egan, John Williams, Karan Casey and Winifred Horan which took the folk and Celtic music worlds by storm, in no small part due to Johnís powerhouse rhythmic guitar style and innovative arrangements. As a member of Solas, John performed to sold-out audiences nationally and internationally as well as appearing on many national TV and radio programs: As part of that critically acclaimed group, he also received three NAIRD awards and a Grammy nomination for the bandís self-titled first recording.
Doyle on guitar has risen to a level occupied by him alone. No one in Irish traditional music is a better guitarist than him. Ö his vocal delivery and his song writing have never been more impressive. ~ Earle Hitchner, the Wall Street Journal
After leaving Solas, John has gone on to perform and tour with other greats in the Folk, Celtic and Bluegrass worlds - Eileen Ivers, Tim OíBrien (John was included on Timís 2006 Grammy-award winning CD, Fiddlerís Green), Linda Thompson, Kate Rusby, Cathie Ryan and many others.
He has appeared on soundtracks for the feature film, The Brothers McMullan, Soldier, PBSís Out of Ireland and also composed the music for the film Uncle Robertís Footsteps and the play Down the Flats as well as performing on countless recordings as guitarist and/or singer for other notable artists such as Tim OíBrien, Alison Brown, Seamus Egan, Eileen Ivers, Mick Moloney, Cathal McConnell, Karan Casey and so many others.
In recent years, John has gained major prominence in the Celtic and Folk worlds in duos with Chicago fiddler Liz Carroll (their recording, Double Play received a 2010 Grammy nomination for "Best Traditional World Music Record"); as Karan Casey and John Doyle; as McGoldrick, McCusker and Doyle (with the greats Michael McGoldrick and John McCusker); and as 1/3 of the stellar trio The Teetotallers with Martin Hayes and Kevin Crawford.
Few singer/songwriters are as adept as John Doyle when it comes to developing the inveterate themes of Irish Traditional music. ~ Neil McFasdyen, Folk Music UK
A complete rhythm section all on his own ~ Chicago Tribune
2008-2010 saw John on the road with the legendary Joan Baez as her music director and guitarist.
With the release of John's most recent solo recoding, Shadow and Light (Compass Records) in 2011, his significant talents as songwriter and singer are finally coming to the fore. Impossibly in demand in the studio and on the road, immensely talented and blessed with an acute ear, a wicked sense of rhythm and seemingly endless bag of chops in his playing, composing, performing and producing, John has firmly established himself as one of the most versatile, creative and prolific voices in folk and traditional Irish music.
johndoylemusic.com