Rebecca Pronsky w/Rich Bennett (USA)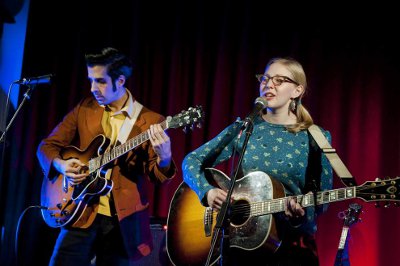 Rebecca has been singing since she was in elementary school and added songwriting to her repertoire around age 16 when she picked up the guitar for the first time. She went on to study Ethnomusicology and jazz at Brown University and came home to Brooklyn with a diploma and a demo CD.
She soon met guitarist and composer Rich Bennett, who has been her musical partner and co-producer ever since. The two finally married in 2012. Rich puts the trimmings on the music with a battery of echo drenched, twangy leads (Blurt). Rich "Tasty Licks" Bennett, a native of Staten Island NYC, began playing guitar after a convincing viewing of the film La Bamba.
This Brooklyn native should be a household name as far as we're concerned. Day time play list on Radio 2 at least.– it's obvious she's playing music since the year dot … on track to become one of America's foremost modern folk songstresses.
~ Ruth Barnes, BBC 6 Picks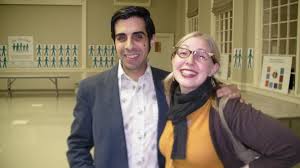 He is a veteran of NYU's Jazz Department. While attending school there, Bennett became especially fond of the chicken salad in the cafeteria. He enjoys watching serial dramas like Twin Peaks and teaching children guitar. Rich has made his mark musically performing with many groups, most notably he co-founded seminal prog/math rock outfit Friendly Bears, after which he began his long tenure as chief frontman and songwriter for NYC's Monocle. He has also released solo work via Hidden Shoal Recordings and has a new solo guitar EP out now.
She isn't the kind of girl to be content with a winning formula. She already found that, felt the need to augment it and has succeeded with a subtlety which is admirable. What is never in question is Pronsky's lyrical endeavour. Her strength and Neil Young-like quest for truth and integrity shines through every word and proves that whoever the influences, whatever the genres, you can take the girl out of Brooklyn, but you can't keep the country out of the girl. ~ Americana UK
Rebecca and Rich are a touring team who have graced the stage internationally at clubs and festivals. Some highlights of nearly a decade of touring together include playing Paradiso (Amsterdam), Falcon Ridge Folk Festival (US), Celtic Connections (UK), being featured NPR's Song of the Day, and sharing the stage with Shawn Colvin, Freedy Johnston, Patty Larkin, Peter Case, Josh Ritter, Loudon Wainwright III, Amy Rigby, Wreckless Eric, and Steve Forbert.

Rebecca and Rich have a charming on-stage rapport and Rebecca tells witty, engaging stories about the songs; entertaining and thought-provoking, her eclectic songs gaining broad appeal.
rebeccapronsky.com
Video above not working? Click here for YouTube link