The Session Quintet (USA)
James Partridge (Saxes)
Ashlin Parker (Trumpet)
Andrew McGowan (Piano)
Jasen Weaver (Bass)
Darrian Douglas (Drums)
The Session is a modern New Orleans jazz group formed by a collection of jazz young bloods, five of the most noteworthy members of the crescent city's up and coming generation of musicians. All five members first crossed paths playing as sidemen to some of the cities foremost musical names. On any given night in New Orleans you'll find one, usually more, of the band's members playing with names such as Ellis Marsalis, Jason Marsalis, Herlin Riley, Shannon Powell and the Delfeayo Marsalis big band.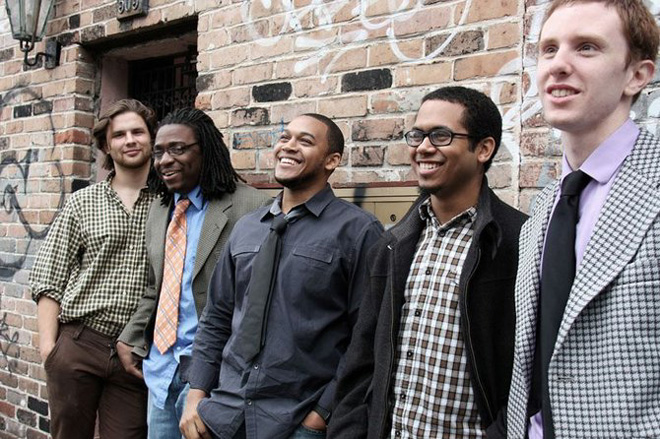 It was a shared desire to learn and attempt to follow in the footsteps of the city's elder statesmen that brought The Session together. The band found its genesis in a weekly late night practice session started in 2010 by Jasen Weaver and Darrian Douglas held at the University of New Orleans to work on concepts and provide an outlet for playing original compositions. James Partridge, who had moved to the city upon graduating from Berklee in 2010, soon joined the practice, having met Darrian and Jasen while sitting in with the Delfaeyo Marsalis' big band a summer prior. These practice sessions gradually morphed into a fully formed band, which trumpeter Steven Lands, another member of the big band, and Andrew McGowan, a NOCCA alumni like Weaver, joined later.
In February of 2013 The Session released its debut album, aptly titled This is Who We Are, as it is a culmination of over two years of practicing and gigging together. After an extremely well received performance at the 2013 New Orleans Jazz Festival, the band looks set to begin to turn heads around the jazz world. These guys are the future of modern jazz in New Orleans and across America.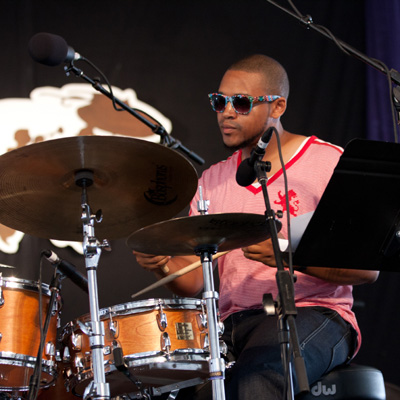 Darrian Douglas is a rising star, drummer, composer, and nominal bandleader of The Session. A native of Jackson, Mississippi he moved to New Orleans in 2007 and was soon taken in by his adopted city and began playing with the likes of the Ellis Marsalis Quartet (4 years), Germaine Bazzle and Irvin Mayfield. He has also played snare drum for three years with the world renowned Re-Generation Brass Band, and worked with heavy-hitters like Ed Peterson, Jason Marsalis, Irvin Mayfield and Jesse McBride.
In 2013 he relocated to New York but still spends much of his time down south. A prolific drummer, composer, and lover of excessive punctuation, he brings a fresh perspective to the face of modern jazz. The album, This is Who We Are, is representative of the band's collaborative spirit, but each member gets his chance to shine. It features nine original songs and a cover of trumpeter Stephen Land's fresh arrangement of the 1944 jazz standard, Moonlight in Vermont. The album isn't 'mad jazz'. It's chill. It's accessible, Douglas says. We try not to forget that we're entertainment, but we also want to express ourselves and not be limited.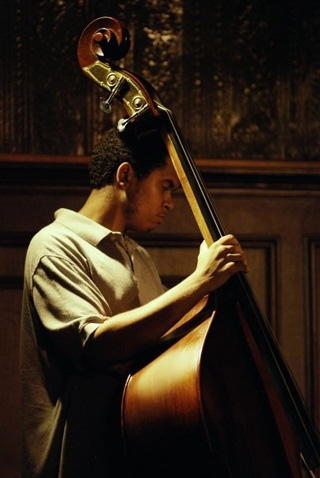 Having taken up the Double Bass at the age of 11 Jasen Weaver was quickly accepted into the Greater New Orleans Youth Orchestra and by age 14 was attending the prestigious New Orleans Centre for Creative Arts (NOCCA). Jazz learning has been more than a hobby: it's been a career for this astounding bassist, whose finesse with an upright is awe-inspiring. By the time he graduated, in 2012, with a major in Jazz Studies from the University of New Orleans he was playing with names such as Herlin Riley, Shannon Powell, Jason Marsalis, Leah Chase and Donald Harrison.
He's contributing to the young, up-and-coming musical force that has blossomed in New Orleans, especially over the past decade, and is building upon his craft through studying and teaching day by day. He is currently attending the University of New Orleans on a full scholarship as a Jazz Studies major, and plans to continue performing and teaching upon graduation.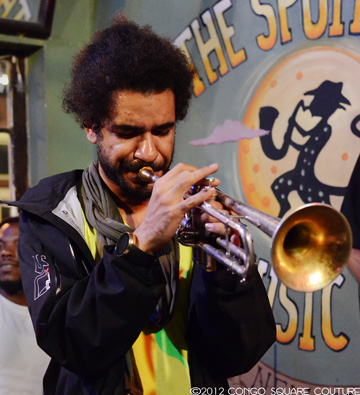 Born in Charlotte NC, Ashlin Parker began studying trumpet at age 10. Ashlin earned a Bachelor of Music in Jazz Studies from the Shenandoah Conservatory in 2005 and was fortunate to play at the St. Louis Jazz Festival in Senegal, Africa and the North Sea Jazz Festival in The Hague, Netherlands during his undergraduate years.
Ashlin won a scholarship and graduate assistantship to participate with the Louis Armstrong Outreach Program at the University of New Orleans (UNO) and moved to the Crescent City in 2007. He completed the Master of Music in Jazz Studies at UNO in December 2009. While studying, Ashlin began to tour and record with Irvin Mayfield and the New Orleans Jazz Orchestra (NOJO). NOJO's album, Book One, was released in 2009 at the time of their performance at the New Orleans Jazz and Heritage Festival. Book One received the 2009 Grammy Award for Best Large Jazz Ensemble Album.
Since 2008, Ashlin plays regularly with the Uptown Jazz Orchestra, featuring Ellis and Delfeayo Marsalis. Ashlin is also currently a member of several bands, including Bill Summers and Jazalsa, The Next Generation Big Band, and Tony Clifton's Cliftones. He's also played in the bands of Aretha Franklin, Anthony Hamilton, as well as The Kermit Ruffins' Big Band, the Delfeayo Marsalis Septet, and Brother Joscephus and the Love Revival Revolution Orchestra.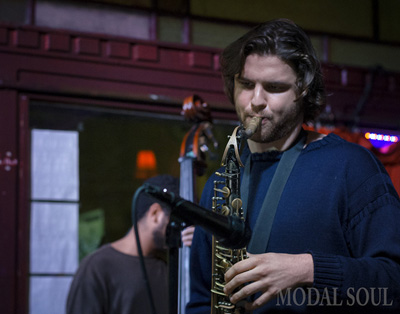 Born in London, England, James Partridge started playing classical clarinet and was a member of the National Youth Wind Orchestra of Great Britain. In school he developed a love of jazz and took up the tenor saxophone aged 17 studying with Tim Whitehead, he soon began to play in Ska, Soul and Jazz bands in venues around London. In 2006, after winning a scholarship to attend the Berklee College of Music in Boston, he left for America to further his Jazz studies. Under the tutelage of Bill Pierce and George Garzone he graduated from Berklee in 2010 with a dual degree in Jazz Composition and Performance. After spending every summer break working in New Orleans he relocated there after graduation in 2010. He can be seen playing with the likes of Shannon Powell, Donald Harris Jnr, Ellis Marsalis, Jason Marsalis and Irvin Mayfield's New Orleans Jazz Orchestra.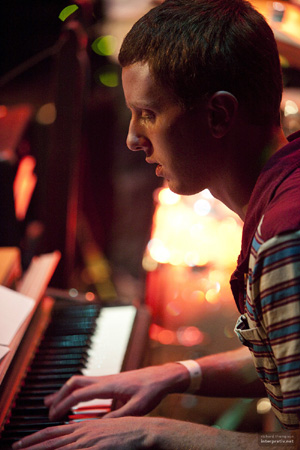 A New Orleans native, Andrew McGowan took up piano at the early age of four and later in life studied at NOCCA. After completing a BA in Music at Stony Brook in New York he moved back to New Orleans and now plays there full time and can often be seen with the Stooges Brass Band and the Jason Marsalis Vibraphone Quartet, and frequently tours with the Cliff Hines Quintet amongst others.
Andrew is currently working heavily on developing his own trio, but has consistently woken up early every Sunday to play church gigs throughout New Orleans. He's also building a name for himself in the hip-hop community, backing Ciel Rouge and Slangston Hughes. However, he is most at home in the contemporary jazz scene, playing alongside many big local jazz names.
thesessionmusic.com
Video above not working? Click here for YouTube link