Dana and Susan Robinson (USA)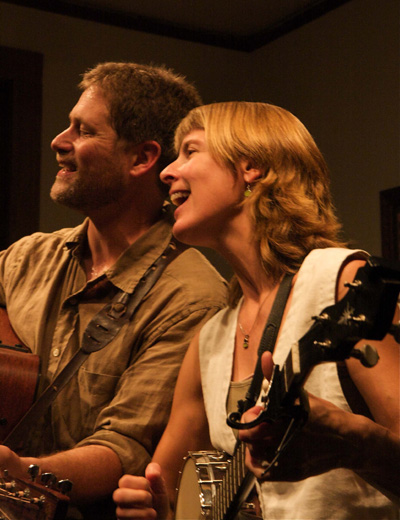 Dana and Susan Robinson explore rural America with elegant simplicity, bringing roots and tradition to contemporary song-writing. Their rich, intimate harmonies are supported by Dana's powerful guitar and fiddle playing and Susan's delicate, sometimes funky, sometimes haunting mountain banjo sound.
With an eye for vivid detail, Dana sings stories of the American landscape. He's a raconteur with a rich voice - a living example of the American troubadour. Underpinning the songs is the undeniable rhythm of their trademark guitar/banjo sound. Whether it is quiet or driving, there is a steady and unrelenting groove to the music that supports the lyric and delivers the story in an effortless and magical way.
A native of the Pacific Northwest, Dana relocated to New England where he discovered both a thriving songwriter's scene and the deep well of traditional mountain music. In the early 80's, Dana settled in Northern Vermont and built a house, "off the grid" (no electricity or phone), on 30 acres near the Canadian border. There he founded a popular bakery, café and folk music venue. Dana launched into full-time touring after the release of his 1994 debut CD, Elemental Lullaby, and after receiving a request to perform at Carnegie Hall in New York City for a benefit gig.
Powerful, rolling, fingerstyle guitar playing is the first aspect to grab you as you delve into Midnight Salvage. Lyrically, Robinson's songs are wonderful. Pure love for what life has to offer, without being over stated or painfully too-utopian about it: Perfect fodder for both old-time and contemporary folk enthusiasts. ~ Crossroads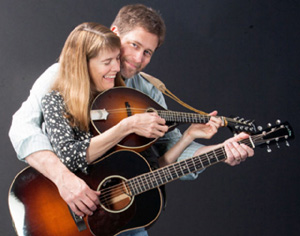 Sue grew up in a musical family in New England. She studied piano, oboe, and Scottish fiddle before meeting Dana in 2002. Sue was working in the environmental field in California when she met Dana at a house concert. Upon moving to North Carolina a short time thereafter, Sue launched into studying with many of the great old time musicians in the Asheville area, and naturally adapted to the on-the-road lifestyle. Their last album American Hornpipe was released summer 2012 to critical acclaim.
Many songwriters such as Bruce Springsteen or John Mellencamp have been heralded as modern day Woody Guthrie's or keepers of the American rural spirit, but that mantle might be better entrusted to musicians like Dana Robinson who embody both the heart and the soul of folk music. ~ Dirty Linen
www.robinsongs.com