Jim Hart (Vibraphone)
Michael Janisch (Bass)
James Maddren (Drums)
Amongst the hotbed of talent on the London post-jazz improví scene there is one band that stands out from the crowd for their no-gimmick and uncompromising approach to music making that effortlessly marries the complex with accessibility. Under the leadership of the award-winning multi-instrumentalist Jim Hart, the Cloudmakers Trio represents the culmination of over a decade of musical growth between three of the finest London-based musicians currently working on the international jazz, improvised, and creative music scenes. Their enviable resumes boast a collective experience of performances across all genres of music while enjoying first call status to the stars. And they have no boundaries; everyone from Wynton Marsalis to Evan Parker to Sir John Dankworth to Outhouse Ruhabi to Lee Konitz to Robert Plant have hired these popular musicians for their virtuosity and unbridled creativity, securing their reputations as guiding lights amongst musicians of their generation.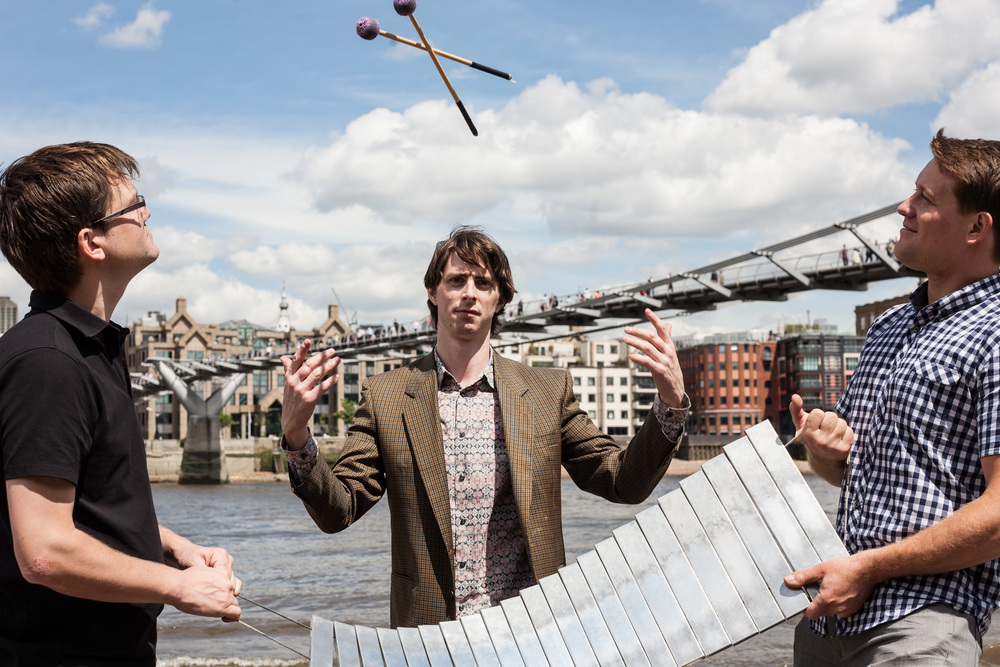 In the States the established players such as Gary Burton and Joe Locke; who took up the mantle from the likes of Lionel Hampton, Red Norvo, Milt Jackson and Bobby Hutcherson changed the perception of this instrument and have now seen a new breed of young players come through such as; Chris Dingman, Matt Moran and Jason Adasiewicz in the USA. Similarly, UK players such as the great Orphy Robinson led the way here, using Vibes as well as Marimba to change the concept of what this instrument can achieve. Jim Hart has taken up the baton and sprinted ahead with others such as Lewis Wright also moving onto a new track.
Having performed as a trio for countless touring projects over the years, Hart had the good sense to make this group the focus of his new compositions and arrangements. With US born, London-based Michael Janisch on acoustic bass and long time musical associate David Smith on drums and percussion, Cloudmakers Trio officially formed in July, 2010. Cloudmakers Trio play original music that lies somewhere between New York's 'downtown' sound and the modern European tradition.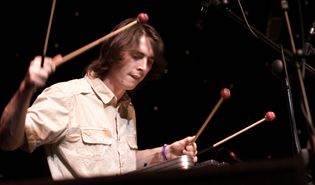 They aspire their sounds to defy category yet draw influences from a diverse range of music traditions, while maintaining a devotion to raw energy, in the moment risk taking, a dedication to groove and rhythm, strong melody, and above all transcending themselves and the listener through their music to that place that only exists when musicians of this level come together to perform with true empathy. Aptly titled and ferociously skilled, the Cloudmakers Trio is one of the most exciting contemporary groups working in creative music today.
Their debut album Live at the Pizza Express (Whirlwind Recordings) features the iconic trumpeter, composer, and musical conceptualist Ralph Alessi and was released in September 2012 to widespread acclaim. They have just finished their next album Abstract Forces, due for release in time for this tour. This new collection of tunes masterfully penned by Hart sees CMT effortlessly blending free improvisation with full on rock grooves, hard swing mixed subtly complex rhythms, and unabashed group interplay paired with epic, soaring refrains. No doubt their new album will boost their reputation further as one of the most exciting and eclectic bands currently based in Europe.
As Jim puts it: The name of the group and album comes from the analogy of a trio of rhythm section instruments acting as an engine room within the music. I thought of it like a power station that also produces clouds which have an abstract, ethereal quality to them. Our music is definitely highly charged and has a strong rhythmical focus on the one hand, but at the same time it is absolutely Jazz in that it celebrates the freedom and openness of improvisation without being constrained by the compositions. There are Abstract Forces at work.
cloudmakerstrio.com
Video above not working? Click here for YouTube link