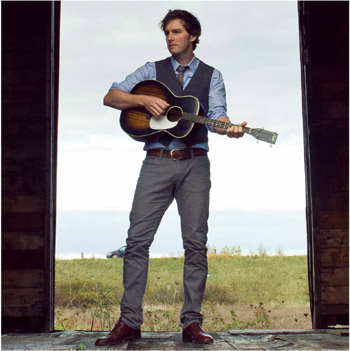 Award-winning Canadian musician Ian Sherwood is touring the South West to support the release of his new album Everywhere To Go.
Sherwood is credited with being musician, story teller and a constant creator and is no stranger to gongs.
He was named Contemporary Singer of the Year by the 2013 Canadian Folk Music Awards, Best Male Artist of the Year by the 2012 International Acoustic Music Awards and was the 2008 and 2010 Music Nova Scotia Musician of the Year.
impressive guitar work amid catchy hook lines galore, surely the main thought in the room was, "Yep. It's only a matter of time before he's a household name." ~ Todd MacLean, Charlottetown Guardian.
His new album Everywhere To Go is set to be released in October, to coincide with a UK Tour.
The South West tour comes after a short stint in Scotland and is in preparation for a more extensive UK Tour in the spring of 2015.
Ian started his music career as an in-demand saxophone player in Toronto, he soon began looking for an outlet for his poetic side.
His musicianship combined with his tales of heart-break, victory and adventure quickly gained recognition as a solid performer, lyricist and player. This led to a nomination for the 2011 ECMA award for Male Solo Artist Recording of the Year.
Listen to the title track Everywhere To Go on Soundcloud
And pop over to iansherwood.com for news and videos
romantic as they are clever and snarky… Sherwood has a tongue that can be firmly planted-in-cheek, in his often funny, often poignant lyrics. ~ Josh Visser, Halifax Chronicle Herald, Canada
Video above not working? Click here for YouTube link