ARQ Alison Rayner Quintet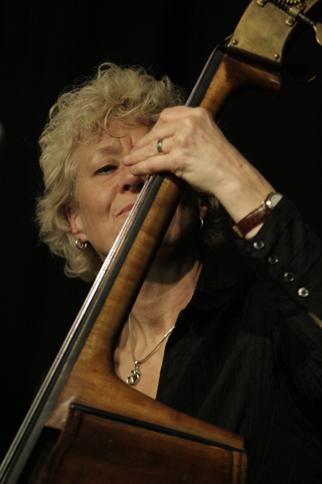 Diane McLoughlin (sax)
Deirdre Cartwright (guitar)
Steve Lodder (piano)
Alison Rayner (bass)
Buster Birch (drums)
Bass player and composer Alison Rayner has been playing jazz and other styles of music since the mid-70s. In 1983 she joined critically acclaimed, groundbreaking all-female jazz group the Guest Stars and spent six years with them touring all the major international jazz venues and festivals in 17 countries and recording four albums.
Alison Rayner has been the recipient of two GLAA / Arts Council composition awards and her compositions are featured in the repertoire of many of the groups she works with. She has co-run Blow the Fuse Records/Blow the Fuse Jazz Club in London since 1989, performing with such artists as the late guitar legend Tal Farlow, New York jazz poet Jayne Cortez, Ian Shaw, John Etheridge and Bobby Wellins – to name a few.
Melodic and stylish sax player and composer Diane McLoughlin studied composition at the Guildhall School of Music and Drama. Her 17-piece jazz orchestra Giant Steppes performed to critical acclaim throughout Britain; including two concerts in the London Jazz Festival. Diane was also featured on BBC Radio 3 with an interview and live concert broadcast of Giant Steppes. She also led Zdravets – a Latin and Eastern European influenced project encompassing a blend of world styles. Richly melodic, Diane's writing was described in the Guardian as:
... attractively punchy and highly emotive…McLoughlin's soaring alto solo vibrated with echoes of the late Cannonball Adderley ~ John Fordham, The Guardian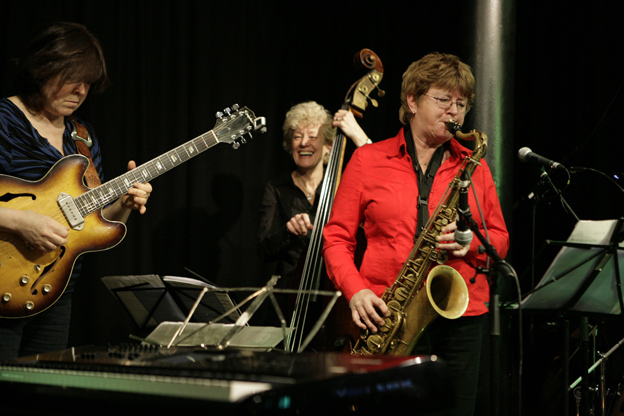 London-based guitarist Deirdre Cartwright is regarded as one of only a handful of great international women jazz guitarists. Her early music training on piano, following in the footsteps of her grandmother who was an opera singer and pianist, took second place when she fell in love with the guitar at a young age. Almost entirely self-taught, she discovered the sound of glam rock before jazz and in her quest to explore the possibilities of the guitar began to play in a different tuning (all 4ths). She first became well known in the 80s as the guitar presenter of the BBC TV series Rockschool. She also recorded three albums and toured the world with The Guest Stars. Forming her own group in the early 90's, Cartwright has toured extensively in the UK and Europe and has released five albums with the Deirdre Cartwright Group.
If there is a more complete guitarist in contemporary music than Deirdre Cartwright, I'd like to know who it is ~ Dave Gelly, The Observer
Cartwright's coolly undulating Grant Green shuffle groove is one of the understated pleasures of the UK's contemporary fusion ~ John Fordham, The Guardian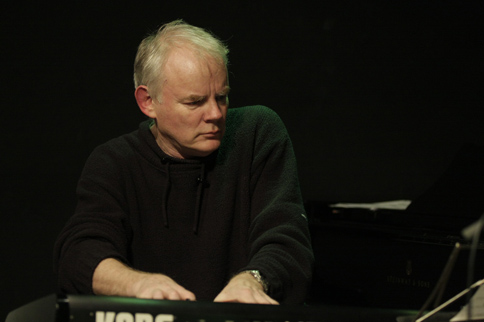 Steve Lodder is the highly regarded sideman for many international and London musicians including: Andy Sheppard, Naná Vasconcelos, George Russell's "Living Time" orchestra, Sarah Jane Morris, John Harle, Carla Bley and Mônica Vasconcelos. He has been musical associate with Paul McCartney on the Standing Stone and Ecce Cor Meum projects and is also the musical arranger for the John Etheridge's Zappatistas. Originally a Cambridge organ scholar, Steve has played church organ on albums with Mark Ramsden and Asaf Sirkis and has written several books – one on StevieWonder, the other on the Hammond organ and The Keyboard Bible.
Lodder is both an improviser of originality and a musical thinker of erudition and depth
~ The Guardian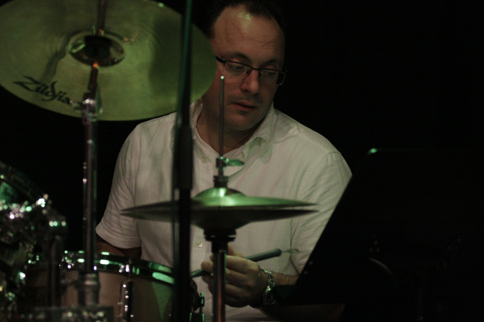 Buster Birch has a degree in music from the University of London and a post-graduate diploma in jazz performance from the Guildhall School of Music and Drama. He also studied at the Drummers Collective in New York City and privately with Joe Morello (of The Dave Brubeck Quartet). A musician of great versatility, he has been a freelance professional musician for over 20 years in a wide variety of musical fields from jazz gigs with high calibre artists such as The Bobby Wellins Quartet, Ian Shaw, John Etheridge and Alan Barnes, "world" music groups performing Russian gypsy jazz, Balkan folk and Cuban salsa, world class orchestras such as the RPO and the LSO, west end shows, to commercial pop artists such as Lilly Allen and Russell Watson.
ARQ play melodic compositions with killer grooves, using influences from American swing, funk and dance music to contemporary jazz and European folk.