While & Matthews: ***** 20th Anniversary Tour *****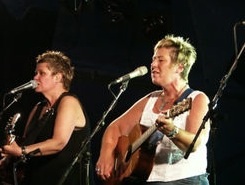 Winners in the Best Duo category at the 2009 BBC Radio 2 Folk Awards and nine times nominated since 2001 in the Best Duo, Best Song & Best Live Act categories.
While and Matthews met in the Albion band in 1993 when Julie left the band and Chris joined. A year later Julie rejoined the band and she and Chris formed a part-time duo, touring extensively in Canada as The Women Of Albion. After leaving the band in 1997 they began their full time duo career, releasing their debut album Piecework that year followed by Higher Potential in 1999. The much requested double live album Stages was released in 2000 followed in 2001 by their highly acclaimed studio album Quest produced by Kwame Yeboah (e2K, Miss Dynamite, Craig David). In 2005 they released their stripped down album Here and Now and in 2007 recorded their second live album on tour in Germany.
Throughout their career they have toured solidly as a duo in the UK, Europe, Africa, North America and Australia where they have achieved great success and are held in the highest esteem, filling concert halls and headlining festival stages. They've also worked on several musical projects for the BBC including Tales of the Towpath, a radio documentary about the building of the Manchester Ship Canal and The 2006 Radio Ballads.
Chris While & Julie Matthews are both individual writers of some note but it's when they combine their writing talents that the unique nature of their partnership flourishes. They are world renowned for their affinity on stage and for the energy and enthusiasm of their live performances.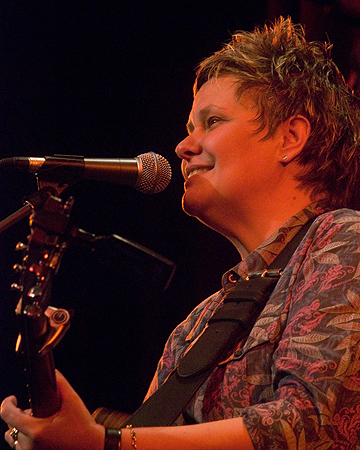 Julie Matthews is recognised as one of the most talented songwriters to have come out of the British Isles. She has been compared to Richard Thompson and Mary Chapin Carpenter but Julie's powerful style puts her in a class of her own. Her songs have been covered by Fairport Convention, Kellie While, Mary Duff and Mary Black (Thorn Upon the Rose was a top 10 hit in both Ireland and Japan!) to name but a few. Described by Folk Roots as awesomely talented she is a dynamic performer and a multi-instrumentalist.
For several years she was in a duo with singer Pat Shaw, releasing an album called Lies & Alibis produced by Clive Gregson. They were nominated as best newcomers in the BBC Country Music Awards as a result of this album. In 1994 Julie was part of a project involving six female vocalists from South Yorkshire called Intuition along with Kate Rusby.
From 1990 to 1997 she was a leading member of the legendary Albion Band, her songs becoming an intrinsic part of the band's repertoire and albums. As well as her career with Chris, the last ten years have seen Julie producing albums including Helen Watson's Somersault and Lifesize and Kellie While's Tenacious. Julie has two solo albums of her own Such is Life and Slow.
In 2007 Julie toured performing the songs that she wrote for the BBC Radio Ballads and an updated version is to be toured next year in Feb/March, which we will put on in Bristol.
People will try to compare Chris While's voice to others but as Folk Roots wrote of her, She learns from many, takes from few and comes away her own woman. She is described as a singer's singer and a great guitarist. Although her songs have been covered by many other artists, she is the definitive interpreter of her own extremely personal songs.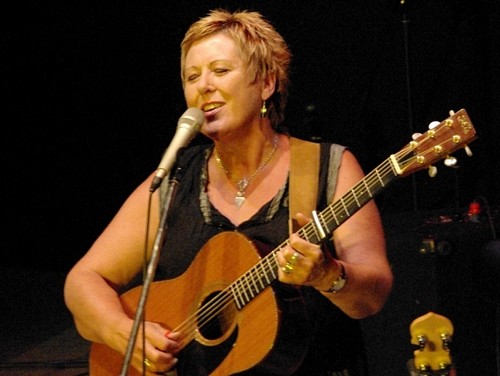 She has always been a singer performing round the folk clubs of her hometown, Barrow-in-Furness. She left Barrow with her ex-husband, pianist and songwriter Joe While and they travelled the country as a duo. After their divorce in 1991 she set her sights on a solo career.
In 1993 she joined The Albion Band as lead singer and the following years brought her voice and songs to a much wider audience both in the U.K. and in the international arena. Chris made four albums with the band writing or co-writing most of the material. She left the band in 1997 to pursue a full time career with Julie Matthews. During this time she also co-wrote (along with Ashley Hutchings and Phil Beer) over forty new English folk songs for the TV series The Ridge Riders presented by Nick Knowles.
In 1999 at the first BBC Radio 2's prestigious Folk Music Awards, Chris's song The Light in my Mother's Eye was nominated in the best song category. Over the years Chris has made many appearances with Fairport Convention and in 2007 she was asked to take the place of the late Sandy Denny to re-create the classic Fairport album Liege & Lief with the original 1969 line-up at Cropredy Festival in front of 30,000 fans.
Chris annually tours with her daughter Kellie While, lead singer with the Albion Band and E2k. They currently have 2 albums together. Chris has five solo albums, Still on fire 1991, By Request 1992, Look at me now 1993, In the Big Room 1997 and her latest, Rosella Red, released in the autumn of 2007 to rave reviews:
She has the heart of a poet and the eyes of a painter. Her writing is literate, credible, forthright and honest. Her voice is beautiful, a term I very rarely use when describing the deliveries of most singers. It is emotion packed without ever being melodramatic, compassionate without being needlessly sentimental, damning when she fervently believes certain issues need to be confronted head on, but always making for compelling listening ~ Maverick Magazine
whileandmatthews.co.uk